2 cups

Cheddar cheese

grated

1 tsp

Chicken bouillon granules

1/4 cup

All-purpose flour

1/4 tsp

Black pepper

ground
Wisconsin Cheese Soup
Creamy, loaded with vegetables and oozing with cheese, this Wisconsin Cheese Soup is a winner with the little ones!
What makes a Cheese Soup from Wisconsin? Well I guess it has something to do with the addition of cheese and milk, making this a creamy soup perfectly suited to America's Dairyland state. I can't recommend this soup enough for cooking up for your family. Vegetables? Check – carrots and broccoli florets. Rich broth? Check – chicken bouillon cooked down with butter and onions. And cheese? Check! A good grating of Cheddar is melted into the soup, making the whole thing wonderfully cheesy, ever popular with kids!
To make Wisconsin Cheese Soup, you will need the following ingredients: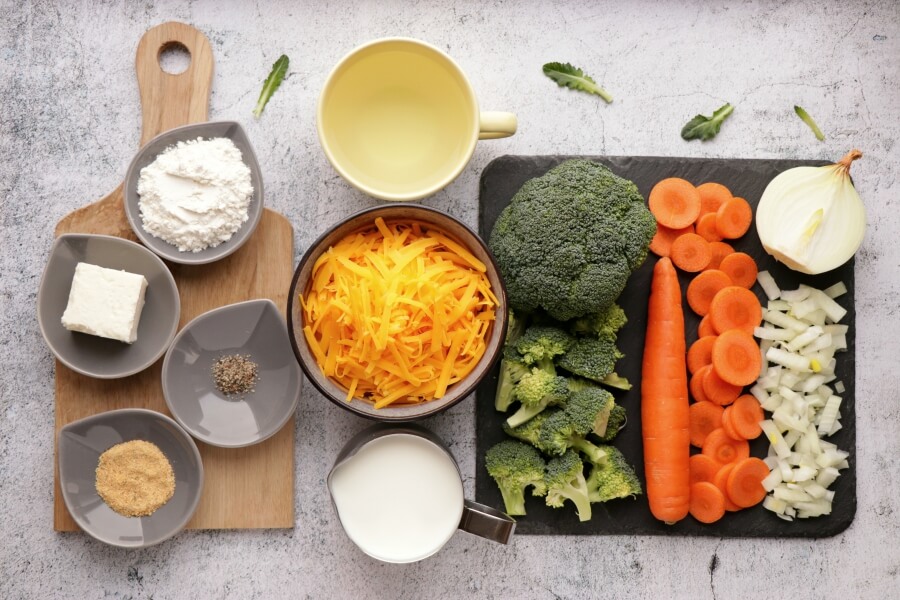 So, how to make Wisconsin Cheese Soup?
Steps to make Wisconsin Cheese Soup
Add the vegetables and bouillon to a pan

1

Cook the vegetables

10

Cook the onion

5

Add the flour

1

Add the milk

3

Add the cheese

2

Add the cooked vegetables

2

Serve

1