1 ¾ cups

Orzo pasta

uncooked

3 oz

Cream Cheese

reduced-fat

1 package (9 oz)

Fresh spinach

trimmed and chopped

¼ cup

Asiago cheese

shredded

1 tsp

Seasoning

salt-free garlic pepper blend

2 tbsp

Parsley

minced fresh
Directions
This Creamy Roasted Garlic & Spinach Orzo is absolutely bursting with flavor. The roasted garlic elevates the dish from tasty to mind-blowing! It's a great recipe to feed a crowd and I usually serve this in the center of the table and let everyone help themselves. In this dish, I use Asiago cheese which is similar to Parmesan but is a bit nuttier and creamier. If you can't get Asiago, substitute it with Parmesan.
The secret ingredient in this recipe is the roasted garlic so I start by peeling the outer skin from the garlic bulb and slicing the top so that the cloves are exposed. I drizzle the cloves with oil and wrap the bulb in foil before roasting in the oven for 30-35 minutes. Fry the orzo pasta lightly in oil before adding stock to rehydrate. Stir in the remaining ingredients and serve. Couldn't be easier (or tastier!).
To make Creamy Roasted Garlic & Spinach Orzo, you will need the following ingredients: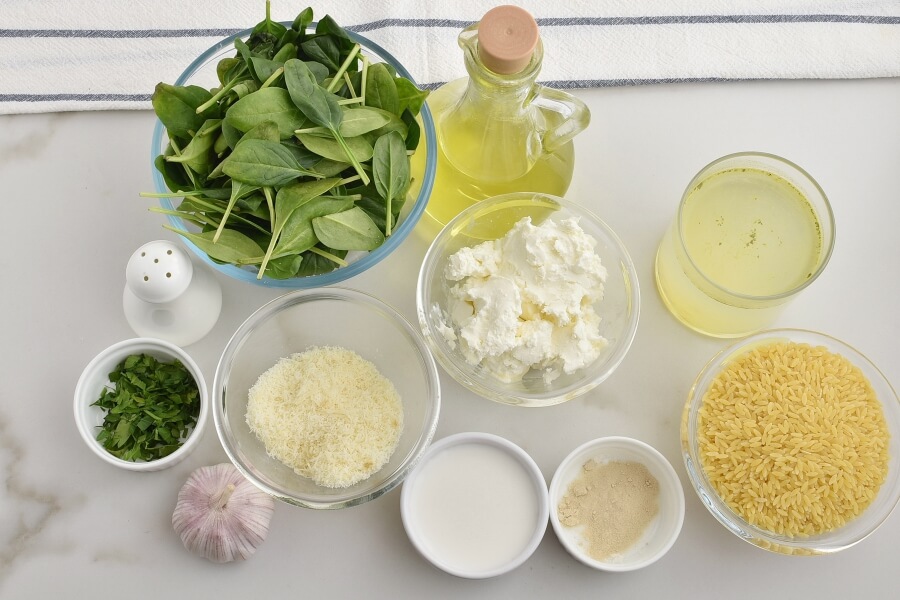 So, how to make Creamy Roasted Garlic & Spinach Orzo?
Steps
5

Heat the oven

Preheat the oven to 425 °F.

2

Prepare the garlic

30

Roast the garlic

2

Brown orzo pasta

10

Add stock and cook orzo

1

Add cream cheese

2

Add remaining ingredients

Serve