For the salad:

1 pack (16 ounces)

Orzo pasta

orzo pasta

1-1/2 cups

Corn kernels

fresh or frozen

2 cups (8 ounces)

Feta cheese

crumbled, (optional)

1 medium

Cucumber

seeded and chopped

1 small

Onion

finely chopped

For the dressing:
Summer Orzo with Mint
I absolutely love orzo and I'm surprised that people don't use it more often in their cooking. Hopefully this Summer Orzo with Mint recipe will help to change that.
Orzo is a type of pasta which looks like rice! Its size and shape make it a brilliant alternative to other pasta shapes in salads because it mixes so well with the other ingredients. I like to cook my orzo al dente so that it is still firm when bitten. There's nothing worse than soft pasta in a salad!
The beauty of this orzo salad is its flexibility – I've listed my favorite ingredient combination but you can improvise with whatever you have to hand in your fridge or storecupboard. To make this bright and colorful summer recipe vegan, simply omit the feta. This recipe feeds 10 so remember to half it if you're cooking for a smaller crowd!
To make my version of Summer Orzo with Mint, you will need the following ingredients: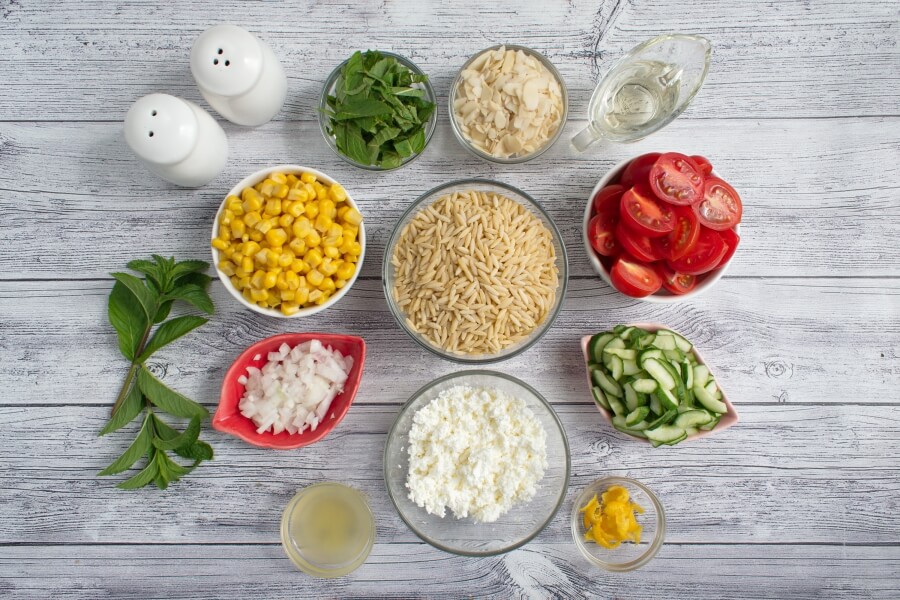 So, how do you make Summer Orzo with Mint?
Steps to make Summer Orzo with Mint
Cook the orzo

7

Cook the corn

3

Assemble the salad

1

Prepare the dressing

1

Dress the salad

2

Chill

30

Top with almonds and serve.

1