1 lb

Chicken Breast

boneless, skinless

Black pepper

freshly ground

2 ½ tbsp

Olive oil

divided

1 ½ cups

Yellow onions

chopped

3 oz

Swiss chard

3 packed cups, roughly chopped

1 cup shredded

Parmesan cheese

for serving
Lemon Chicken and Chard Orzo Soup
This Lemon Chicken and Chard Orzo Soup is a fantastic filling meal that is somewhere between a stew and a soup – a stew if you like! It's full of veggie, herby and chickeny goodness. I use an Italian technique to add a deeper flavor to this soup by adding some parmesan rind to the orzo when it's cooking. This allows the cheesy umami to infuse the broth. Delicious!
In this recipe I start by searing the chicken which brings extra flavor. Then I start to assemble the soup by first frying the veggies and then pouring in stock, herbs and salt before adding chicken, orzo and parmesan rind. At the end of the cooking process I remove the parmesan rind, add some chard and the secret ingredient: zest and juice of a lemon.
To make Lemon Chicken and Chard Orzo Soup, you will need the following ingredients: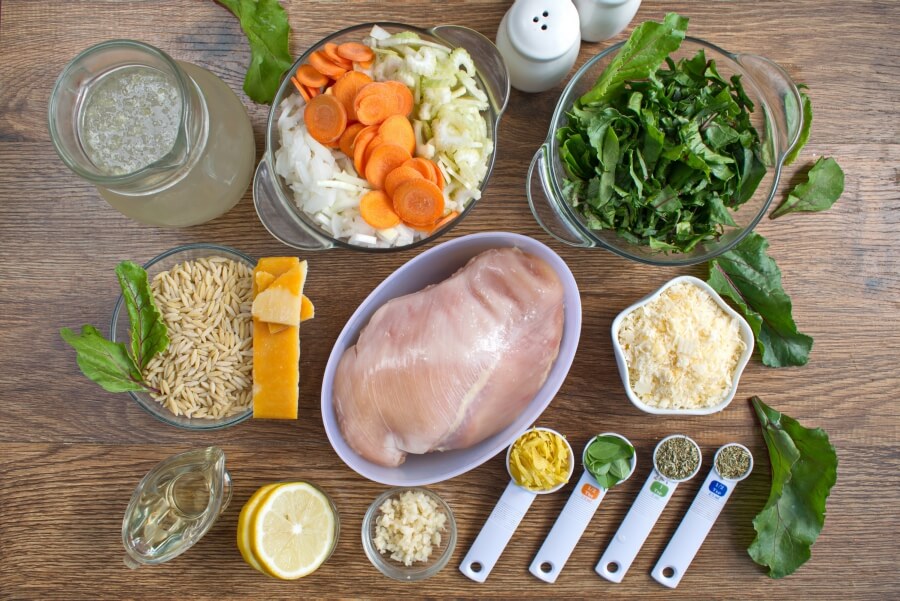 So, how do you make Lemon Chicken and Chard Orzo Soup?
Steps to make Lemon Chicken and Chard Orzo Soup
Prepare the chicken

5

Sear the chicken

5

Set the chicken aside

Sauté the onion, carrots and celery

4

Add broth and herbs

1

Simmer

5

Add orzo and parmesan rind

10

Remove the parmesan rind

1

Add the lemon and chard

5

Serve