1 large

Leek

white and light green parts thinly sliced

1

Fennel bulb

cored and sliced thin, fronds reserved for garnish

2 stalks

Celery

thinly sliced

1 - 1¼ pounds

Potatoes

russet, scrubbed and chopped into ½-inch pieces (optionally peeled)

3 - 3½ cups

Vegetable broth

2 pieces

Turkey bacon

extra thick cut

Black pepper

freshly ground, to taste
Directions
Enjoy this original, homemade Leek and Fennel Soup which is creamy and deliciously filling. I use about a pound of potatoes for this recipe and 3 large leeks. Fennel, leeks and garlic are my go to ingredients for flavor in the soup and I add a thick heavy cream to bring it all together. Garnish with some fennel fronds and thick-cut, turkey bacon for the finishing touches.
To make Leek and Fennel Soup, you will need the following ingredients: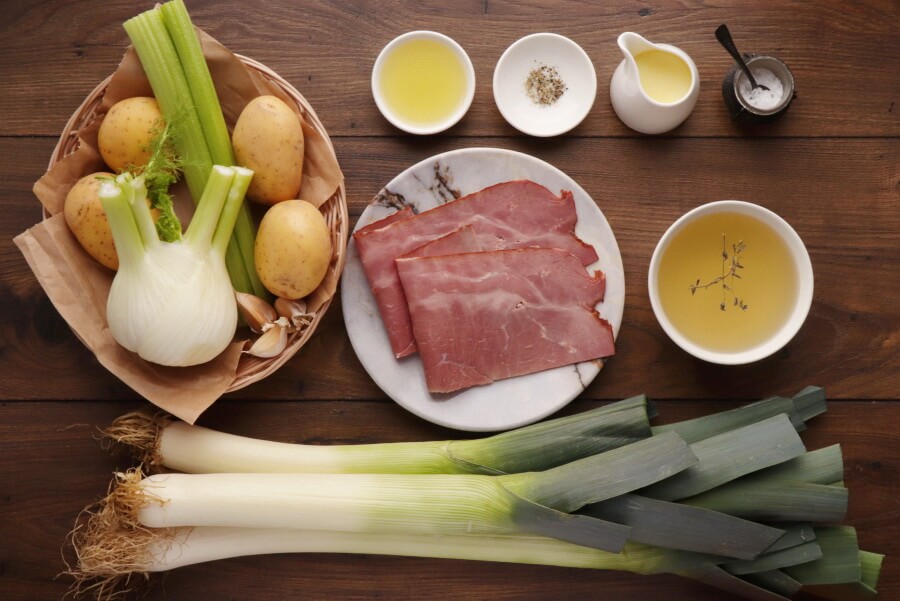 So, how to make Leek and Fennel Soup?
Steps
10

Sauté vegetables

In a medium-sized heavy bottom pot over medium heat, heat 2 tablespoons of olive and add 3 thinly sliced, large leeks, 1 bulb of thinly sliced fennel, 2 thinly sliced celery stalks, 3 cloves of minced garlic, and 1 teaspoon of kosher salt. Sauté, for about 5-7 minutes until vegetables have softened.

1

Add potatoes

4

Add vegetable broth

30

Simmer soup

5

Blend

1

Add heavy cream

3

Cook bacon

1

Chop bacon

Serve