TOP 10 Chicken in Pastry Recipes
Simple but Very Impressive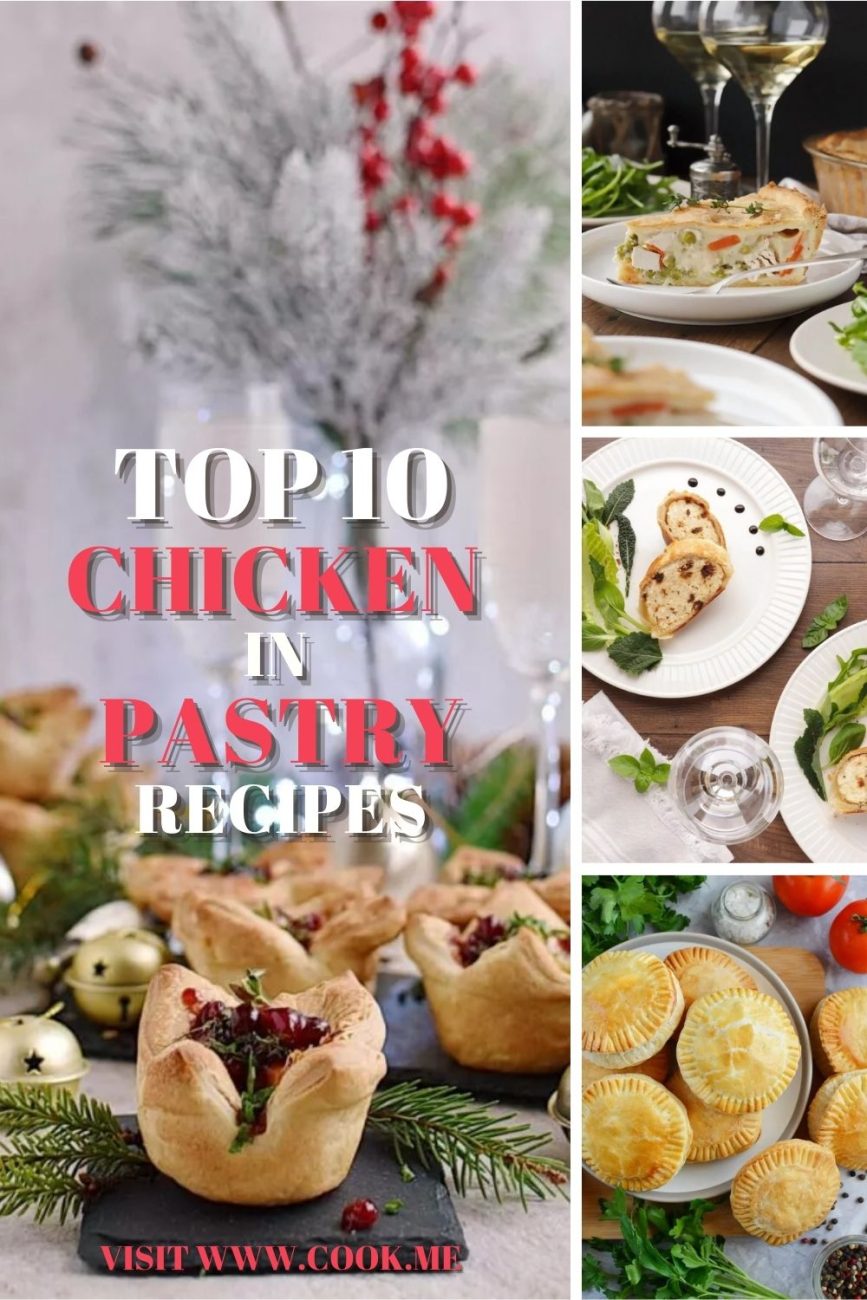 This Herbed Chicken in Pastry recipe is a variation of the classic beef Wellington. And I am so thrilled to share with you another fancy way to serve chicken breast that will wow your family and friends. This delicious entrée features juicy chicken breasts enriched by the flavor of herbed…
Ingredients for Herbed Chicken in Pastry:
1 lb Chicken Breast
Black pepper
2 tbsp Butter
1 sheet Frozen puff pastry
1 Eggs
1 tbsp Water
4 oz Cream Cheese
¼ cup Parsley
What's for dinner? The Best Chicken Pot Pie! If you love pot pies, you'll love this homemade version too. My recipe version is savory with chicken broth, celery seed, thyme, and rich traditional filling in a creamy sauce. Keep it simple – but still delicious! Sometimes I prefer to use…
Ingredients for The Best Chicken Pot Pie:
1 lb Chicken Breast
1 cup Carrots
1 cup Green peas
½ cup Celery
⅓ cup Butter
⅓ cup Onion
⅓ cup All-purpose flour
½ tsp Salt
¼ tsp Black pepper
¼ tsp Celery seed
½ tsp Dried thyme
½ cup Chicken broth
⅔ cup Milk
2 Pie crust
This recipe for Chicken and Spinach in Puff Pastry is a delicious quick lunch or dinner that will go down a treat with the whole family. You won't believe that such a simple ingredients list can taste so delicious! These puff pastry pies are so simple to make too. Start…
Ingredients for Chicken and Spinach in Puff Pastry:
1 tbsp Olive oil
½ lb Chicken Breast
½ tsp Ground paprika
6 oz Fresh spinach
½ cup Parmesan cheese
2 sheets Frozen puff pastry
This recipe for Skillet Chicken Pot Pie is a firm favorite with my family. If you can think of a more comforting combination than chicken, mushroom, and pastry, then I need to hear it! This pie is a firm favorite in my kitchen and I am delighted to share the…
Ingredients for Skillet Chicken Pot Pie:
1½ cups Chicken broth
2 tbsp All-purpose flour
1 tbsp Olive oil
1 (8-oz) package Cremini mushrooms
1 cup Onion
6 cloves Garlic
1 ½ cups (7 oz) Mixed vegetables
1 tbsp Sage
1 tbsp Fresh thyme
½ tsp Salt
½ tsp Black pepper
1 lb Chicken
1 (7-8 oz) Pie crust
1 Egg whites
These Mini Creamy and Cheesy Chicken Pies are the perfect canapes for your next gathering. You can make them in advance and simply cook them in the oven before you wish to serve them. To make these mini pies couldn't be simpler. Start by making the filling for the pies….
Ingredients for Mini Creamy and Cheesy Chicken Pies:
FOR FILLING:
3 tbsp Butter
½ Onion
3 tbsp All-purpose flour
1 lb Chicken Breast
1 Leek
8 oz Monterey Jack cheese
4 oz Sour cream
¼ cup Half-and-half
Salt
Black pepper
½ tsp Ground paprika
3 tbsp Chives

FOR PIES:
3 lbs Frozen puff pastry

FOR EGG WASH:
2 small Eggs+ 1 tbsp of Water
This Chicken Cabbage Savory Pirog is such a classic. I love to make this Chicken Cabbage Savory Pie about once a month. It always goes down a treat. A pirog is a baked pie which is made from dough, filled with a savory filling. Pirogs are common in Ukrainian and…
Ingredients for Chicken Cabbage Savory Pirog:
FOR THE DOUGH:
2 tbsp Mayonnaise
1 tsp Olive oil
1 tsp Salt
⅓ cup Milk
⅓ cup Water
1½ tsp Active dry yeast
1½ tsp Granulated sugar
2 cups All-purpose flour

FOR THE SAVORY FILLING:
¾ lb Chicken thighs
1 tsp Olive oil
½ Onion
3 tbsp Butter
3 cups Cabbage
2 Carrots
2 cloves Garlic
1/4 cup Water
1½ tsp Ketchup
1½ tsp Sour cream
3 tbsp Fresh herbs

FOR EGG WASH:
1 tsp Water
1 Eggs
½ tsp Sesame seeds
These Chicken and Bacon Puffs are so delicious. Flaky puff pastry stuffed with a savory filling made from chicken and bacon, tomatoes, garlic, scallions, and cheese. I always fold my savory puffs into a triangle, making them easy to hold and eat from your hand.  Start by making the savory…
Ingredients for Chicken and Bacon Puffs:
1 ½ cups Chicken
4–5 strips Bacon
3 cloves Garlic
2 Tomatoes
½ cup Scallions
2 tbsp Parmesan cheese
2 tbsp Mayonnaise
½ tbsp Fresh thyme
1 Eggs
20 squares Frozen puff pastry
Sea salt
Black pepper
This Easy Braided Chicken Bread recipe is a fantastic sharing bread to make for a crowd. I like to double this recipe and freeze some before baking. I've taken this braided chicken bread on picnics and to potlucks and it always goes down a treat! To make this chicken bread,…
Ingredients for Easy Braided Chicken Bread:
FOR DOUGH:
4 cups All-purpose flour
1 tbsp Instant yeast
2 tbsp Milk
1 tsp Salt
4 tbsp Nut oil
1 Eggs
1 tsp Sugar
¼ tsp Baking powder

FOR CHICKEN FILLING:
1 ½ – 2 cups Chicken
2 small Onion
1 tsp Salt
1 tsp Black pepper
2 tbsp Coriander
4 Chili pepper
1 tsp Garam masala
2 tbsp All-purpose flour
2 tbsp Butter
1 cup Milk
Sesame seeds
Chicken Meatloaf Wellington is a fresh take on both meatloaf and classic staple Wellington. If you are on the hunt for a new weekend recipe, look no further than this one! Whether you are a meat-lover or not, you will love this scrumptious and comforting recipe. This elegant yet easy…
Ingredients for Chicken Meatloaf Wellington:
FOR FILLING:
1 lb Ground chicken
1 Onion
¾ cup Panko bread crumbs
¼ cup Parmesan cheese
1 Eggs
⅓ cup Basil
¾ cup Sun-dried tomatoes
1 tsp Salt
Black pepper

FOR PASTRY:
1 sheet Frozen puff pastry
1 Eggs
These Quick Chicken, Cranberry and Brie Canapés make for a perfect, fuss-free Christmas finger food. Sprinkle them with fresh thyme leaves and chives to add even more flavor.  This easy pastry bite recipe is one of my all-time favorites. Made with only six ingredients, they are simple to prep and…
Ingredients for Quick Chicken, Cranberry and Brie Canapés:
1 ½ sheets Frozen puff pastry
1 Chicken Breast
100 g Brie
100 g (¼ cup) Cranberry sauce
2 tsp Fresh thyme
1 tbsp fresh Chives