1 ¼ pounds

Sweet Cherries

3 large

Eggs

at room temperature

1 ⅓ cup lowfat

Milk

or whole

1 tbsp Softened

Butter

for preparing the baking dish
Cherry Clafoutis
Another great and easy baking recipe to follow with these Cherry Clafoutis. A warm cherry custard oven baked cake that is sweet and fruity with a moist custard-like texture for the base. This cake is best made with fresh cherries layered over the top and bottom and a vanilla and almond flavor batter in the middle.
Serve it with hot custard and sherry sauce in the winter or dollops of ice cream on a summer's afternoon! It's really lovely.
To make Cherry Clafoutis, you will need the following ingredients: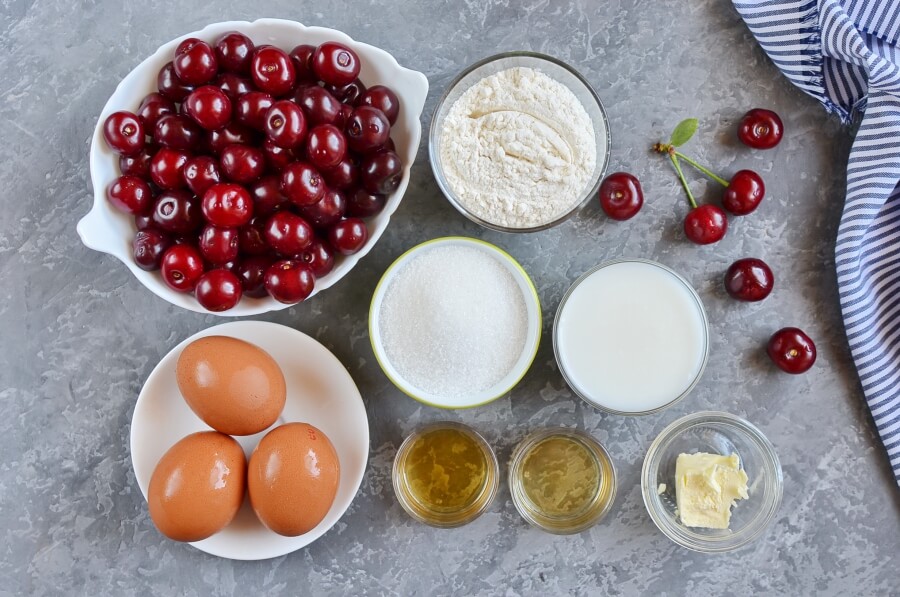 So, how to make Cherry Clafoutis?
Steps to make Cherry Clafoutis
Preheat oven and prepare baking dish

10

Layer cherries

10

Prepare batter

3

Pour batter into baking dish

5

Bake clafoutis

45

Serve

30