1lb

Chicken thighs

boned and skinned chicken thighs, chopped into bite-size chunks

1/4 cup

Soy sauce

reduced salt

1/3 cup

Chicken broth

reduced salt

1/4 cup

Brown sugar

1/4 cup
Chinese Pineapple Chicken
It might sound unusual but this Chinese Pineapple Chicken in Sticky Asian Sauce dish is the perfect combination of sweet, sour and salty. I'm having a pineapple moment right now. I love how well it goes in so many savory dishes, giving a huge burst of juicy sweetness whenever you bite into a chunk. I think it matches chicken perfectly, especially when it's served in the knock-out sauce I've added to this dish.
A combination of hoisin, soy, garlic, ginger, and sugar, all cooked down until it becomes thick and coats the ingredients with a beautiful brown sheen. A scattering of scallions and sesame seeds really finish this dish off and give it an authentic Asian look!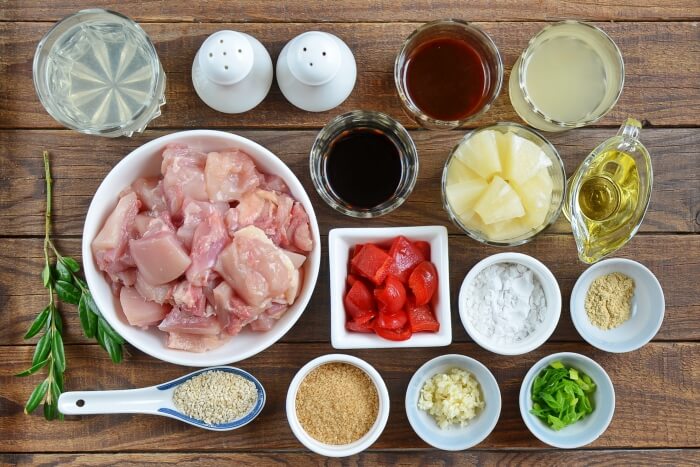 So, how to cook Chinese Pineapple Chicken Recipe?
Steps to make Chinese Pineapple Chicken
Cook the chicken

8

Add the pepper and pineapple

5

Stir in the ginger and garlic

1

Make the sauce

2

Add the cornstarch

1

Cook everything together

1

Serving Chicken with Pineapple in Sticky Asian Sauce