For fish:

250 g (9 oz )

White fish fillets

skinless, boneless

1 tsp

Chinese rice wine

Shaoxing rice wine

For spices:

2 tsp

Sichuan peppercorns

For vegetables:

250 g

Celery

cut into thin strips, or bean sprouts

For broth:

1 ½ tbsp

Sichuan chili bean paste

400 ml

Chicken stock

or hot water

For garnishing:

For serving:
Sichuan Boiled Fish
Sichuan Boiled Fish is just what its name suggests – fish poached in a spicy, rich, and extra aromatic broth. You can make this recipe with just about any firm white fish you prefer. Think catfish, cod, sea bass, pangasius, or snapper. However, it's crucial to use the freshest fish you can find for this recipe.
This Chinese spicy fish recipe uses dried chili peppers, ginger, garlic, and Sichuan peppercorns to create a savory and flavorful broth. To finish it off, the hot oil is drizzled over the spices to enhance and add to the flavor. Every bite is coated with spicy sauce and aromatic oil, giving it the umami taste. Bonus, the dish is quick to make, just 15 minutes and you're done. Simple. Serve in a large serving bowl with a slotted spoon to fish out the vegetables and the fish slices from the spicy broth. Put a spoonful in a small bowl and pick the larger chili pepper and Sichuan peppercorn pieces out. Let the oil drain and enjoy the fish and vegetables with steamed rice. 
To make the Sichuan Boiled Fish, you will need the following ingredients: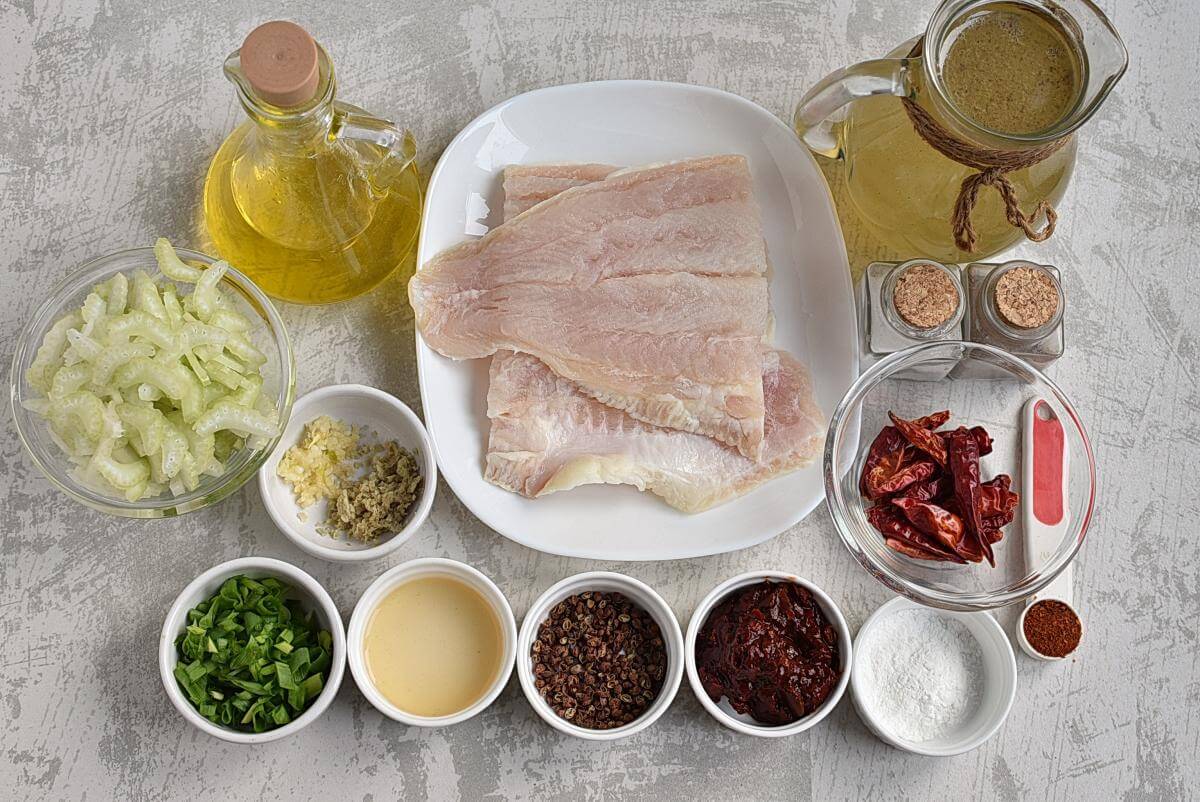 Steps to make Sichuan Boiled Fish
Marinate fish

2

Tilt your knife at 45 degrees and slice the fish fillet diagonally into ¼-inch thick slices. In a medium-sized bowl, add 1 pinch of salt, 1 pinch of white pepper, 1 teaspoon rice wine, and 1 teaspoon cornstarch and mix to combine. Add in the sliced fish fillet and gently mix until the fish is evenly coated.

Fry spices

1

Cook celery or bean sprouts

2

Make broth

3

In the same wok, heat 2 tablespoons cooking oil and add 2 minced cloves garlic, 1 teaspoon minced ginger, and 1 chopped scallion and fry, constantly stirring, for 1 minute. Stir in 1 ½ tablespoons Sichuan chili bean paste and 1 teaspoon chili powder. Pour in 400 milliliters water or chicken stock and bring to a full boil.

Cook fish

1

Assemble dish

2

Garnish

2

Serve