18 oz

Yellow cake mix

approx
Coconut Sour Cream Cake
I've made this delicious Coconut Sour Cream Cake as easy as possible for you! There are times when I'm in the mood for full-on, from-scratch baking…and there are times when it's ok to cut a few corners and still get the same tasty result!
Here, I use a white cake mix to make the cake layers and a packet of ready-made frosting. You can even use a pack of frozen frosting, but just make sure it's fully thawed before you start working with it. I just add some extra ingredients to jazz it up a little! Almond extract in the cake mix gives a delicious flavor to the crumb, and sour cream and coconut make the frosting even more creamy and delicious!
All-in-all making this cake an easy and scrumptious bake!
To make Coconut Sour Cream Cake, you will need the following ingredients: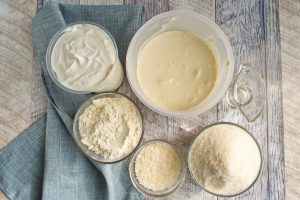 So, how to make Coconut Sour Cream Cake?
Steps to make Coconut Sour Cream Cake
Heat the oven and prepare cake tins

5

Preheat the oven to the temperature directed on the cake mix packet. Lightly grease 2 cake tins and dust with flour.

Add the almond extract to the cake mix

5

Bake the cakes

35

Slice the cakes

15

Make the filling

5

Spread the filling

20

Make the frosting

5

Frost the cakes

10

Chill

1h