1 (8 ounce) package

Cream Cheese

softened

1

Graham cracker base

prebaked

15 oz

Pineapple

canned crushed pineapple, drained

1 3/4 cups

Frozen whipped topping

frozen whipped topping, thawed
Creamy Pineapple Cheesecake
A sweet and creamy dessert, my Creamy Pineapple Cheesecake is a firm favorite in the Mathuse house! I've made so many cheesecakes in my time. And almost every version has a different key ingredient, base, filling, method or assembly, I'm always trying something new! But I do have a couple that I keep returning to, the ones that really hit the spot in terms or taste and creaminess.
This recipe is nice and easy, using a premade graham cracker crust and pack of frozen whipped topping. Maybe you've been googling pineapple cheesecake recipes, or maybe you're just looking for a new take on a classic, but I recommend you give this one a go!
To make Creamy Pineapple Cheesecake, you will need the following ingredients: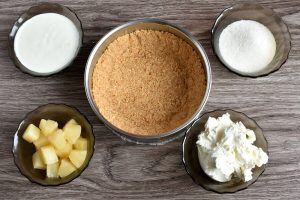 So, how to make this Cheesecake at home?
Steps to make Creamy Pineapple Cheesecake
Combine the cream cheese and sugar

2

Add the pineapple and topping

1

Assemble the cheesecake

1

Chill

120

Serving