8

Chicken thighs

skins removed

1/2 tsp

Black pepper

ground
Fried Chicken Thighs
A super simple weeknight dinner, these Fried Chicken Thighs are easy to prepare and quick to cook! I think the smell of fried chicken speaks to something in all of us. It takes me right back to watching my mom fry batches of chicken wings when I was a little girl. And now my kids are watching me do the same!
I keep this fried boneless chicken thighs recipe nice and simple, with a yummy paprika and garlic seasoning adding all the extra flavor you need. I normally use thighs when frying chicken as I think they stay juicier than chicken breasts.
And make sure to remove the bones and skins first so they're real easy to eat too!
To make Fried Chicken Thighs, you will need the following ingredients: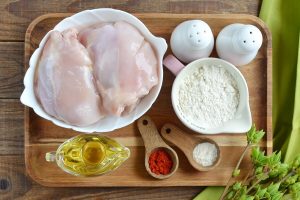 So, how to make Fried Chicken Thighs?
Steps to make Fried Chicken Thighs
Mix the seasoning

1

Season the chicken thighs

5

Heat the oil

3

Fry the chicken thighs

20

Prepare to serve

3