TOP 10 Blackberry Recipes
To Make Summer So Much Sweeter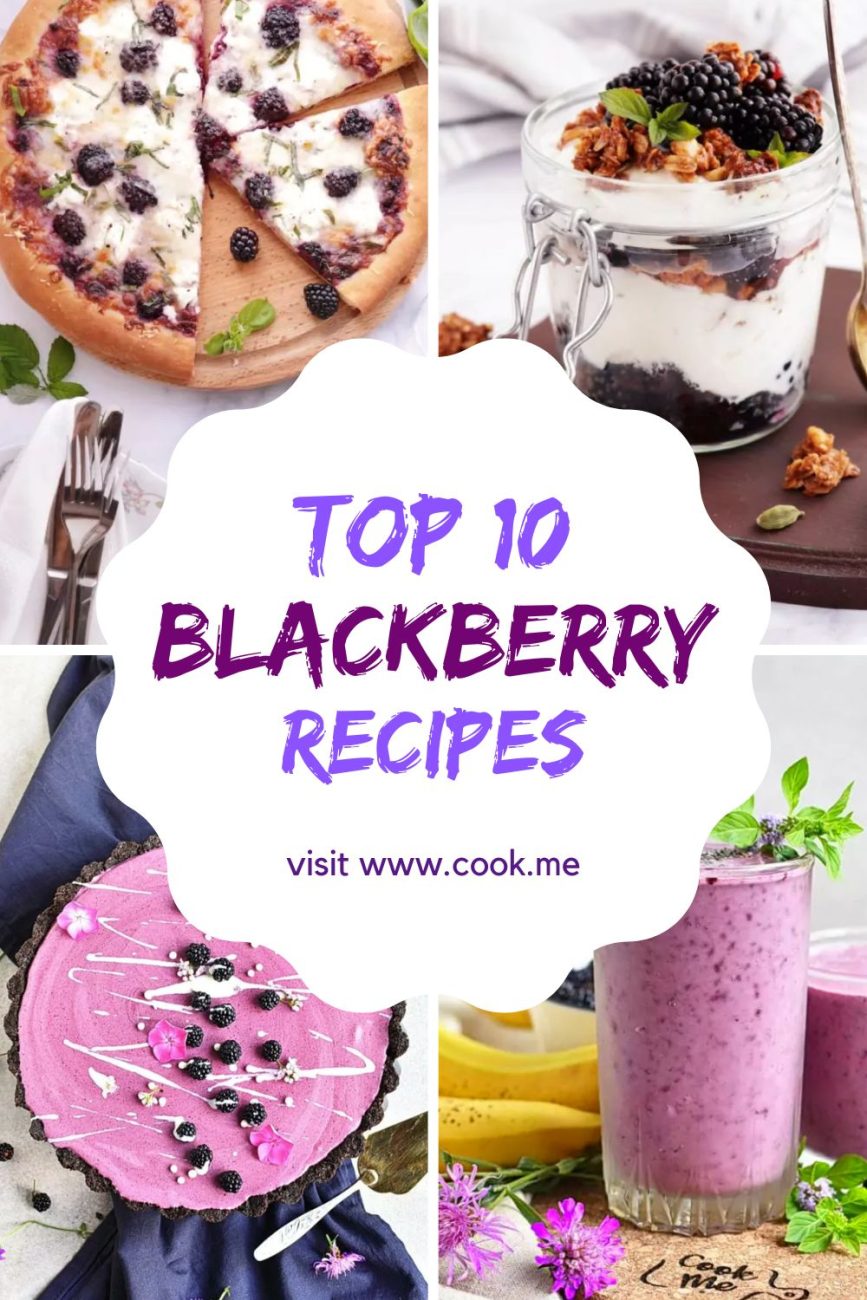 This Easy No Bake Blackberry Tart is a simple and easy no-bake tart that you can whip up in only 20 minutes and will be ready to eat after one hour chilling in the refrigerator. Blackberries are one of my favorite berries, and this tart is a tasty way to…
Ingredients for Easy No Bake Blackberry Tart :
3 cups Sandwich cookies
5 tbsp Butter
12 oz Blackberries
1 tbsp Honey
1 tbsp Gelatin
1 cup Heavy whipping cream
⅓ cup Condensed milk
Ingredients for Easy Strawberry Blackberry Pudding:
1 ½ cups Water
¼ cup Cornstarch
¼ tsp Kosher Salt
2 Egg yolks
12 oz Blackberries
12 oz Strawberries
½ cup Sugar
3 tbsp Lemon juice
Ingredients for Easy Blackberry Cobbler:
4 cups Blackberries
1 tbsp Lemon juice
¾ cup Sugar
1 cup All-purpose flour
1 Large eggs
6 tbsp Butter
This Blackberry Banana Bread recipe features juicy, nutrient-dense blackberries and a serious banana flavor. It takes 10 minutes tops to throw together and delivers a loaf of moist banana bread with a delicate crumb. It is sweet, extra berry-filled, delicious, and beautiful. This tasty one-bowl banana bread uses no eggs…
Ingredients for Blackberry Banana Bread:
3 tbsp Almond milk
½ tsp Apple cider vinegar
3 Bananas
⅓ cup Flavorless oil
½ cup Brown sugar
1 tsp Vanilla extract
1 ¾ cups All-purpose flour
1 tsp Baking powder
½ tsp Baking soda
⅛ tsp Sea salt
6 oz Blackberries
1 Bananas
My favorite time of day is tea-time and especially if these Blackberry and Lemon Scones are on the menu. These are so easy to make, with fresh blackberries and lemon zest added to the soft and buttery scone dough then brushed with a buttermilk and raw sugar egg wash and…
Ingredients for Blackberry and Lemon Scones:
FOR THE SCONES:
2½ cups All-purpose flour
½ tsp Salt
2 tsp Baking powder
½ tsp Baking soda
⅓ cup Granulated sugar
2 tsp Lemon zest
1 stick (4 ounces) Unsalted butter
1 Large eggs
½ cup Whole milk
¼ tsp Vanilla extract
1 cup Blackberries

FOR THE EGG WASH:
1 Large eggs
1 tsp Whole milk

FOR SPRINKLING, OPTIONAL:
2 tbsp Raw sugar

FOR THE LAVENDER GLAZE:
⅓ cup Milk
2 tbsp Butter
1 tbsp Dried culinary lavender
1 cup Powdered sugar
Spiced Roasted Apples & Blackberries is a quick and easy dessert that I love to make at this time of year. Near our home there is a huge collection of blackberry bushes that no-one seems to know or care about except us. Every year, we go blackberry picking with buckets….
Ingredients for Spiced Roasted Apples & Blackberries:
4 Apples
4 tbsp Honey
½ tsp Cinnamon
1 Oranges
250g Blackberries
I think these Granola Pots with Blackberries are the triple threat, perfect, brunch option to serve at your next breakfast party with the girls! The below recipe includes steps to making your own homemade granola that you can actually pair with any fillings of your choice, I just love it…
Ingredients for Granola Pots with Blackberries:
1 cup Rolled oats
⅓ cup Hazelnuts
3-4 green Cardamom pods
¼ cup Maple syrup
¼ cup Nut butter
17 oz fresh Blackberries
14 oz vegan Yogurt
Sometimes you need a stylish plate and this Blackberry Ricotta Pizza with Basil is not just a palate pleaser but also looks absolutely stunning, too. Prepare your own pizza crust and use a 3 cheese mix of Parmesan cheese, Swiss or mozzarella and ¾ cup white ricotta cheese. I use…
Ingredients for Blackberry Ricotta Pizza with Basil:
1 (12-inch) Pizza crust dough
1 tbsp Olive oil
½ cup Blackberries
1 cup Parmesan cheese
1 cup Mozzarella
¾ cup Ricotta cheese
½ cup whole Blackberries
¼ cup Green onion
½ tsp Salt
to taste Ground pepper
2-3 tbsp Basil
Blackberry season? Look no further than this Blackberry-Banana Smoothie, which I love to make for a light breakfast or snack. This is the tastiest way to use blackberries when they are ripe.  It is super easy to make this smoothie too! Simply place blackberry, frozen banana, vanilla yogurt, and water…
Ingredients for Blackberry-Banana Smoothie:
1 cup Blackberries
1 Bananas
½ cup Yogurt
¾ cup Water
This Blackberry Cake recipe is one of my cakes to make. It's so easy and I've made it so many times that I feel like I could do it in my sleep! The secret to baking with blackberries is to not wash them. I know this sounds gross, but if…
Ingredients for Blackberry Cake:
275g Blackberries
150g Unsalted butter
3 Eggs
150g Caster sugar
2 tbsp Demerara sugar
1 tsp Vanilla extract
250g Plain flour
1½ tsp Baking powder
125ml Milk