1 cup

Rolled oats

gluten-free certified if required

⅓ cup

Hazelnuts

roughly chopped

3-4 green

Cardamom pods

seeds crushed in pestle and mortar

¼ cup

Nut butter

hazelnut, or seed butter or tahini

14 oz vegan

Yogurt

I used coconut, or whipped coconut cream
Granola Pots with Blackberries
I think these Granola Pots with Blackberries are the triple threat, perfect, brunch option to serve at your next breakfast party with the girls!
The below recipe includes steps to making your own homemade granola that you can actually pair with any fillings of your choice, I just love it with some vegan yogurt and blackberries.
Beautiful, delicious and nutritious.
To make Granola Pots with Blackberries, you will need the following ingredients: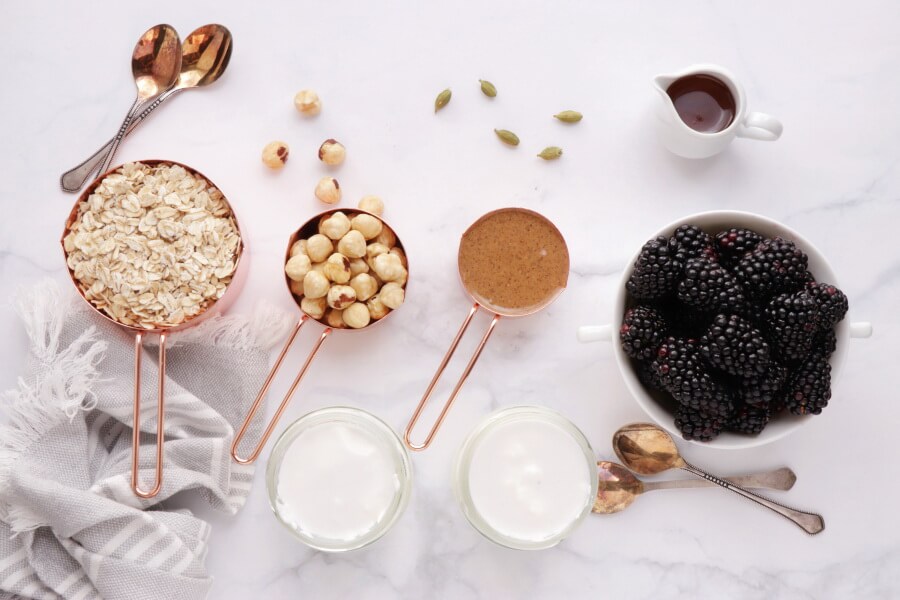 So, how to make Granola Pots with Blackberries?
Steps to make Granola Pots with Blackberries
Prepare oven and baking sheet

5

Preheat the oven to 130 °C/265 °F fan function and line a large baking sheet with parchment paper.

Prepare granola sweetener

1

Add dry granola ingredients

2

Bake granola

40

Cool

20

Store

Serve in pots

2

In four medium size serving jars or pots, place a layer of blackberries at the bottom and a dollop of yogurt or whipped cream over. Sprinkle with granola chunks and then repeat with another layer as described before, blackberries, yogurt and granola. Pack your jars tightly for the juices to run and the colors to show.