TOP 10 Chicken Pasta Recipes
For Winning Weeknight Meals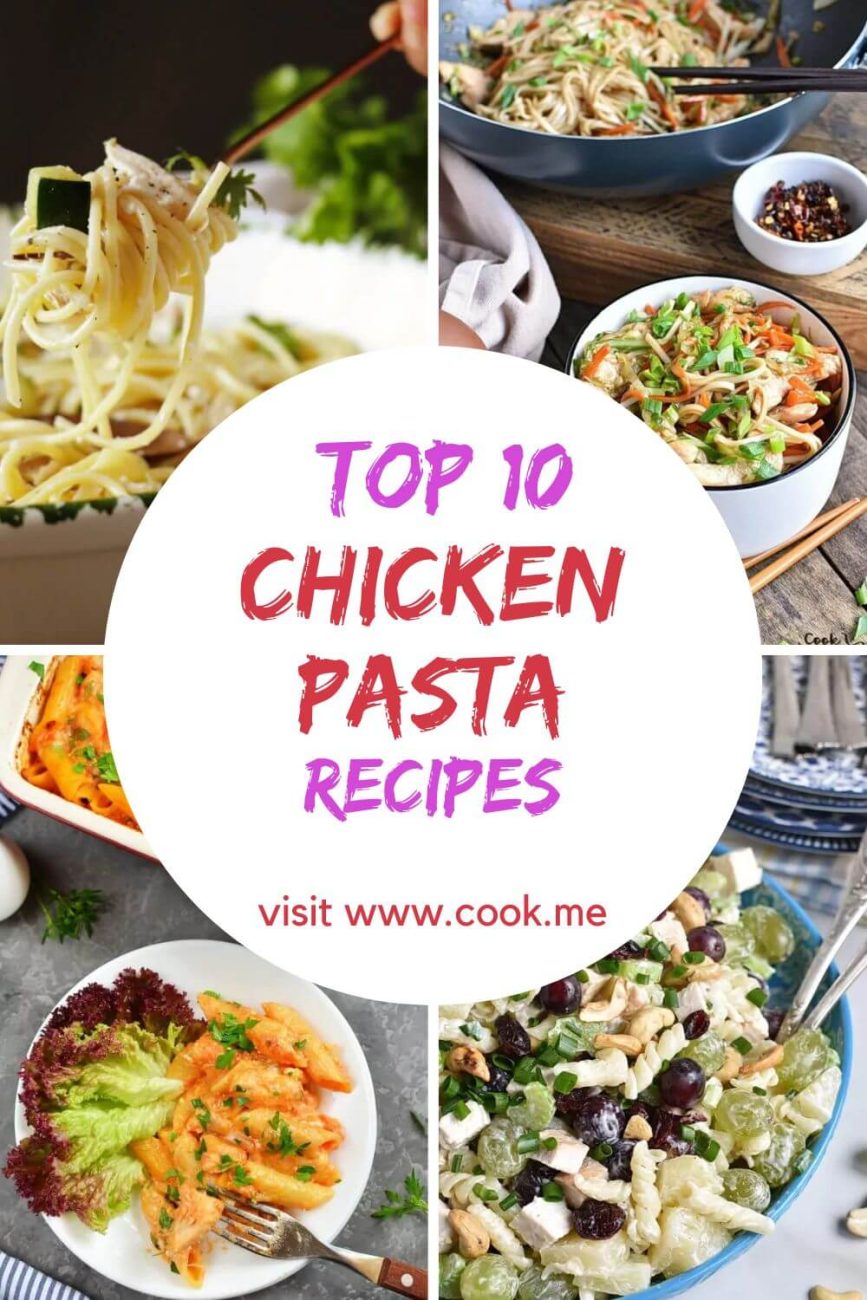 This Chicken Pasta with Zucchini recipe is a weeknight-friendly, delicious, simple, and healthy dish, ready in just 15 minutes. The dish itself requires chicken meat, zucchini, shallots, cottage cheese, and cilantro and can be ready in time for the pasta to be cooked. My kids love to put cottage cheese on…
Ingredients for Chicken Pasta with Zucchini:
1 lb Spaghetti
1 tbsp Unsalted butter
½ cup Shallots
3 cups Zucchini
1 cup Chicken Breast
8 oz Cottage cheese
2 tbsp Cilantro
Kosher Salt
Black pepper
Ingredients for Creamy Rasta Pasta:
1 lb Pasta
2 Chicken Breast
2 tbsp Vegetable oil
3 tbsp Jerk seasoning
3 Bell pepper
½ cup Green onion
2 cloves Garlic
¼ cup Chicken stock
½ cup Heavy cream
½ cup Parmesan cheese
You would not believe how often my kids ask for this Mexican Chicken Pasta. They love it so much I think they would eat it every day if they could! What's not to love? Cheesy chicken pasta always goes down a treat. I hold off on some of the chili…
Ingredients for Mexican Chicken Pasta:
12 oz Spaghetti
1 tbsp Olive oil
1 lb Chicken Breast
Kosher Salt
Black pepper
1 Onion
2 Bell pepper
1 tbsp Chili powder
1 tbsp Cumin
2 tsp Dried oregano
1 (15-oz) can Diced tomatoes
½ cup Chicken broth
¾ cup Half-and-half
½ cup Cheddar cheese
This Cashew-Chicken Rotini Salad is a delicious fresh fruity pasta salad. Make this for you next picnic or cook out and watch as the contents of the bowl disappear. Everyone loves the refreshing combination of chicken, pineapple, celery, onions, grapes, and cranberries with tight rotini pasta spirals, topped with crunchy…
Ingredients for Cashew-Chicken Rotini Salad:
1 (16-oz) package Pasta
4 cups Chicken
1 (20-oz) can Pineapple
1½ cups Celery
¾ cup Green onion
1 cup Red Grapes
1 cup Green grapes
1 (5-oz) package Cranberries
1 cup Ranch salad dressing
¾ cup Mayonnaise
2 cups Cashews
This Chicken Pasta Bake is a simple dish to throw together. I often make this one in advance and keep it in the refrigerator until I am ready to cook it. This makes it a fantastic dinner to prepare the night before a busy day. You know those crazy days…
Ingredients for Chicken Pasta Bake:
4 tbsp Olive oil
1 Onion
2 cloves Garlic
¼ tsp Red chili powder
2 (400 g Can chopped tomatoes
1 tsp Caster sugar
6 tbsp Mascarpone
4 Chicken Breast
300 g Penne pasta
70 g Cheddar cheese
50 g Mozzarella
½ small bunch Parsley
This Parmesan Zucchini Tomato Chicken Spaghetti recipe is a delicious midweek meal that you can have on the table in under 25 minutes. It combines chicken with one of my favorite herbs (basil in the pesto) and zucchini and tomatoes. Can you think of a dish which screams summer more?…
Ingredients for Parmesan Zucchini Tomato Chicken Spaghetti:
1 tbsp Olive oil
1 Zucchini
1 tbsp Olive oil
1 lb Chicken Breast
¼ cup Pesto
8 oz Spaghetti
1 cup red Cherry tomatoes
1 cup yellow Cherry tomatoes
¼ cup basil Pesto
⅓ cup Parmesan cheese
Salt
These Chicken Pesto Meatballs are really quick and easy to make. They taste absolutely delicious too thanks to the addition of basil pesto. Pesto is the ultimate Italian ingredient, bursting with the flavor of fragrant basil and rich with olive oil and Parmesan cheese. I adore it! Start by cooking…
Ingredients for Chicken Pesto Meatballs:
6 oz Spaghetti
¼ cup Bread crumbs
2 tbsp Pesto
2 tbsp Parmesan cheese
1 tsp Garlic powder
1 lb Ground chicken
1 ½ cups Marinara sauce
¼ cup Water

TO GARNISH:
Freshly torn Basil
Parmesan cheese
This tasty Sesame Pasta Chicken Salad is one of my favorite recipes. My daughter loves it for her school lunch box too and with the easy preparation time I am able to make it for her a few times a week. The tangy Asian style salad dressing is extra flavorsome…
Ingredients for Sesame Pasta Chicken Salad:
¼ cup Sesame seeds
1 (16 ounce) package Pasta
3 cups cooked Chicken Breast
⅓ cup fresh Cilantro
⅓ cup Green onion
½ cup Vegetable oil
⅓ cup light Soy sauce
⅓ cup Rice vinegar
1 tsp Sesame oil
3 tbsp Sugar
½ tsp ground Ginger
¼ tsp ground Black pepper
My Sensational Chicken Noodle Soup is a true homemade classic, rich with chicken, noodles and tender vegetables swimming in a hearty broth. This easy 3-step, 1-pot recipe is super simple to follow and produces a really delicious soup, just like your mom used to make! Use this recipe as the…
Ingredients for Sensational Chicken Noodle Soup:
1 cup Chicken
1/2 cup Egg noodles
4 cups Chicken broth
1 cup Carrots
1 rib Celery
Black pepper
What's for dinner? 20-minute Chicken Chow Mein. It is my go-to recipe when I need a quick weeknight dinner option that is healthy and delicious too. Flavorful chow mein noodles, tender chicken, and yummy veggies get tossed in a coating of a homemade sauce that hits all the umami notes….
Ingredients for Chicken Chow Mein:
FOR SAUCE:
4 tbsp Soy sauce
2 tbsp Water
1 tbsp Oyster sauce
1 tbsp Cornstarch
1 tbsp Sesame oil
1 tbsp Honey

FOR STIR-FRY:
6 oz Chinese noodles
2 tbsp Vegetable oil
1 lb Chicken Breast
2 cups Green cabbage
1 cup Carrots
3 cloves Garlic
3 Green onion