Top 10 Slow Cooker Recipes
Great for Busy Weeknights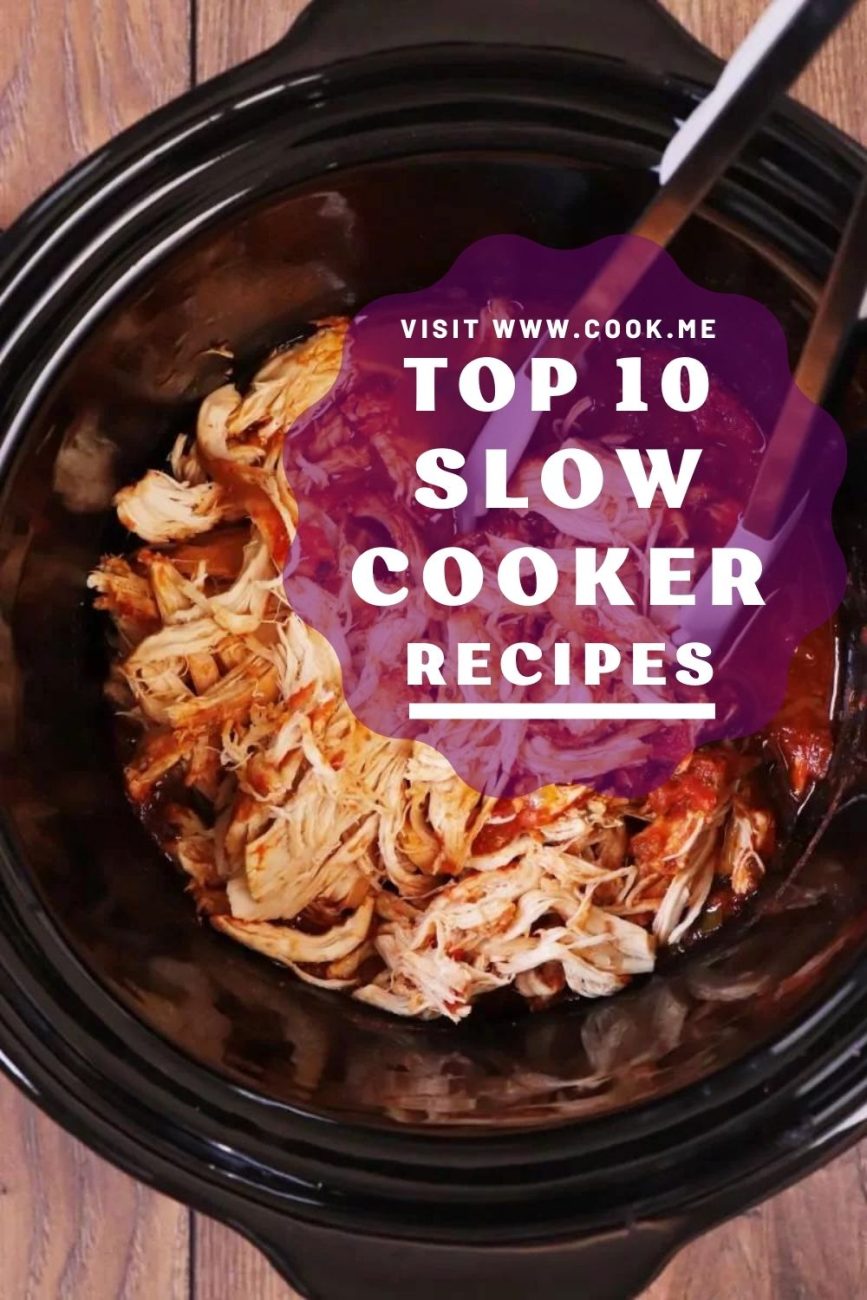 These Slow Cooker Shredded Chicken Tacos are great for busy weeknights, allowing you to have a delicious and flavorful meal ready to eat by dinnertime. Chicken breasts flavored with taco seasoning and cooked in salsa sauce until fork-tender, then shredded and stuffed into warmed tortillas, make for deeply delicious tacos….
Ingredients for Slow Cooker Shredded Chicken Tacos:
16 oz Salsa
4 tbsp Lime juice
1 package Taco seasoning
3 tbsp Cilantro
3 lbs Chicken Breast
Salt
Black pepper

TO SERVE:
Tortillas
Tomato salsa
1 Avocado
Cilantro
10 wedges of Lime
Ingredients for Slow Cooker Beef Bourguignon:
5 slices Bacon
3 lbs Boneless beef chuck
Salt
Black pepper
1 cup Red wine
2 cups Chicken broth
½ cup Tomato sauce
¼ cup Soy sauce
¼ cup All-purpose flour
3 cloves Garlic
2 tbsp Fresh thyme
5 Carrots
1 lb Baby potatoes
8 oz Mushrooms
4 tbsp Parsley
Ingredients for Slow Cooker Chicken Curry:
2 tbsp Vegetable oil
2 Onion
1 tbsp Garlic
½ tbsp Fresh ginger
¼ cup Tomato paste
2 tbsp Curry Powder
2 tsp Kashmiri red chili powder
1.3 lbs Chicken Breast
1 can Coconut milk
Salt
Cilantro
This easy Slow Cooker Apricot Chicken is made with boneless skinless chicken thighs, fresh apricots, and simple pantry ingredients. And if you are looking for a chicken dinner that is sure to impress, this is the recipe for you. Juicy chicken thighs cooked low and slow in a bright-tasting apricot…
Ingredients for Slow Cooker Apricot Chicken:
2 tbsp Olive oil
2 lbs Chicken thighs
Salt
1 Onion
4 cloves Garlic
2 lbs Apricots
½ cup Sugar
½ cup Chicken stock
¼ cup Sweet chili sauce
½ tsp Sweet paprika
¼ tsp Black pepper
1 tbsp Cornstarch
If there's a soup I make on repeat every single spring, it's my Weight Loss Magic Soup. Low in calories and high in fiber, this soup is flavorful, delicious, and so easy to make. Everyone in my family loves this easy dinner. Start with the aromatics, like onion, garlic, carrots,…
Ingredients for Weight Loss Magic Soup:
Cooking spray
1 Onion
2 cloves Garlic
8 ounces Mushrooms
3 Carrots
28 oz Diced tomatoes
1 Zucchini
1 ½ cups Butternut squash
2 cups Green beans
14 oz Kidney beans
3-4 cups Cabbage
32 oz Chicken broth
3 cups V-8 juice
1 tsp Dried Italian seasoning
Salt
Black pepper
This simple and delicious Slow Cooker Lentil Soup is the ultimate vegetable detox soup. Chock-full of healthy vegetables, rich in dietary fiber and protein lentils and yellow split peas, and infused with herbs de Provence, this unique lentil soup is flavorful and full of texture. It warms and satisfies without…
Ingredients for Slow Cooker Lentil Soup:
FOR SLOW COOKER:
2 cups Butternut squash
2 cups Carrots
2 cups Potatoes
2 cups Celery
1 cup Green lentils
¾ cup Yellow split peas
1 Onion
5 cloves Garlic
2 tsp Herbes de Provence
1 tsp Salt
8–10 cups Vegetable stock

GARNISHES:
2–3 cups Baby spinach
1 cup Parsley
¼ cup Olive oil
1-2 tsp Red wine vinegar
This Slow Cooker Chicken Stock is one of those recipes that comes together without too much hassle but is still healthy and nutritious. Just throw everything – chicken carcass, some vegetables, herbs, and aromatics – into your slow cooker, relax and allow all the flavors to develop. It's almost too easy! ….
Ingredients for Slow Cooker Chicken Stock:
1 Chicken carcass
2 stalks Celery
5 Carrots
1 Onion
4 cloves Garlic
1 handful Parsley
4 sprigs Fresh thyme
1 Bay leaf
½ tbsp Black peppercorns
6 cups Water
Looking for something healthy but still crowd-pleasing? Try this Slow Cooker Corn on the Cob recipe! When it comes to entertaining in the summer, corn on the cob is a no-brainer. This is my hands-down favorite and easiest way to prepare a delicious and timeless summer side dish. It needs just five minutes of active prep time and uses only five ingredients. Simply seasoned with salt, pepper, and butter, it's juicy, tender, and moist. Can't lose. ….
Ingredients for Slow Cooker Corn on the Cob:
6-8 Ears of corn
1 tbsp Olive oil
Salt
Black pepper
¾ cup Water

FOR SERVING:
Butter
These Cumin Spiced Meatballs in Rich Tomato Sauce make perfect use of my favorite warming spice: cumin! I add cumin to everything. I love it! These slow cooker meatballs are one of my favorite comfort foods – cooked long and slow in a rich and delicious tomato sauce. Start by…
Ingredients for Cumin Spiced Meatballs in Rich Tomato Sauce:
FOR THE MEATBALLS:
1 cup Breadcrumbs
¼ cup Red wine
1½ lb Ground beef
2 tsp Garlic paste
1 tbsp Parsley
¾ tsp Salt
1½ tsp Cumin
¼ tsp Black pepper
¼ tsp Cinnamon

FOR THE SAUCE:
1 can Diced tomatoes
1 tbsp Butter
1 tsp Onion powder
½ Salt
½ tsp Sugar
½ tsp Sweet paprika
Tuscan Pork Stew is one of my favorite slow cooker recipes. I would be lost without my slow cooker – I love it because it's so easy to whip up a delicious meal. I throw the ingredients for this Tusan stew into the slow cooker in the morning before work….
Ingredients for Tuscan Pork Stew:
1 ½ lb Pork loin
2 tbsp Olive oil
2 cans (14-1/2 ounces each) Tomatoes
2 cups Chicken broth
2 cups Pepper stir-fry vegetable blend
½ cup Red wine
¼ cup Orange Marmalade
2 cloves Garlic
1 tsp Dried oregano
½ tsp Fennel seed
½ tsp Black pepper
⅛ tsp Red pepper flakes
2 tbsp Cornstarch
2 tbsp Water