TOP 10 Cheesecake Recipes
Delicious and Surprisingly Easy to Make and Decorate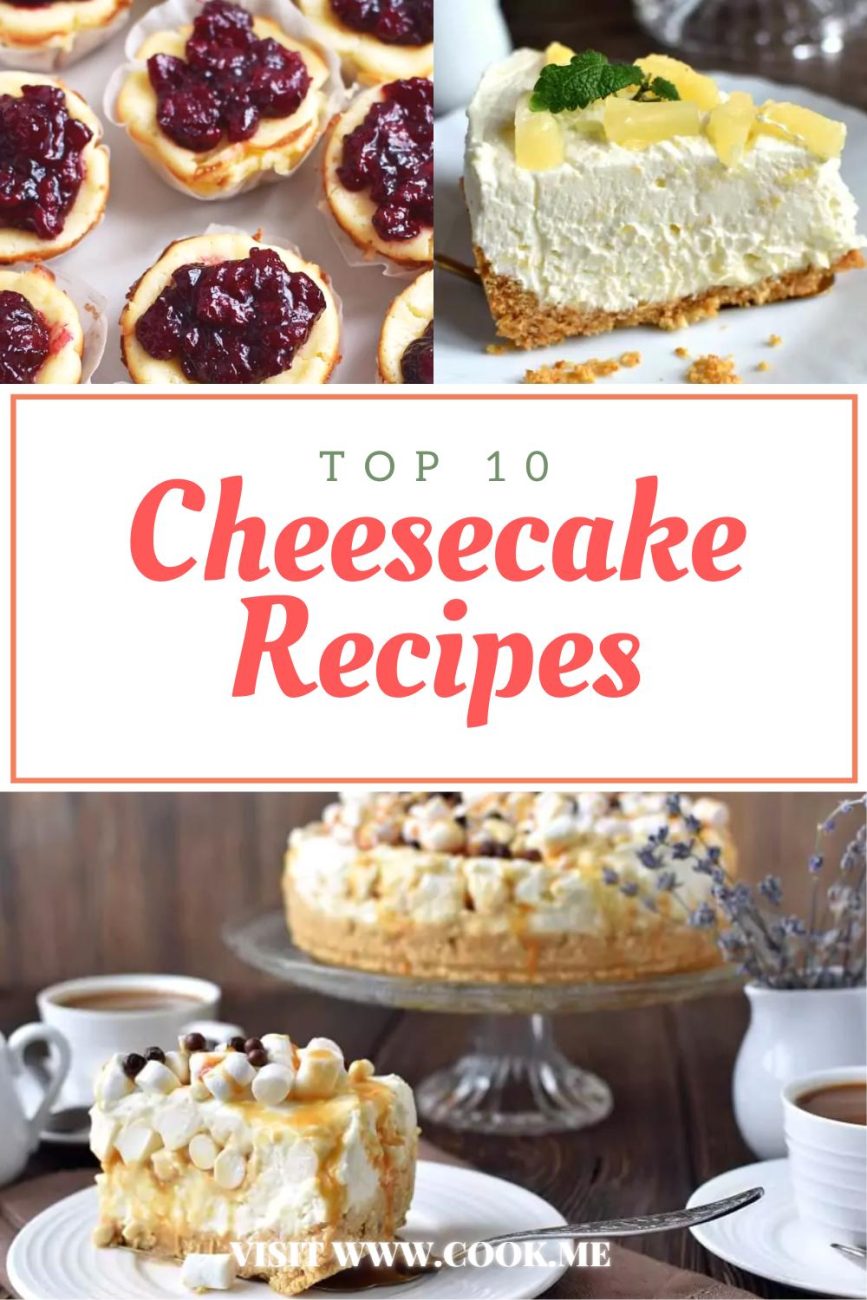 This Caramel Mountain Top Cheesecake gets served at every kids birthday party we have ever celebrated! My children love this recipe and I'm sure it's all the sugar, sweetness and yumminess that comes with it, which is why I make it only on special occasions. With a biscuit-butter base filled…
Ingredients for Caramel Mountain Top Cheesecake:
FOR THE BASE:
2½ oz butter (75g) Butter
8 oz (220g) Digestive biscuits

FOR THE FILLING:
7 fl oz (200ml) Whipping cream
7 oz (200g) Cream Cheese
2 tbsp Icing sugar
5-6 tbsp Dulce De Leche
2 tbsp Icing sugar
½ cup Mini Marshmallows
3 tbsp Chocolate bits
A sweet and creamy dessert, my Creamy Pineapple Cheesecake is a firm favorite in the Mathuse house! I've made so many cheesecakes in my time. And almost every version has a different key ingredient, base, filling, method or assembly, I'm always trying something new! But I do have a couple…
Ingredients for Creamy Pineapple Cheesecake:
1 (8 ounce) package Cream Cheese
1 Graham cracker base
15 oz Pineapple
1 3/4 cups Frozen whipped topping
1/2 cup Sugar
Imagine preparing dessert for 48 people in 45 minutes like you can with these Mini Cherry Cheesecakes. The base is made from sweet vanilla wafers that are crushed and placed inside mini cupcake paper liners and topped with a creamy vanilla, creamy cheesecake that gets baked in the oven for…
Ingredients for Mini Cherry Cheesecakes:
1 (12 ounce) package Vanilla Wafers
2 (8 ounce) packages Cream Cheese
¾ cup Sugar
2 Eggs
1 tsp Vanilla extract
1 (21 ounce) can Cherry pie filling
Chocolate Cream Cheese Pie makes an elegant and delicious finish to any meal. What I love most about this chocolate pie is that it is super easy, no-bake, no fuss, no eggs, and almost no effort. Anyone can make it! If you have a food processor, it makes quick work…
Ingredients for Chocolate Cream Cheese Pie:
3.9 oz Chocolate instant pudding
1 (12-oz) can Evaporated milk
12 oz Cream Cheese
8 oz Cool whip
26 cookies Oreo cookies
6 tbsp Butter
Blueberry cheesecake meets puff pastry in this stunning Blueberry Basque Cheesecake recipe inspired by the famous burnt cheesecake. Often replicated, the original basque cheesecake recipe uses only five simple ingredients. However, the recipe is easy to adjust to your taste. When blueberries are in season, I love to add them…
Ingredients for Blueberry Basque Cheesecake:
1 sheet Frozen puff pastry
2 (8-oz) packages Cream Cheese
¾ cup Sugar
3 Large eggs
¾ cup Heavy cream
1 tsp Vanilla extract
½ tsp Kosher Salt
All-purpose flour
2 ½ cups Blueberries

FOR SPRINKLING:
2 tbsp Granulated sugar

FOR DUSTING:
Confectioners' sugar
This Farmer's Cheese Cake with Raisins (Zapekanka) recipe is a scrumptious cheesecake with Russian roots. Delicately sweet and speckled with plump raisins, this tasty cake is made using fresh farmer's cheese. Though mild in flavor, farmer's cheese brings richness and creaminess to this cheesecake and makes it taste absolutely delicious….
Ingredients for Farmer's Cheese Cake with Raisins (Zapekanka):
4 Eggs
20 oz Farmer's cheese
1 cup Sour cream
½ cup Cream of wheat
½ cup Sugar
1 tbsp Baking powder
1 cup Golden raisins
I love no bake cheesecakes and this season our No Bake Cherry Cheesecake is one of my favorite treats. I don't actually use fresh cherries in this recipe, instead I use a cherry pie filling on top of combined cream cheese and whipping cream for an extra smooth and creamy,…
Ingredients for No Bake Cherry Cheesecake:
1¼ cup Graham crumbs
¼ cup Butter
1 (8 oz) package of Cream Cheese
1 tbsp Sugar
1 cup Whipping cream
1 can Cherry pie filling
This is the Best Sopapilla Cheesecake recipe I have ever come across and I think you will love it too. Sopapillas are pillow-shaped pieces of pastry which are deep fried and delicious! Sopapillas are eaten in the US and many South American countries. Pairing these with a cheesecake filling is…
Ingredients for Best Sopapilla Cheesecake:
FOR THE FILLING:
4 (8 oz each) packages Cream Cheese
1 cup Sugar
1 Eggs
1 tsp Vanilla extract
1 tsp Cinnamon
¼ cup All-purpose flour
2 (8 oz) cans Crescent rolls

FOR THE BUTTER MIXTURE:
1 cup Sugar
1 tablespoon Cinnamon
½ cup Unsalted butter

FOR THE GARNISH:
¼ cup Honey
This Yoghurt Cheesecake with Honey Roasted Apricots is a beautiful and rustic, fridge-set cheesecake. With a combination of double cream, yoghurt and soft cheese, gently whisked together and refrigerate to set, this cake is dense yet perfectly light enough too. Decorated with delicious sweet and sticky oven roasted apricots, dripping…
Ingredients for Yoghurt Cheesecake with Honey Roasted Apricots:
FOR THE CHEESECAKE:
75g Butter
200g Custard cream biscuits
250ml Cream
150g Greek yogurt
500g soft Cheese
3 tbsp runny Honey
1 tbsp Vanilla bean paste

FOR THE APRICOTS:
6 ripe Apricots
50g runny Honey
1 small Orange zest
1 tsp Vanilla extract
My Easy Mini Caramel Apple Cheesecakes are a great way to use up apples when you have a large harvest at the end of the summer! I find I am always looking for apple recipes at this time of year and this is one of the best ones. These mini…
Ingredients for Easy Mini Caramel Apple Cheesecakes:
FOR THE BASE:
1 cup Graham crackers
2 tbsp Sugar
¼ tsp Cinnamon
3 tbsp Butter

FOR THE CHEESECAKE:
2 packages (8 oz each) Cream Cheese
½ cup Sugar
1 tsp Vanilla extract
2 Large eggs

FOR THE TOPPING:
1 large Apples
1 tbsp Butter
1 tbsp Sugar
¼ tsp Cinnamon
Dash Ground cloves
½ cup Butterscotch-caramel ice cream topping