TOP 10 Vegetarian Christmas Recipes
Incredible Vegetarian Recipes to Put on Your Holiday Menu.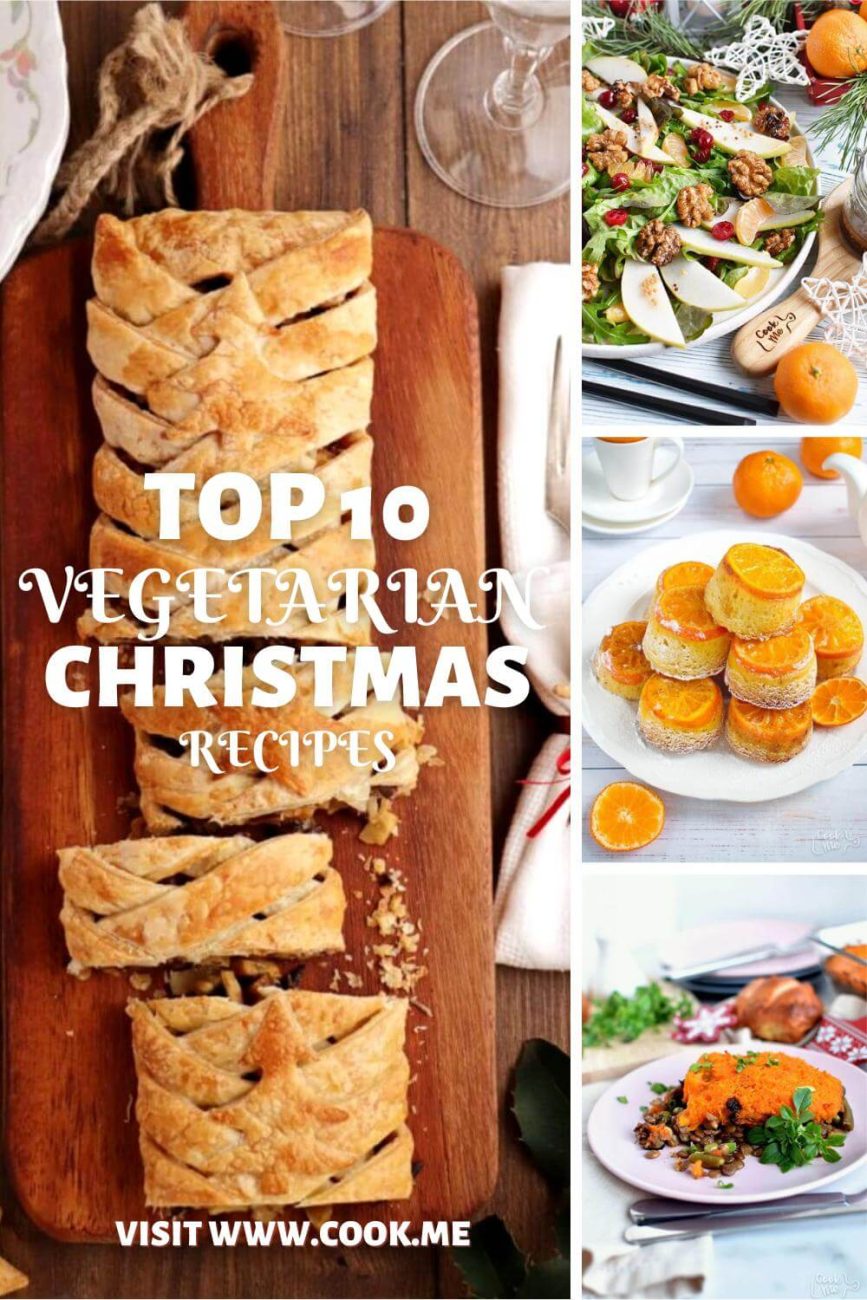 This Easy Christmas Salad with Candied Walnuts is a perfect salad to make during the festive season this year. I love the combination of sweet & fruity flavors mixed with the sweet crunch of candied walnuts. You can't beat this fab salad at Christmas. To make this salad, start by…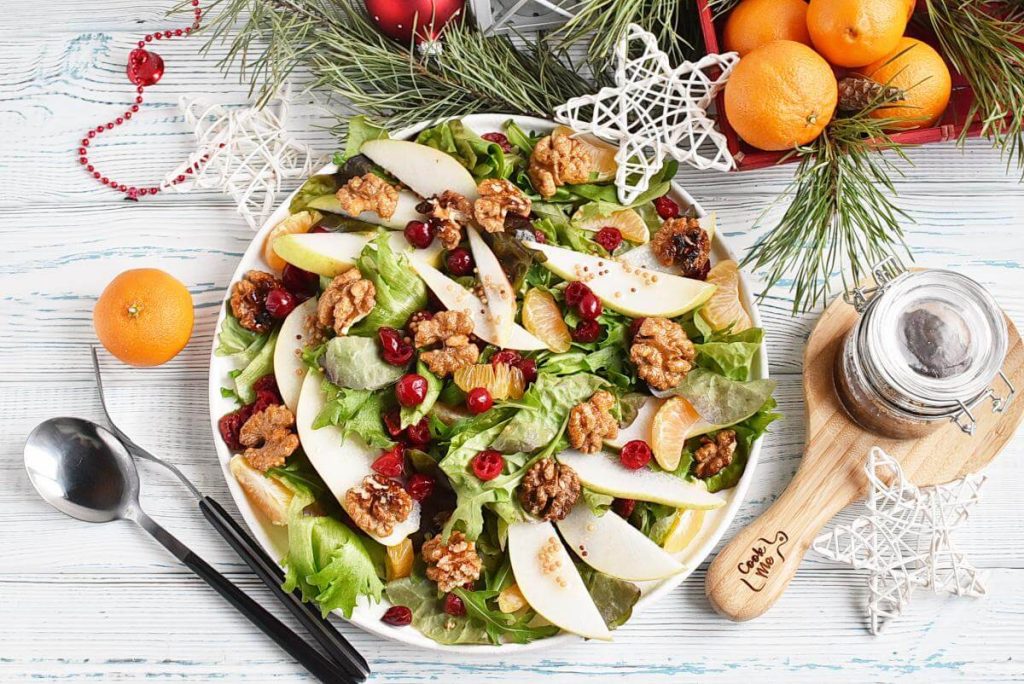 Ingredients for Easy Christmas Salad with Candied Walnuts:
FOR CANDIED WALNUTS:
½ cup Walnuts
½ tbsp Brown sugar
1 tbsp Honey

FOR SALAD:
3 cups Mixed greens
¼ cup Cranberries
1 Clementine
½ Pears
¼ cup Cranberries

FOR CLEMENTINE DRESSING:
1 tbsp Olive oil
3 tbsp Clementine juice
1 tbsp Balsamic vinegar
½ tbsp Mustard
2 tbsp Honey
½ tsp Salt
This Lentil and Sweet Potato Shepherd's Pie is a fantastic vegan Christmas dish which can be enjoyed by everyone! In this recipe, I give an option for adding a layer of mushrooms to the pie. I always add mushrooms because I love their flavor but I know some people can't…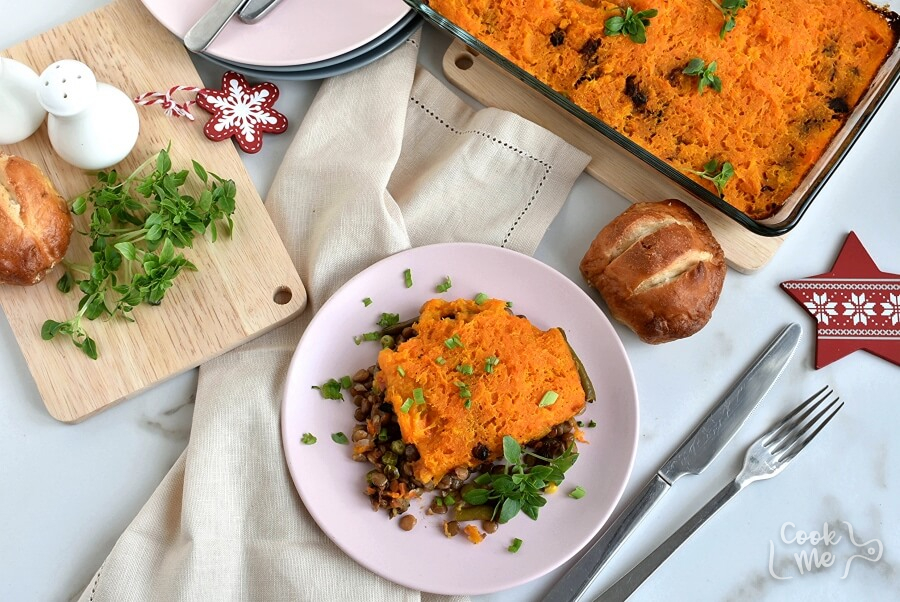 Ingredients for Lentil and Sweet Potato Shepherd's Pie:
FOR THE SWEET POTATO TOPPING:
3 Sweet potatoes
2 tbsp Coconut oil
1/4 tsp Sea salt
1-2 tbsp Maple syrup

FOR THE FILLING:
1 tbsp Coconut oil
1 Onion
2 cloves Garlic
1 1/2 cups Lentils
4 cups Vegetable stock
2 tsp Fresh thyme
1 10-ounce bag Mixed Veggies

FOR THE MUSHROOMS (OPTIONAL):
2 Portobello mushrooms
4 tbsp Balsamic vinegar
1 tbsp Coconut oil
1 pinch Black pepper
1 pinch Sea salt
1 clove Garlic
This Maple Parsnip and Chestnut Wellington is a delicious vegan centerpiece for your Christmas table this year. Not only does it taste delicious, it looks really impressive too. This plaited pastry specialty will stand up against any Christmas roast this year. This recipe requires that you roast the parsnips and…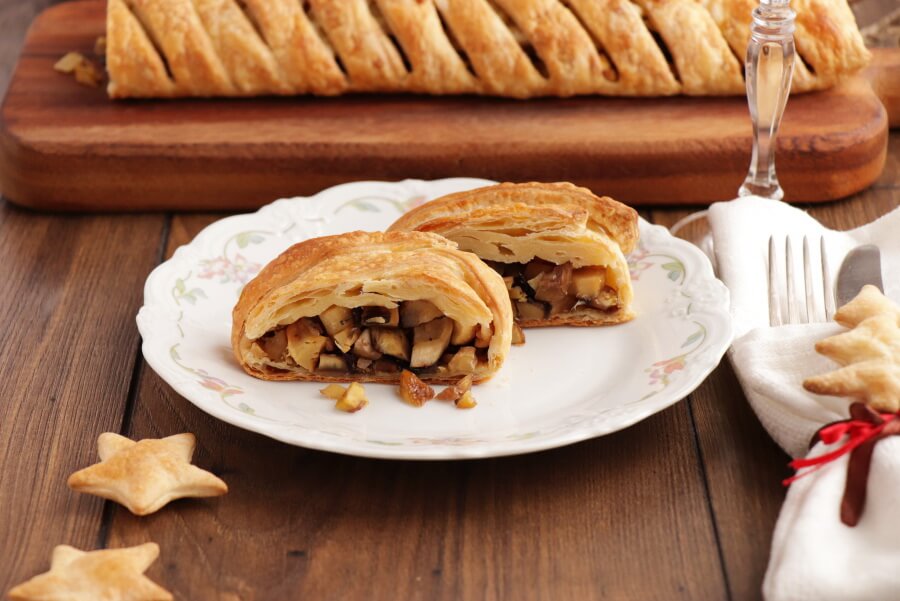 Ingredients for Maple Parsnip and Chestnut Wellington:
2 tbsp Olive oil
4 Parsnip
2 Red onion
200g Chestnuts
2 tbsp Maple syrup
¼ tsp Dried rosemary
Ground pepper
1 large sheet Frozen puff pastry
1 tbsp Almond milk
I always make a Mandarin Couscous Salad to accompany our Christmas dinner. It is fresh and full of flavor and makes use of mandarins – the symbolic Christmas fruit! There was a time when an orange was an exotic fruit in Europe and people would receive them as a treat…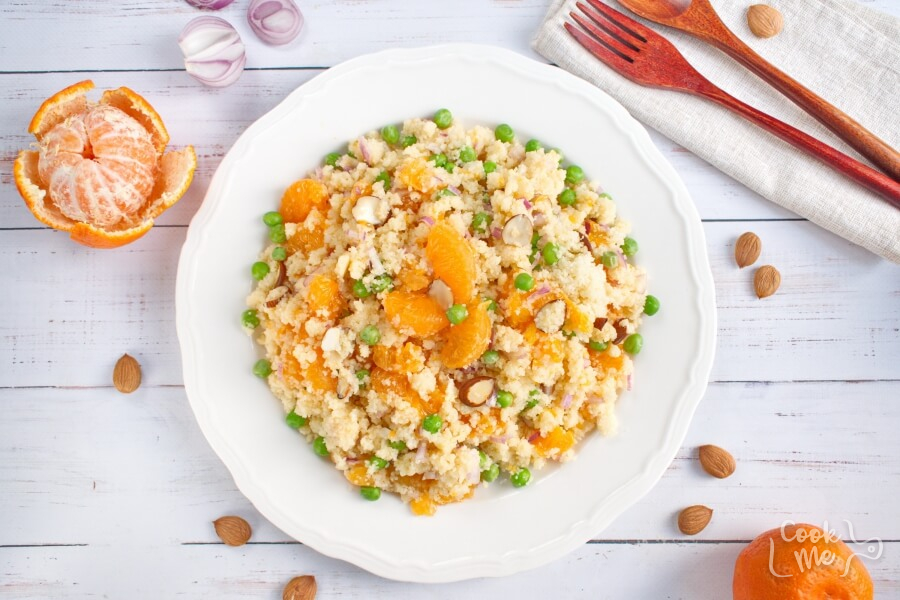 Ingredients for Mandarin Couscous Salad:
1 ⅓ cups Water
1 cup Couscous
1 can (11 oz) Mandarin
1 cup Frozen peas
½ cup Almonds
⅓ cup Red onion
3 tbsp Lemon juice
2 tbsp Olive oil
1 tbsp Sugar
¼ tsp Salt
¼ tsp Hot pepper sauce
I love these Christmas Tree Meringue Cookies – they are one of the best recipes for Christmas desserts. To make these cute cookies, start by making the meringue base by mixing egg whites, sugar and a pinch of tartar. Add mint extract and beat some more. Once the mixture is…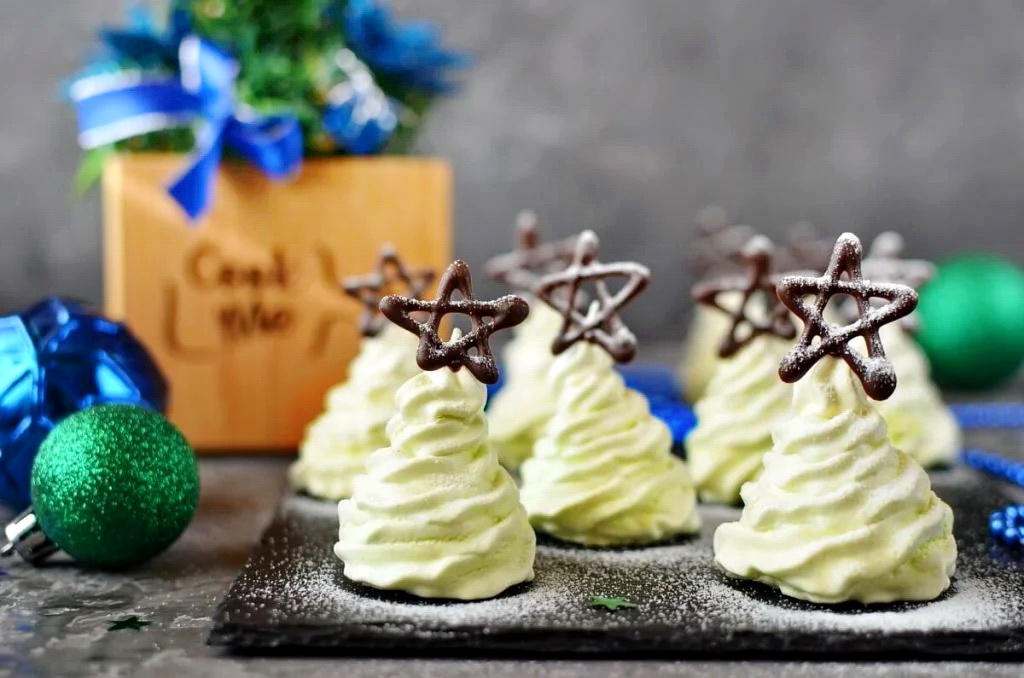 Ingredients for Christmas Tree Meringue Cookies:
4 Egg whites
1 cup Sugar
pinch of Cream of tartar
⅛ tsp Peppermint extract
2-4 drops Food coloring

FOR THE CHOCOLATE STARS:
2 oz Chocolate
In this Walnut and Cranberry Pie the pairing of the two star ingredients, walnuts and cranberries, could not taste better. With a golden crust, decorated perfectly over your pie, serve it at your festive Christmas dinner and watch for the smiles of delight. Served with custard or ….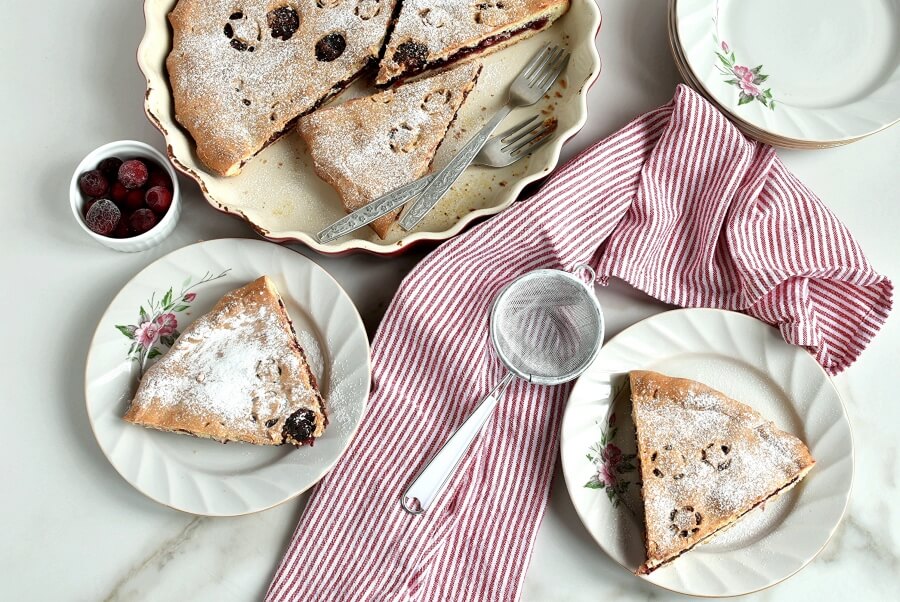 Ingredients for Walnut-Cranberry Pie:
Pastry dough
1 tbsp Cornstarch
¼ cup Water
¾ cup Sugar
¾ cup Corn syrup
1 tsp Lemon zest
1 package (12 ounces) Cranberries
½ cup Raisins
½ cup Walnuts
2 tbsp Butter
Mandarin & Orange Blossom Upside-Down Cakelets are super cute looking cake treats. You've heard of upside down cakes before – well these little cakelets take the idea to a whole new level. These are great for a party as people can pick them up and easily eat them without a plate or fork.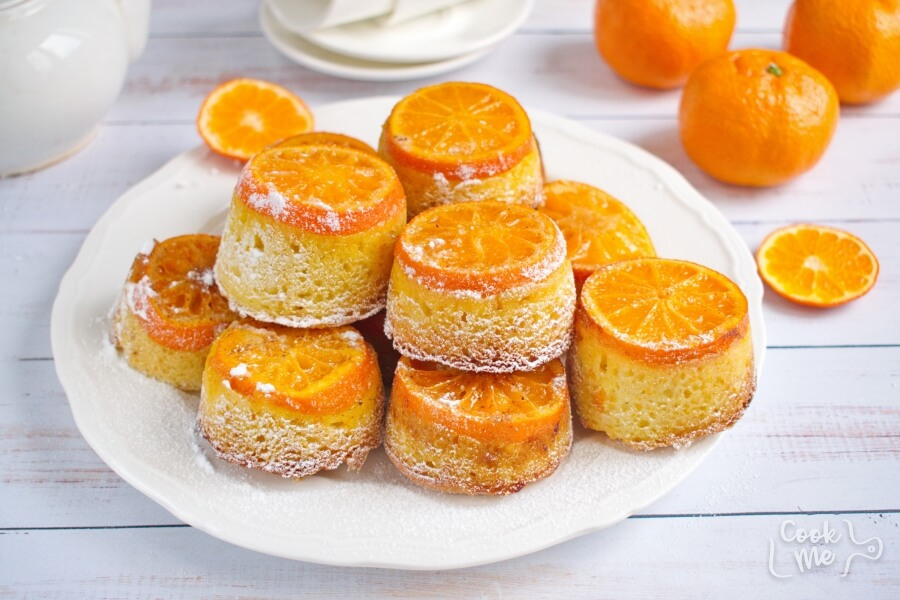 Ingredients for Mandarin & Orange Blossom Upside-Down Cakelets:
5 Tangerines
1/3 cup Butter
1 cup Sugar
3 tbsp Mandarin juice
1 ⅓ cups All-purpose flour
1 ½ tsp Baking powder
½ tsp Salt
1 tbsp Mandarin zest
2 Large eggs
½ tsp Orange blossom water
½ tsp Vanilla extract
1/4 cup Buttermilk
Confectioners' sugar
These Star Anise Cookies are the cutest little cookies that I have chosen to include in all my Christmas boxes this year. The dough is made from a simple batter with a drop of star anise extract and a sugar-milk frosting flavored with anise too. A warm and tasteful addition to compliment the winter feels. …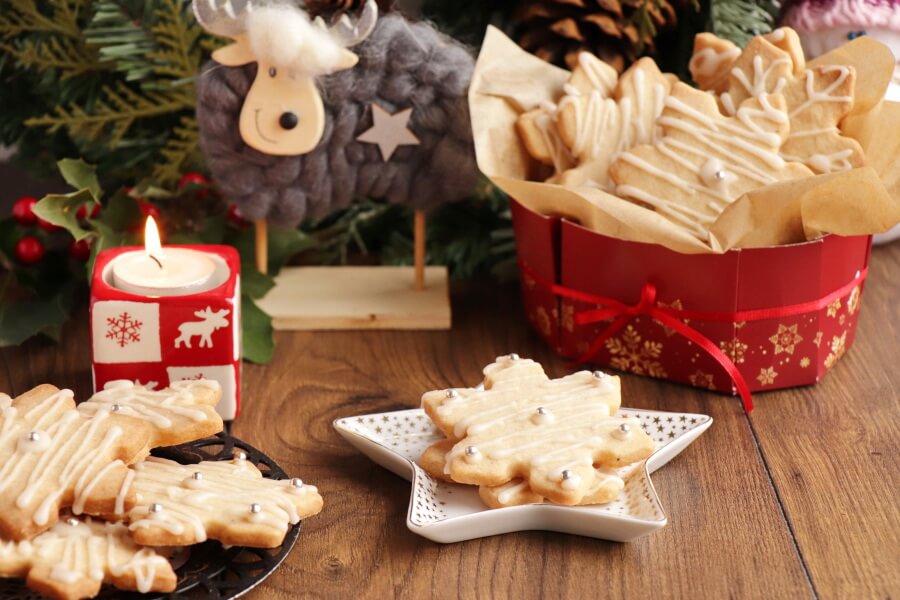 Ingredients for Star Anise Cookies:
FOR THE COOKIE:
2 cups All-purpose flour
1 cup Butter
½ cup Confectioners' sugar
1 tsp Ground star anise
1 tsp Star anise extract

FOR THE ICING:
2 cups Confectioners' sugar
3 tsp Star anise extract
2 tbsp Milk
¼ cup Silver dragees
This Christmas Pilaff is a fantastic warm Christmas salad – perfect to serve for any vegetarian guests this holiday season. It uses one of my favorite winter ingredients – pomegranate seeds. Top tip, while they sit, the pomegranate seeds might release a lot of juice. Don't discard this! Drain it…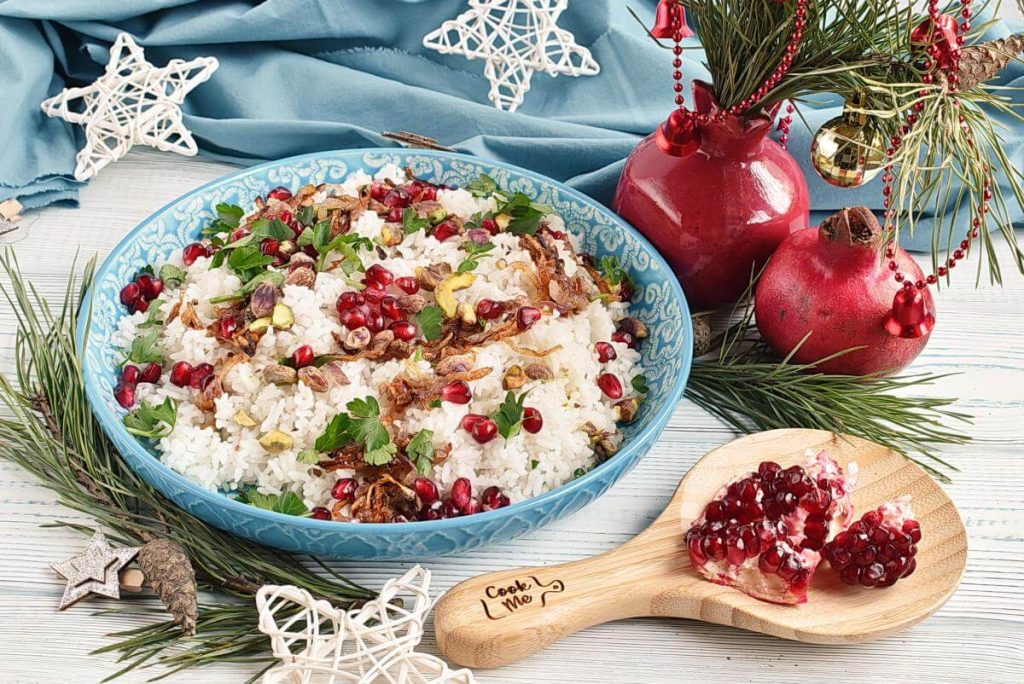 Ingredients for Christmas Pilaff:
100 g Pistachio nuts
2 Pomegranate
200 g Basmati rice
400 ml Vegetable stock
4 Garlic clove
1-cm piece of Fresh ginger
1 tbsp Butter
2 tbsp Olive oil
1 tsp Coriander seeds
2 Red onion
1 Lemon
1 bunch Parsley
This Gingerbread Reindeer Recipe is a true classic adapted from the recipe as the infamous gingerbread man, these reindeer will be the star of the show and the ideal cookie with milk, to leave for the Santa the night he climbs down the chimney! These scrumptious old style ginger biscuits are brought to life with …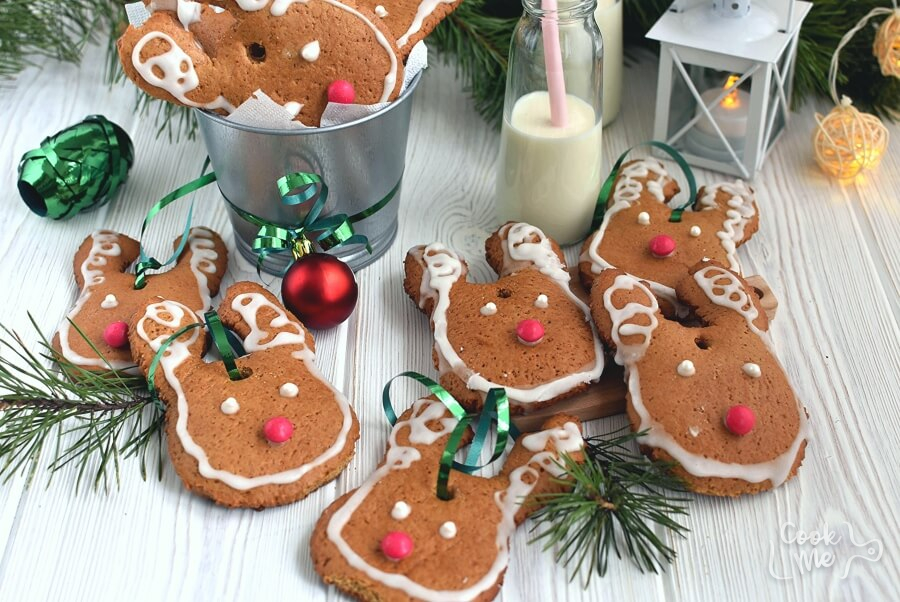 Ingredients for Gingerbread Reindeer:
FOR THE GINGERBREAD:
845g Plain flour
4 tsp Ground ginger
1 ½ tsp Baking soda
340g Butter
300g Granulated sugar
3 Eggs
250g Black treacle

FOR THE DECORATION:
Juice of ½ Lemon
225g Icing sugar
15 Red smarties
30 Pearl balls