For the sweet potato topping

3

Sweet potatoes

large organic (thoroughly washed + peeled and roughly chopped into big chunks)

2 tbsp

Coconut oil

or vegan butter // if avoiding oil, omit or sub vegetable brot

1-2 tbsp

Maple syrup

optional, depending on sweetness of potatoes

For the filling

1 tbsp

Coconut oil

or avocado oil (if avoiding oil, sub water or vegetable broth)

1 1/2 cups

Lentils

uncooked brown or green, rinsed and drained

4 cups

Vegetable stock

DIY or store-bought

1 10-ounce bag

Mixed Veggies

frozen: peas, carrots, green beans, and corn

For the mushrooms (optional)

2

Portobello mushrooms

stems removed and sliced in 1/4-inch slices

1 tbsp

Coconut oil

melted or avocado oil (sub water if avoiding oil)
Lentil and Sweet Potato Shepherd's Pie
This Lentil and Sweet Potato Shepherd's Pie is a fantastic vegan Christmas dish which can be enjoyed by everyone! In this recipe, I give an option for adding a layer of mushrooms to the pie. I always add mushrooms because I love their flavor but I know some people can't stand them, so you can leave them out if you're not a fan. 
I start by cooking and mashing the sweet potatoes for the topping. Then sauté the onions and garlic before adding lentils, broth and thyme. Cook this mixture until the lentils are soft and tender. If you decide to use mushrooms, marinate them with balsamic vinegar, oil, salt, pepper and garlic before cooking them in a large skillet. Layer up the shepherds pie starting with lentils at the base, followed by mushrooms and topped with the mashed sweet potato.
To make my Lentil and Sweet Potato Shepherd's Pie, you will need the following ingredients: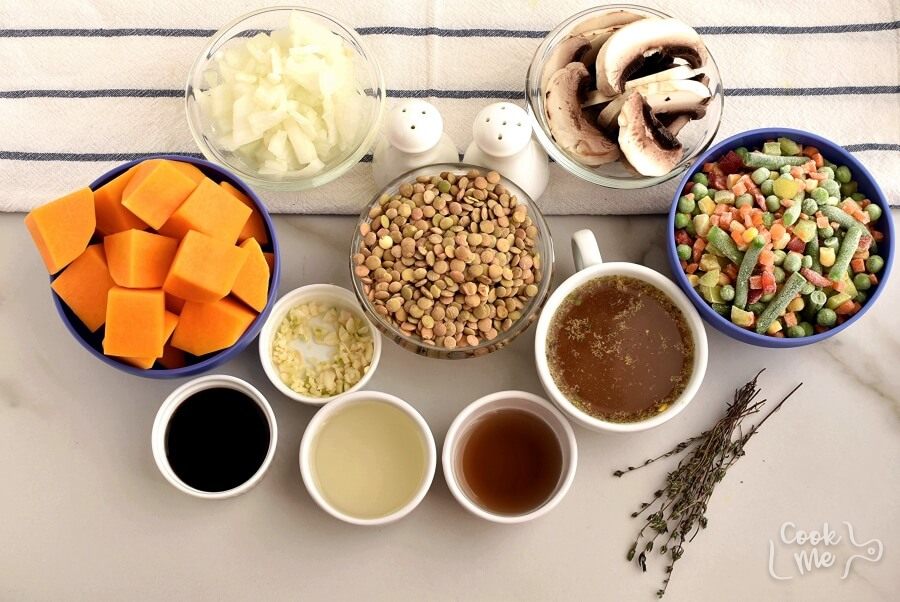 So, how do you make Lentil and Sweet Potato Shepherd's Pie?
Steps to make Lentil and Sweet Potato Shepherd's Pie
Cook the sweet potatoes

15

Mash the sweet potatoes

3

Add coconut oil and season

2

Heat the oven and prepare a baking dish

5

Marinate mushrooms

5

Sauté onions and garlic

5

Add lentils, broth and thyme

15

Cook the mushrooms

5

Add frozen vegetables

10

Assemble the pie

2

Bake

20

Serve