13 Spooky Halloween Recipes
Boo-tiful Recipes that Will Get Your Family in the Halloween Spirit.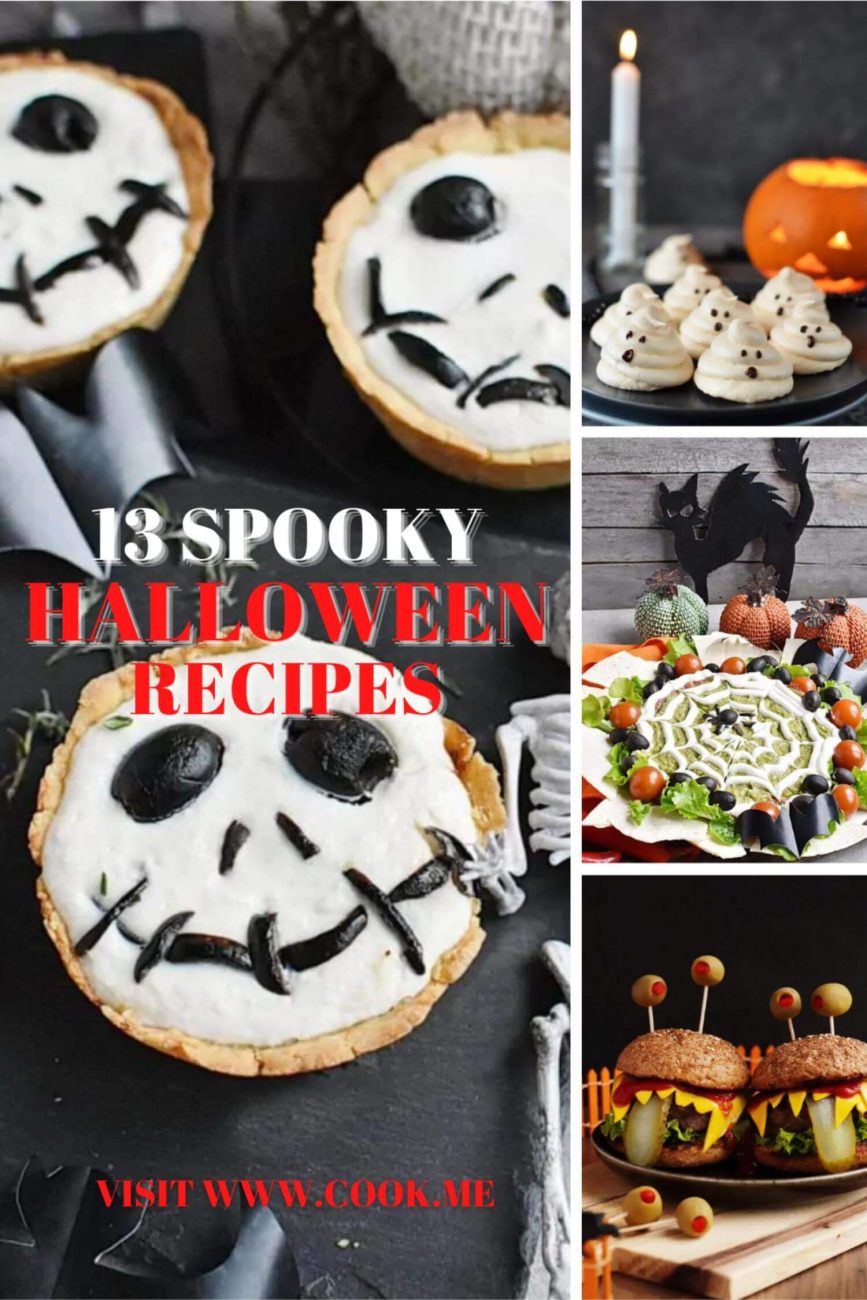 These Monster Burgers are so much fun to make at Halloween with their cheese "teeth", gherkin "tongues" and stuffed olive "eyeballs"! Your kids will adore these burgers at their Halloween party this year. Grill the burgers according to the package instructions. Slice 1 side of each Cheddar slice in a…
Ingredients for Monster Burgers:
4 Beef burgers
4 slices Cheddar cheese
4 Hamburger buns
2 tbsp Mayonnaise
4 Romaine lettuce
4 slices Gherkin
2 tbsp Ketchup
8 Olives
I am always looking for new Halloween recipes to make with my kids at this time of year. One recipe that we all love is this Spooky Halloween Monster Mash Soup  which I make using my favorite red soup and little eyeballs made from sushi rice!  Start by heating up…
Ingredients for Spooky Halloween Monster Mash Soup:
4 cups Lentil Soup
½ cup White rice
1 cup Water
½ sheet Nori

OPTIONAL ADDINGS:
Sriracha sauce
Zoodles
Greek yogurt
I love these Almond Meringue Ghost Cookies for Halloween. This recipe makes a large batch of 45 cookies, so they are perfect for a child's class Halloween party. I am planning to bag these to give out as treats to trick or treaters this year. To make these cute cookies,…
Ingredients for Almond Meringue Ghost Cookies :
4 Egg whites
¼ tsp Cream of tartar
½ cup Granulated sugar
⅔ cup Powdered sugar
3 tsp Vanilla extract
1 tsp Almond extract
2 tsp Chocolate chips
Halloween Bloody Baked Rats are the latest addition to my Halloween kitchen and while I think they are pretty gross looking, my kids adore them and they actually taste delicious! And let's face it, Halloween dinners should look disgusting, right? To make these, combine ground beef, onion, egg, bread crumbs,…
Ingredients for Halloween Bloody Baked Rats:
2 lbs Ground Beef
½ Onion
1 Eggs
1 cup Bread crumbs
1 (1¼-oz) packet Meatloaf seasoning mix
1 cup Cheddar cheese
3 (10-oz) cans Tomato sauce
1 cup Sugar
1 tbsp Worcestershire sauce
1 oz Spaghetti
½ Carrots
1 tbsp Green peas
These Shrunken Potato Heads with Slime Dip are a fun and freaky dish that you need to try. Perfect for a spooky-themed, kid's birthday party or your Halloween family feast. Baked potatoes with pierced eyes and faces to imitate ghostly features and served with an avocado, sour cream, garlic, lemon…
Ingredients for Shrunken Potato Heads with Slime Dip:
1kg Charlotte Potatoes
2 tbsp Olive oil
1 Avocado
100ml lighter Sour cream
1 clove Garlic
½ juiced Lemon
5g Chives
Make your breakfast time a little bit more fun with this Halloween Avocado Breakfast Toast! It is healthy and delicious, great for kids and adults alike, and a fun way to celebrate Halloween with a cute-looking and nutritious breakfast option. Besides, it's really simple to prepare. There are only two…
Ingredients for Halloween Avocado Breakfast Toast:
4 Avocado
1 tbsp Lemon juice
1 pinch Salt
1 pinch Black pepper
2 sheets Nori
2 Radishes
4 Olives
4 mini Dill pickles
2-3 Cherry tomatoes
8 halves Walnuts
½ Red bell pepper
4 pieces Toast bread
I am always looking for new easy Halloween-themed recipes to make with my kids at this time of year. And these Pumpkin Sushi Rice Balls perfectly fit the bill. Dainty rice balls with cucumber and salmon not only make a perfect snack but also are very fun and easy to…
Ingredients for Pumpkin Sushi Rice Balls:
300 g Sushi rice
9 cm piece Cucumber
100 g Smoked salmon
3 stalks Coriander
1 seaweed sheet Nori
50 ml Soy sauce
Throwing a Halloween bash? Make this crowd-pleasing Halloween Layered Dip! It makes for an easy and delicious appetizer that can feed a crowd of goblins and ghosts! Easy to make and fun to serve. Spin a web over a two-layered dip with refried beans, salsa, and guacamole. Serve with chips…
Ingredients for Halloween Layered Dip:
16 oz Refried beans
½ cup Salsa
½ cup Sour cream
1 cup Guacamole

FOR GARNISH:
Lettuce
Tomatoes
¼ cup Black olives
Tortilla chips
Scare up some fun with these Spooky Halloween Popsicles! They are the perfect spooky addition to a Halloween party. The ingredients are pretty straightforward, and the popsicles can be thrown together in minutes. Have fun and make a day of this with your kids. They will have fun making their…
Ingredients for Spooky Halloween Popsicles:
1 pt Heavy whipping cream
1 can (about 2 cups) Coconut milk
1 cup Condensed milk
1 Avocado
2-3 tbsp Milk
1 bar Dark chocolate
1 pack Candy eyes
These delicious Buffalo Meatball Pumpkins are a fun, adorable addition to any Halloween party. If you want to make something special for the kids and the weird Halloween food is not for you, make these cute chicken meatballs look like pumpkins. Insert a tip of the pretzel rod or stick…
Ingredients for Buffalo Meatball Pumpkins:
Cooking spray
1 lb Chicken Breast
1 cup Panko bread crumbs
¼ cup Blue cheese
1 Eggs
6 tbsp Ranch dressing
5 tbsp Buffalo wing sauce
3 tbsp Butter
16 Pretzel rods
16 fresh leaves Parsley
These Easy Halloween Cupcakes are the treats you need this Halloween! They are simple to make, they taste delicious and they look great on any Halloween party table. To decorate the cupcakes to look like ghosts, simply pipe cream cheese frosting onto the cupcake using a plain #24 piping nozzle…
Ingredients for Easy Halloween Cupcakes:
FOR CUPCAKES:
3 Large eggs
¾ cup Sour cream
¾ cup Canola oil
1 tbsp Vanilla extract
1 box (15.25 ounces) Chocolate Fudge Cake Mix
1 package (3.4 ounces) Chocolate pudding mix
½ cup Water
½ cup Walnuts
⅓ cup Chocolate chips

FOR FROSTING:
½ cup Unsalted butter
1 package (8 ounces) Cream Cheese
1 tsp Vanilla extract
⅛ tsp Sea salt
3 cups Powdered sugar

FOR EYES:
48 Chocolate chips
This Pumpkin Cut-Out Pie is a perfect baked treat for Halloween this year. I find that often Halloween cooking can be fun, but not very appetizing but this cut-out pie ticks all the boxes! I love the creamy pumpkin filling and I always make my cut-out face friendly rather than…
Ingredients for Pumpkin Cut-Out Pie:
FOR DOUGH:
2½ cups All-purpose flour
1 tbsp Granulated sugar
¼ tsp Fine Salt
1 cup Unsalted butter
3 Large eggs

FOR FILLING:
1 15-oz can Pumpkin puree
3 Large eggs
¾ cup Brown sugar
1¼ cups Half-and-half
1½ tsp Cinnamon
½ tsp Ground Allspice
½ tsp Ground ginger
½ tsp Fine Salt
¼ tsp Nutmeg
Get creative with your appetizer tarts and turn them into these Halloween Jack Skellington Ricotta Olive Tarts! These tarts are so scary cute – make them come to life with black olives that form a Skellington's face. Boo!
Ingredients for Halloween Jack Skellington Ricotta Olive Tarts:
FOR GLUTEN-FREE TART CRUST:
½ cup Sweet rice flour
¼ cup Millet flour
⅓ cup Oat flour
3 tbsp Cornstarch
¼ tsp Sea salt
8 tbsp Unsalted butter
5-7 tbsp Water

FOR FILLING:
1 can Black olives
3-4 tbsp Sun-dried tomatoes
2-3 tsp Fresh thyme
3 tbsp Parmesan cheese
1½ cups Ricotta cheese
¼ cup + 2 tbsp Greek yogurt
3 Egg whites
3 cloves Garlic
½ tsp Kosher Salt