1/2 tsp

Black pepper

ground

4

Green onion

sliced (white parts only)

10,5 oz

Beef broth

condensed

6 oz

Mushrooms

sliced, drained
Beef Stroganoff
This Beef Stroganoff recipe takes a bit of preparation and time, but it makes the best home cooked stroganoff I've ever tasted! Beef stroganoff has its origins in Russia, but it has become popular all around the world and it is not hard to see why! It is a decadent buttery stew made with beef, onions, mushrooms, mustard, sour cream and white wine.
I usually use beef chuck roast, but you could also use some leftover London broil if you have it. This is a really good dinner party recipe as you can make most of it in advance. Simply hold back the mushrooms, sour cream, and white wine. When you are ready to eat, heat it through and add the final ingredients.
This is a win-win dinner party recipe because you'll be totally relaxed and your guests will be seriously impressed with how it tastes!
To make Beef Stroganoff, you will need the following ingredients: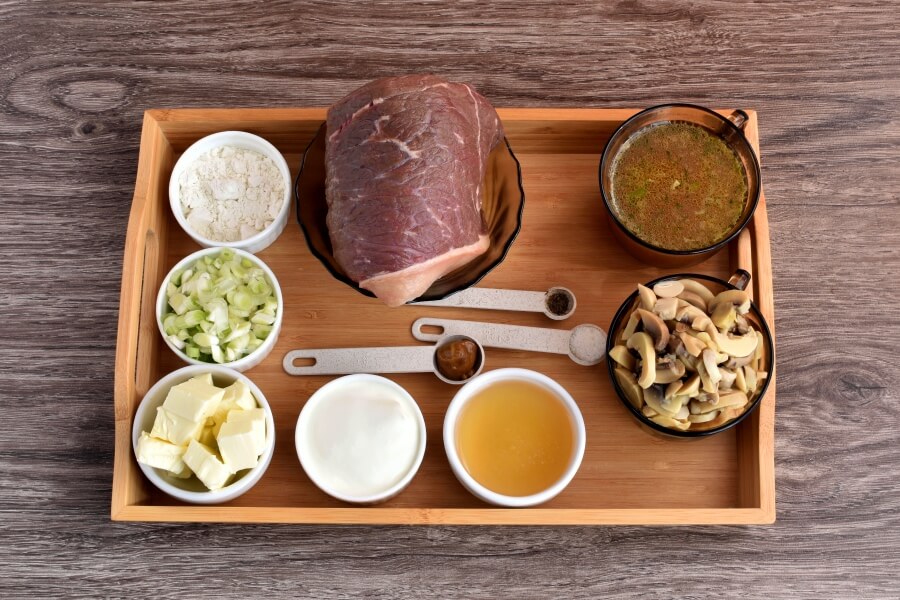 So, how do you make Beef Stroganoff?
Steps to make Beef Stroganoff
Prepare the beef

2

Cook the beef

3

Cook the onions

2

Stir in flour

2

Add the broth

2

Add mustard

1

Simmer

30

Add the mushrooms, sour cream, and white wine

3

Serve

5