1 tbsp

Olive oil

extra-virgin

3/4 cup

Chicken broth

low-sodium

3/4 cup

Italian cheese blend

shredded

2 tbsp

Chives

freshly chopped chives, for garnish
Creamy Three-Cheese Spaghetti
This Creamy Three-Cheese Spaghetti is my take on the Italian classic "Cacio e Pepe" which is a very simple pasta dish which is made using only black pepper, cheese and pasta. I take the recipe a bit further by including heavy cream and some garlic, but this is still a very simple pasta recipe. I occasionally add extra ingredients like strips of smoked salmon or crispy fried bacon, but to be honest, it tastes great just as it is.
While some spaghetti is cooking, I prepare the sauce by frying some garlic and adding cream and broth. Then I add the cooked pasta, cheese and season well. To serve, I place the pasta in bowls and sprinkle with chives.
To make my Creamy Three-Cheese Spaghetti, you will need the following ingredients: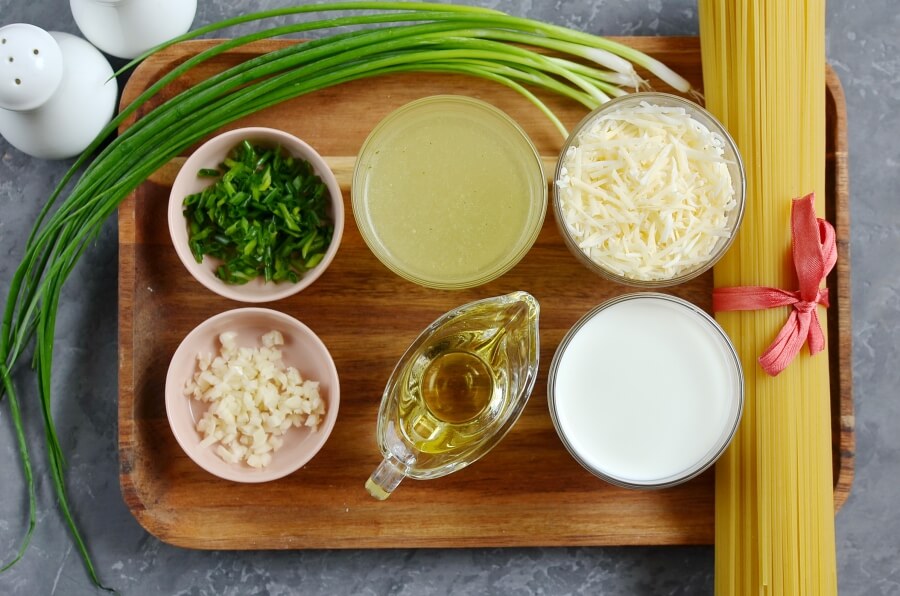 So, how do you make Creamy Three-Cheese Spaghetti?
Steps to make Creamy Three-Cheese Spaghetti
Prepare the pasta

10

Heat the oil

1

Fry garlic and add cream

2

Stir in the spaghetti

3

Stir in cheese

5

Serve

1