¼ lb

Bacon

thick slices, diced (about 4 slices)

2

Leek

medium , cut into 1/2-inch rounds (about 1 cup)

16 oz package

Pasta

cavatappi, uncooked

1 ½ tbsp

All-purpose flour

1 cup

Cheddar cheese

freshly grated , divided

½ cup

Gruyère cheese

freshly grated

¼ cup

Breadcrumbs

toasted soft, fresh
Southern Mac and Cheese
This Southern Mac and Cheese is a decadent take on a classic dish. I add crispy fried bacon and leeks to this cheesy dish to elevate it from great to absolutely amazing! Mac and Cheese is one of my favorite comfort foods. I love to make it in advance and when I get home from a day's activities, I bake it in the oven and enjoy! 
To make this I start by frying bacon in some olive oil. Then I cook some leeks slightly in a large pot of boiling water. I make a velvet smooth cheese sauce from flour, milk, dry mustard and cheese. Assemble the mac and cheese bake by mixing the pasta, cheese sauce, bacon and leek together in an ovenproof dish and bake in the oven for 35 minutes. Yum!
To make Southern Mac and Cheese, you will need the following ingredients: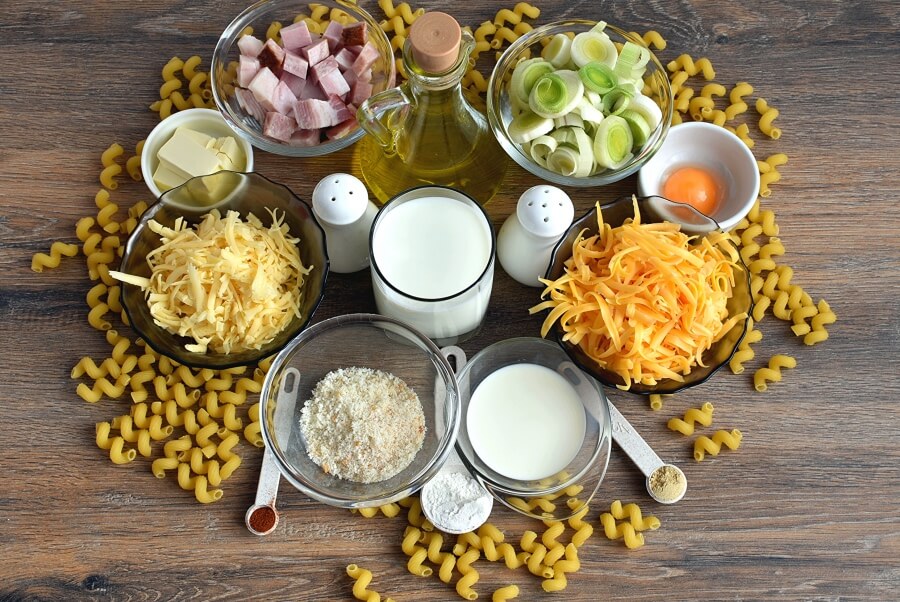 So, how to make Southern Mac and Cheese?
Steps to make Southern Mac and Cheese
Heat the oven

5

Preheat the oven to 375 °F.

Cook the bacon

5

Cook leeks

5

Cook pasta

10

Melt the butter

1

Make the cheese sauce

5

Reduce the heat to medium-low. Add the flour and whisk until smooth. Cook while whisking constantly for two minutes. It should turn a golden brown color. Whisk in the milk gradually and continue to cook while whisking constantly until the sauce thickens. Whisk in dry mustard, salt, black and red pepper and ½ cup of cheese. Stir constantly until the cheese melts.

Remove from heat

1

Mix together pasta, sauce, bacon, leek and egg yolk

2

Place in a baking dish

3

Bake

35

Serve