1 pound sharp

Cheddar cheese

shredded

½ cup

Parmesan cheese

grated

1 small

Onion

finely chopped

3 cloves

Garlic

finely chopped

1 can

Tomato paste

6 ounce

1 can

Can crushed tomatoes

16 ounces

½ tsp

Dried Italian seasoning

1 large pot

Water

lightly salted with 2 tbsp salt
Easy Macaroni Gratin
Macaroni Gratin is my family's all time favorite, feel-good dinner. This meat sauce pasta, topped with loads of melted cheese, promises to put a smile on everyone's face, when grandma comes over for her weekly, winter dinner with us.
The perfect mix of Italian seasoning with just the right amount of cayenne pepper brings that home cooked dish that we love, to life. With the extra large portion size, I am always lucky to have enough to go around, when that surprise guest rings the doorbell.
To make Macaroni Gratin, you will need the following ingredients: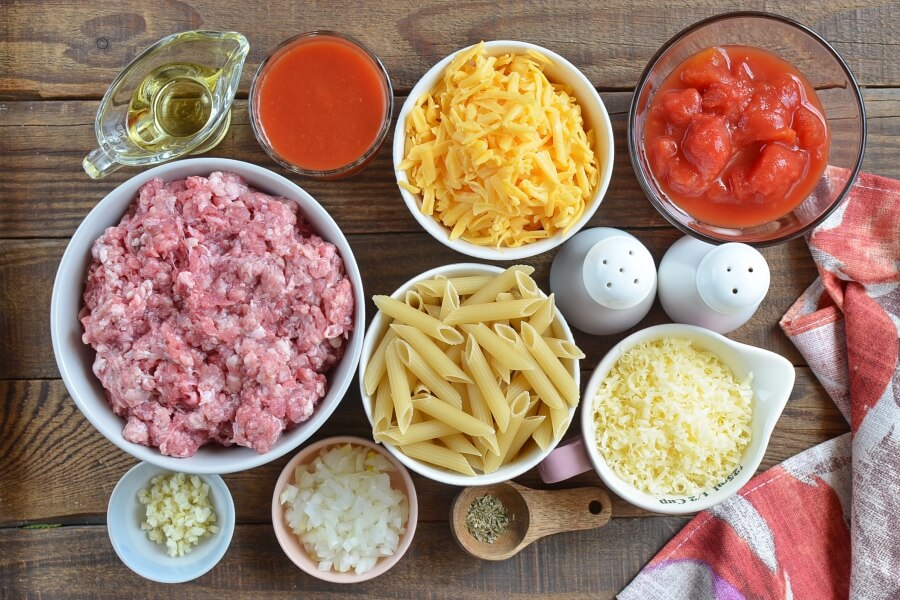 So, how to make Macaroni Gratin?
Steps to make Easy Macaroni Gratin
Preheat the oven

10

Preheat the ovens broiler to 375℉ and set the rack at about 6 inches from the heat source.

Heat the oil

5

Cook the ground beef

5

Add seasoning

5

Drain off the excess grease

2

Add the tomato sauce

5

Simmer the ground beef and tomato sauce

1h

Boil a large pot of water

20

Add the macaroni

10

Add the macaroni to the ground beef sauce

5

Add the cheese

1

Broil Macaroni Gratin

5