3 links of turkey

Italian sausage

uncooked

1 (14.5 ounce) can

Tomatoes

no-salt-added, diced

3 tbsp

Parsley

snipped, fresh

¼ tsp

Crushed red pepper

(optional)

1 lb

Eggplants

peeled and cut into ½-inch cubes

6 oz whole wheat

Penne pasta

dried

⅓ cup

Parmesan cheese

finely shredded

fresh

Parsley

snipped, to garnish (optional)
Baked Ratatouille-Sausage Penne
Baked Ratatouille-Sausage Penne was one of my favorite back to school dishes when I was a child. My mother would always make our favorite dinners the week that we returned to school – I guess to give us something to look forward to even though the summer was over and we were back in our routine! It is still a dish I love to make when I have had a hard day at the office!
It's super simple to put this dish together. Simply cook the sausages. Make a simple tomato and eggplant sauce and cook some penne pasta. Mix the pasta and sauce together and place it in an ovenproof dish to bake for 30-35 minutes. So easy and extremely delicious!
To make Baked Ratatouille-Sausage Penne, you will need the following ingredients: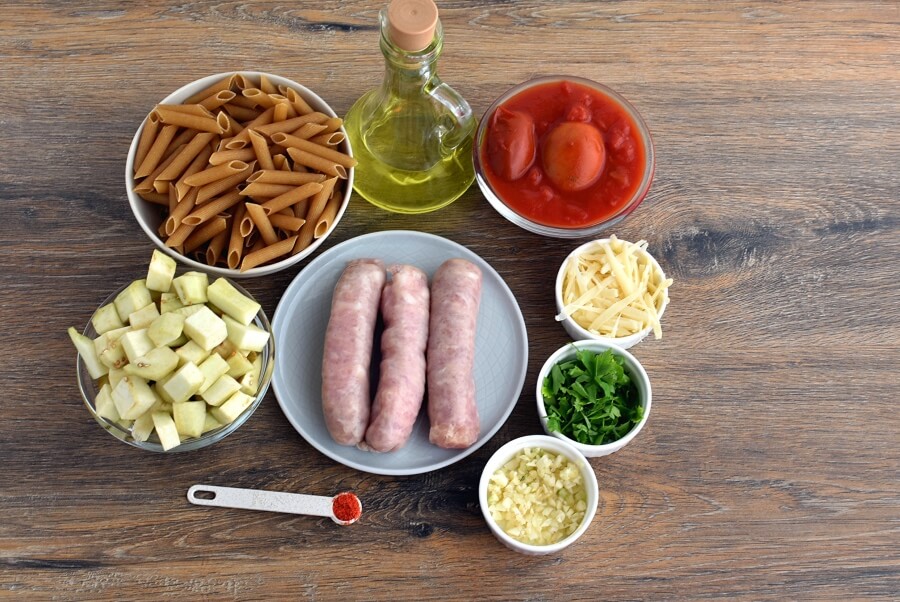 So, how to make Baked Ratatouille-Sausage Penne?
Steps to make Baked Ratatouille-Sausage Penne
Heat the oven

5

Preheat the oven to 350 °F.

Cook the sausage links

20

Place sausage links in a cold pan or skillet. Pour in ½ an inch of water to the bottom of the pan. Bring the water to a boil. Turn the heat down, cover and simmer for about 15 minutes. Drain any liquid from the pan and continue to cook for 2-4 minutes, turning occasionally until the sausages are evenly browned. Remove from heat.

Cut the sausages

2

Make the sauce

3

Simmer

15

Cook pasta

10

Mix in the sauce

5

Bake

30

Serve