1

Onion

small white, peeled and thinly sliced

1 (15 oz) can

Coconut milk

4 tbsp

Curry paste

green , added to taste

1 inch piece

Fresh ginger

sliced into thick rounds

2 cups

Roast chicken

or cooked chopped protein (such as shrimp, steak, pork or tofu)

2–3 cups

Mixed vegetables

chopped vegetables (such as bell peppers, broccoli, carrots, cauliflower, mushrooms, peas, squash, sweet potatoes, kale, spinach, chard, collard greens)

For the garnish

1 tbsp

Cilantro

fresh , chopped

1

Red onion

chopped , or green onion

1 tsp

Sesame seeds

toasted
Directions
This Everyday Thai Green Curry is a delicious midweek meal idea as it is healthy, wholesome and tastes absolutely delicious! Thai curries are generally served quite watery, like soup. Typical ingredients in green curry paste include chillies; onions or shallots, garlic, lemongrass, galangal and cilantro. Sometimes I make my own green curry paste but usually I buy a good quality paste from my local Asian market. 
When I make this curry, I always cook my protein and veggies in the broth directly as it cuts down on time and clean up but if you prefer to cook them in the oven or on the stove separately before adding them to the broth, you can do that too. Serve over cooked rice noodles and garnish with cilantro, onion and sesame seeds. 
To make the Everyday Thai Green Curry, you will need the following ingredients: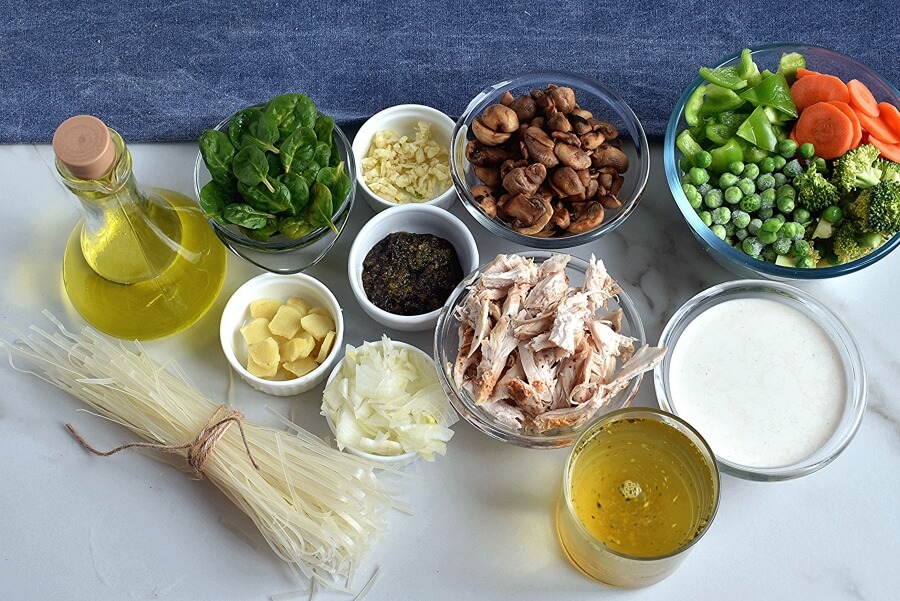 So, how do you make Everyday Thai Green Curry?

This video may vary from the original cook.me recipe
Steps
3

Cook the noodles

10

Cook the broth

Heat the oil over medium-high heat in a large saucepan. Sauté the onion for 5 minutes, stirring occasionally. Add the garlic and continue to sauté for another minute. Pour in the vegetable stock and coconut milk. Add the curry paste and ginger, and stir to combine. Cover and simmer over medium-low heat until ready to use. Season with salt and pepper to taste.

2

Add the vegetables and protein

10

Simmer

Serve