approx 900g/2lb

Cooked rice

cold, about 400g/14oz uncooked ric

400g

Can of tuna

in springwater

200g

Petits pois

defrosted

2

Red pepper

peeled with a potato peeler, deseeded and diced

3

Tomatoes

chopped into small chunks

5

Spring onions

finely sliced

bunch

Parsley

flat-leaf, chopped

large handful stoned green

Olives

roughly chopped (optional)

2 tbsp

Olive oil

extra-virgin
Help-yourself Tuna Rice Salad
I'm quite a busy mom and this Help-yourself tuna rice salad recipe fits right into my schedule. Ready in under 30 minutes and delivering a huge portion size, this is my go-to trick when I have a hungry family and limited time. There is barely any cooking involved either.
Most of the preparation time is used to cook the rice, then quickly mix it in a bowl with tuna, petits pois peas, red peppers, tomatoes, spring onions, green olives and parsley and tossed in some mayonnaise and lemon juice. – With so many ingredients, one would think you'd thought long and hard about this recipe!
To make Tuna Rice Salad, you will need the following ingredients: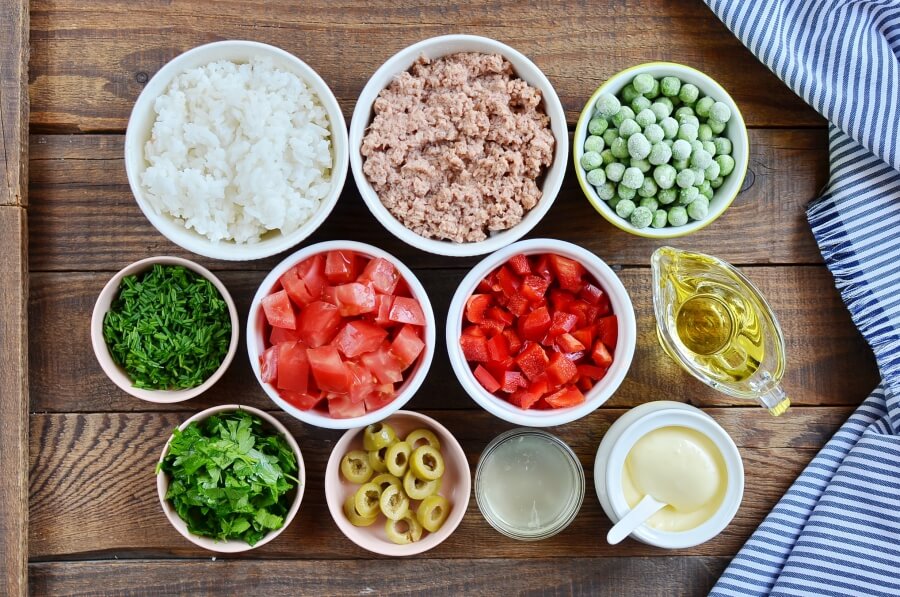 So, how to make Tuna Rice Salad?
Steps to make Help-yourself Tuna Rice Salad
Separate rice

3

Add salad ingredients

3

Add dressing

2

Store

1

Serve