For the cake:

4 large

Granny Smith apples

peeled and cut into ¼ inch chunks

2 tbsp

Sugar

for sprinkling on top of cake

For the custard:
Irish Apple Cake with Custard Sauce
Does it get more Irish than this Irish Apple Cake with Custard Sauce? This recipe is a simple cake that my Irish grandmother used to make on St Patrick's Day each year. She would make her signature homemade custard sauce which we absolutely adored as kids. It was such a treat. And now I can finally share the recipe with you.
Start by making the apple cake which is a pretty standard cake batter which incorporates chunks of apple. To make the custard sauce, whisk egg yolks and sugar in a bowl while milk comes to a boil in a medium saucepan.The hardest part when making custard is whisking the hot milk into the egg/sugar mixture without scrambling the eggs. My tip is to take it very slow! Once combined, return the mixture to the saucepan and stir until the sauce thickens.
To make Irish Apple Cake with Custard Sauce, you will need the following ingredients: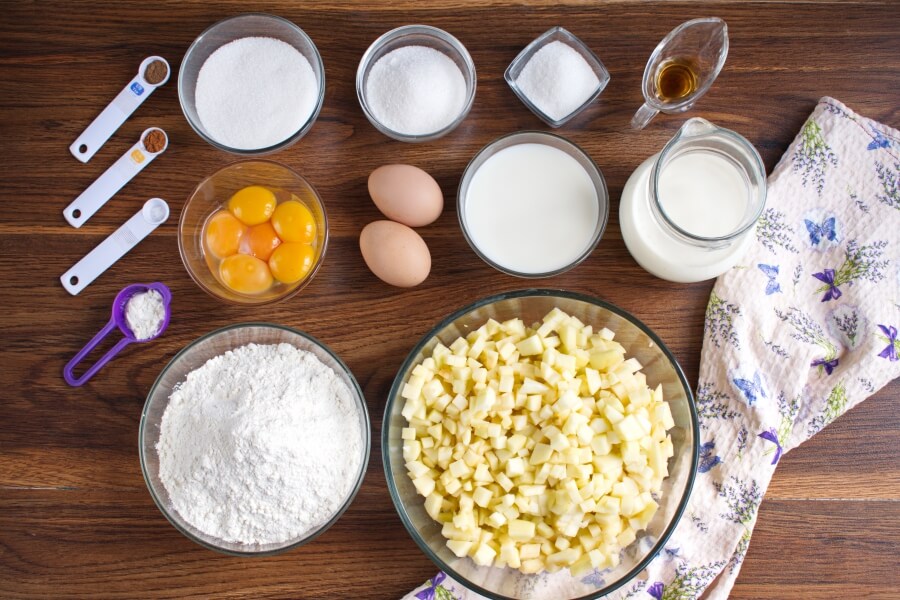 Steps to make Irish Apple Cake with Custard Sauce
Heat the oven and prepare a pan

Preheat the oven to 375 °F. Grease and line an 8 or 9 inch springform pan.

Sift dry ingredients

1

Cut in butter

2

MIx in sugar

1

Add apple chunks

2

Combine milk and eggs and add to flour mixture

2

Transfer the cake mixture to the pan

1

Bake

50

Make the custard sauce

5

Thicken the sauce

5

Serve