3 lbs

Beef chuck roast

trimmed of excess fat and cut into bite-sized pieces

Black pepper

freshly cracked, to taste

1

Onion

large white or yellow, roughly diced

4 cloves

Garlic

pressed or minced

1 (12-oz) bottle

Guinness beer

3

Carrots

large, cut into bite-sized pieces

1 ½ lbs

Potatoes

Yukon gold, cut into bite-sized pieces

2 tsp

Worcestershire sauce

For garnish:
Guinness Beef Stew
The star of this hearty Guinness Beef Stew is Guinness, an Irish dry stout and the most well-known stout beer. This dish is not difficult to prepare, but it cannot be rushed. It's all about cooking low and slow. The alcohol evaporates as the stew simmers, and the end result is a rich and robust flavor with incredibly tender beef, waxy potatoes, and the sweetness of carrots.
To make this recipe, first, sear the beef in batches, turning the pieces until beef is well browned on all sides; add more oil as needed between batches. Remove the beef from the pot and add onions and garlic. Cook over medium-high heat, stirring occasionally. Add flour and cook for another minute. Next, add Guinness, scraping the pot with a wooden spoon to loosen any browned bits. Add the beef stock, carrots, potatoes, a bay leaf, Worcestershire, dried thyme, and the browned beef. Bring to a boil, then reduce to a slow simmer. Taste and adjust seasonings if needed. Serve hot with fresh parsley and Irish mashed potatoes for a well-rounded, seriously delicious dinner. 
To make the Guinness Beef Stew, you will need the following ingredients: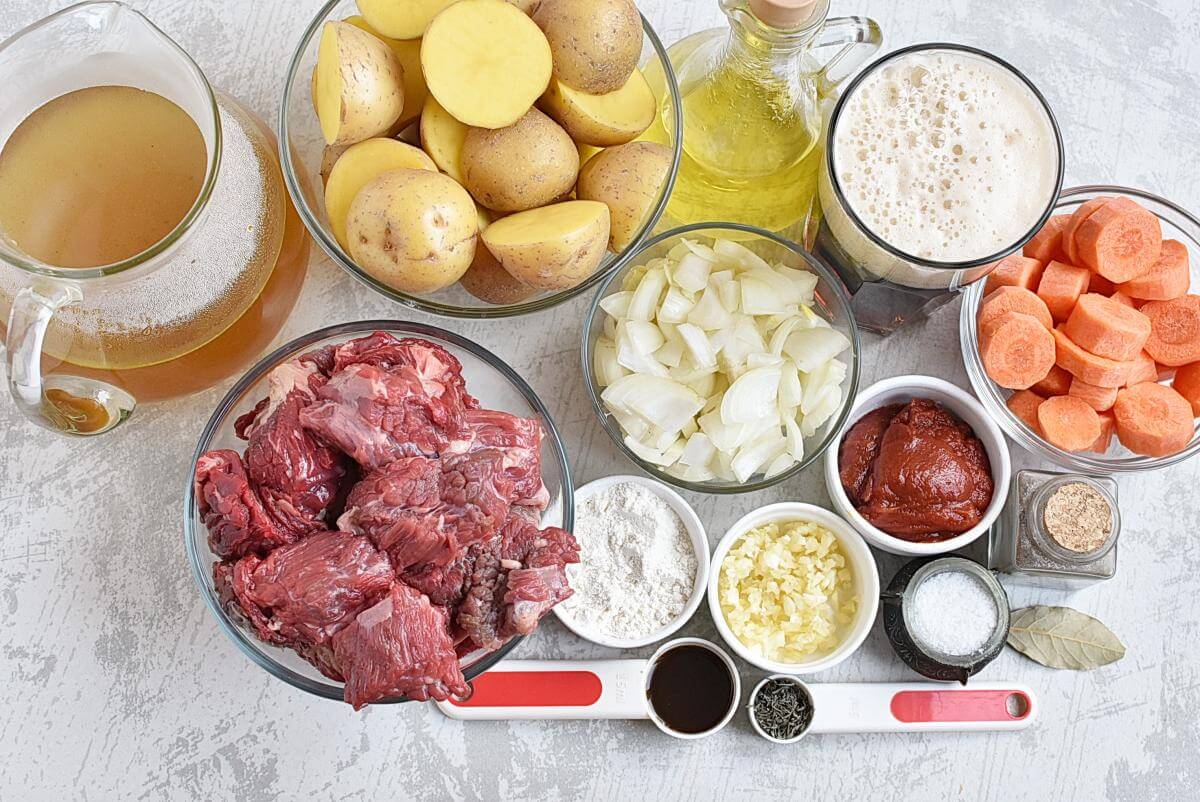 Steps to make Guinness Beef Stew
Sear beef pieces

10

Generously season 3 pounds beef pieces with salt and pepper. In a large stockpot over high heat, heat 1 tablespoon of olive oil. Add half of the beef pieces and sear, flipping, once it has developed a good brown sear on the bottom, then repeating until browned all over. Place the browned beef on a clean plate. Add another tablespoon of oil to the pot and sear the remaining beef, then transfer to the plate too.

Sauté onion and garlic

5

Add flour

1

Add Guinness

2

Add remaining ingredients

2

Simmer

90

Adjust seasoning

Serve