For the cookie:

175g

Plain flour

plus extra to dust

100g

Unsalted butter

cold cubed

For the filling:

100g

Strawberry jam

or raspberry jam

To decorate:

180g

Chocolate Cookie Icing
Reindeer Jammie Dodgers
This Reindeer Jammie Dodgers recipe will capture your imagination and your hearts and the kids will love you for it! Everyone's childhood favorite and definitely mine – biscuit cookies filled with jam and a cute reindeer face decorated on top made from icing sugar and black food coloring gel.
Adults love them to and you can serve them to your guests with a hot drink to dunk your Jammie dodgers into!
To make Reindeer Jammie Dodgers, you will need the following ingredients: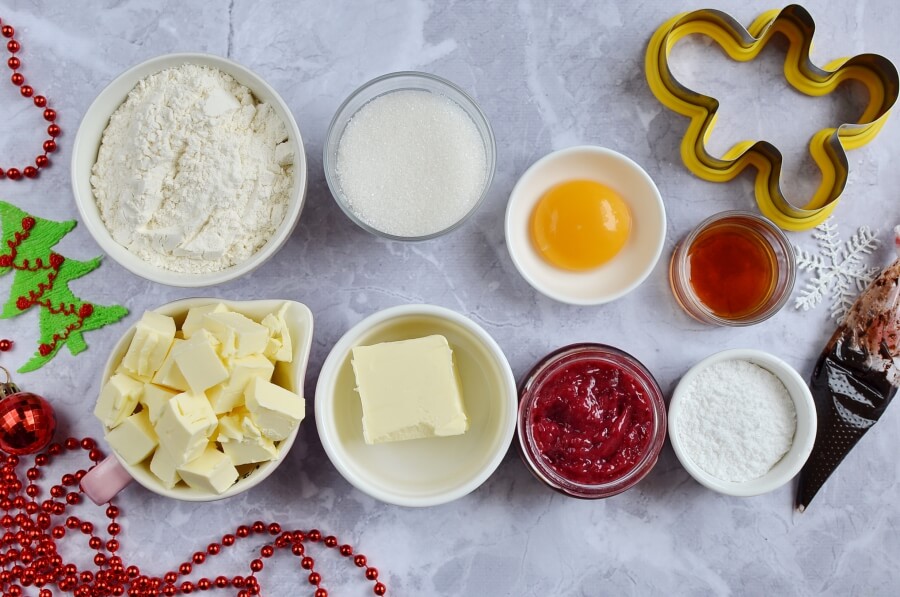 So, how to make Reindeer Jammie Dodgers?
Steps to make Reindeer Jammie Dodgers
Combine flour and butter

3

Add sugar and egg yolk

3

Knead

5

Refrigerate

45

Preheated oven and prepare baking sheet

10

Preheat the oven to 170 °C, fan 150°C, gas 3 and line a baking sheet with parchment paper.

Cut cookie shapes

10

Cut out nose

15

Turn the gingerbread men upside down so their legs are facing away from you and using a 1cm round cutter cut out a circle in the lower half of the head part of each gingerbread man, for the jam-filled nose. Transfer to the prepared baking sheet. Refrigerate a second time for at least 10 minutes to set and firm up.

Prepare second side of Jammie Dodger

10

Bake

14

Add jam

5

Prepare buttercream

5

Fill noses

10

Prepare icing sugar

3

Decorate reindeer faces

10

Spoon both icings into disposable piping bags and snip off the tips to make precise, piping holes. Using the black icing to pipe mouths, ears, eye outlines and antlers. Allow to dry. Once dried use the white icing to fill in the eyes. Allow to dry and then add the black icing again to make pupils in the eyes.

Serve

30