2 cups red and green

Grapes

1 ½ cups

All-purpose flour

10 tbsp

Butter

cut into small pieces
Rustic Grape Tarts
Individual, Rustic Grape Tarts this simply sweet, cute and quaint recipe is just sweet enough with a flaky crust and filled with wholesome red and green grapes, still attached to the twigs and served in a gooey center, these tarts are the perfect tea-time treat.
Serve it warm or cool with vanilla ice cream or dollops of white chocolate cream with coconut flakes on top.
To make Rustic Grape Tarts, you will need the following ingredients: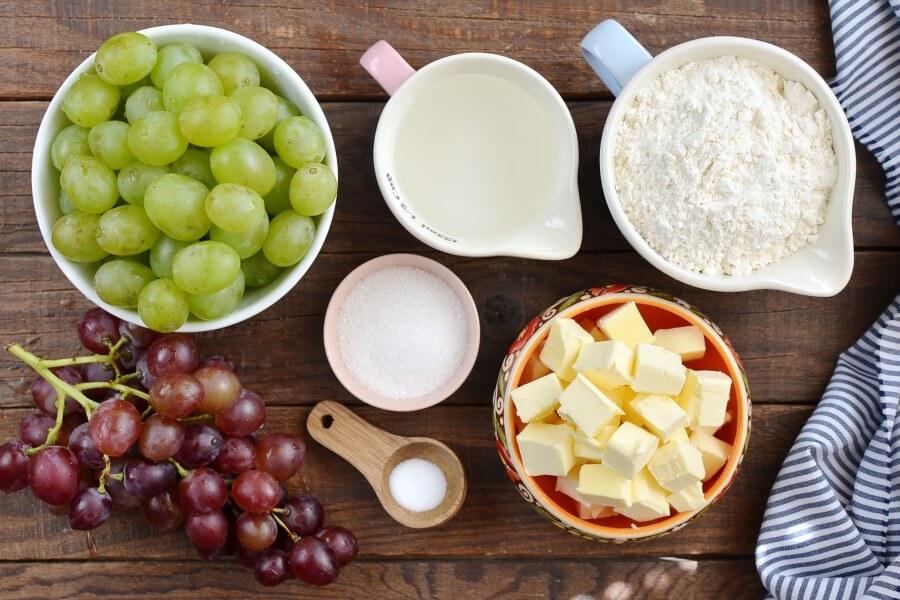 So, how to make Rustic Grape Tarts?
Steps to make Rustic Grape Tarts
Prepare pastry

3

Add water

2

Knead dough

5

Refrigerate

1h 20m

Preheat oven

10

Place your oven rack to the middle position and heat to 375 ºF.

Prepare tarts

2

Load a few grapes in the middle of your rolled out dough, leaving a 2-inch border around the edge. (Or 1-inch border for the tartlets). Fold the dough edges over the fruit, pleating as you go around. Tuck in the bottoms of the pleats with extra grapes and garnish with a small cluster of grapes, still attached to the twig, on top of the center grapes, if you wish.

Brush and sprinkle crust

1

Bake tarts

1h

Cool

35

Serve