8 ounces Whole-grain

Spaghetti

uncooked

1 pound

Shrimp

peeled, deveined raw medium

2 cups

Leek

chopped (from 1 large leek)

1 tbsp

Garlic

chopped (from 3 garlic cloves)

2 cups frozen baby

Sweet peas

(about 9 oz.), thawed

2 tbsp

Fresh dill

chopped

1½ tbsp

Olive oil

divided

¾ tsp

Kosher Salt

divided
Shrimp and Leek Spaghetti
Make your Italian pasta nights even fancier with this Shrimp and Leek Spaghetti recipe. All your guests will be very impressed and it doesn't even take that long to make.
Isn't it nice when you find a dinner party recipe that's quick to make? – so on those last minute special occasions you don't have stress about slaving away to make something extra complicated.
This recipe has all the textures and flavors that a gourmet dish should have and it is a real homemade treat. 
To make Shrimp and Leek Spaghetti, you will need the following ingredients: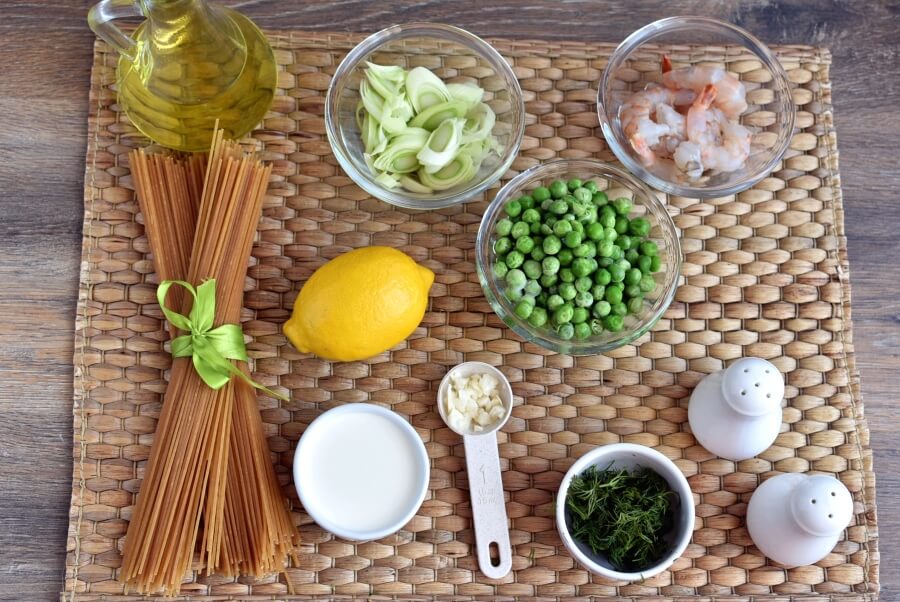 So, how to make Shrimp and Leek Spaghetti?
Steps to make Shrimp and Leek Spaghetti
Cook pasta

10

Season shrimp

2

Cook shrimp

3

Cook leek and garlic

2

Prepare sauce

2

Add shrimp

1

Serve