1

Onion

small, finely diced

28 oz

Can crushed tomatoes

800 g

1 tbsp

Dried herbs

Italian mixed herbs, or other dried herbs of choice

1 tbsp

Tomato paste

optional, thickens sauce slightly

1 (15-oz) can

Can of tuna

425 g, chunk tuna, preferably in oil, drained

1 1/2 cups

Mozzarella

150 g, shredded

For drizzling:
Tuna Pasta Bake
This Tuna Pasta Bake is an easy, budget-friendly pasta dish. It is hard to mess up, comes together quickly, and is made with ingredients from the pantry. Rounded out with mozzarella cheese, crushed tomatoes, and Italian dried herbs, it's a flavorful and delicious meal that everyone loves. Warning, the golden crust on top is highly addictive.
Start with the pasta. Add the pasta to the boiling salted water and cook for 1 minute less than the package directions. In the meantime, make the sauce in an ovenproof skillet. Once the pasta is ready, drain it, then rinse under the tap water and add to the sauce. Stir in the tuna, making sure you don't break it up too much. Drizzle lightly with little olive oil and sprinkle the cheese over. Bake until golden on top and bubbling. Let sit for 3 minutes before serving, and enjoy!
To make the Tuna Pasta Bake, you will need the following ingredients: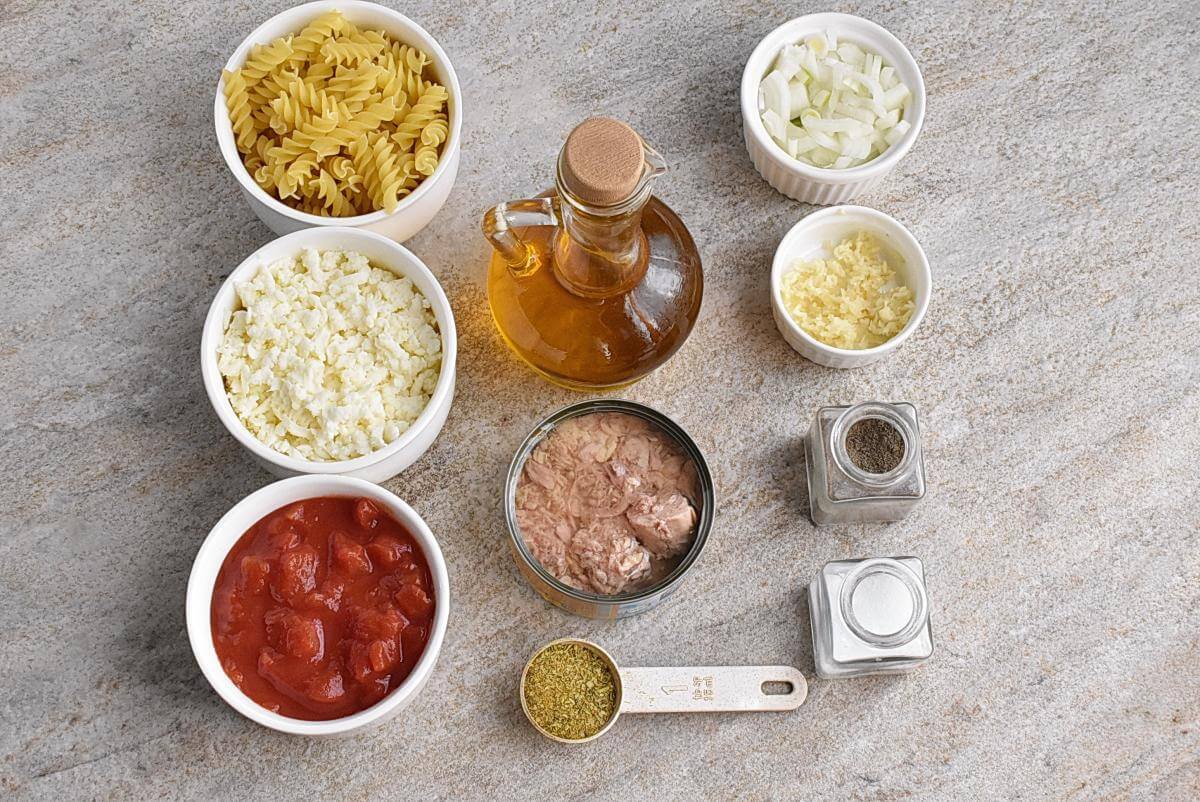 Steps to make Tuna Pasta Bake
Heat oven

5

Preheat the oven to 350 °F.

Cook pasta

10

Make sauce: cook garlic and onion

3

Add tomatoes, water, herbs, salt and pepper

5

Add 28 ounces crushed tomatoes, ¾ cup water, 1 tablespoon Italian dried herbs, 1 teaspoon salt, ½ teaspoon black pepper, and 1 tablespoon tomato paste if using. Stir, bring to a simmer, lower heat to medium, and simmer for 5 minutes, stirring occasionally, until thickened. Taste and adjust salt to taste. Add a pinch of sugar if the sauce tastes a bit sour.

Combine pasta with sauce

2

Add tuna

2

Top with cheese

1

Bake

20

Serve