14 oz

Pumpkin

or butternut squash, cut into 3⁄4-inch cubes

6 cloves

Garlic

peeled and smashed

For serving:
Pumpkin Pasta with Ricotta
Looking for a new fall-inspired pasta dish? You will love digging into this Pumpkin Pasta with Ricotta, which is full of scrumptious flavors. Sweet and savory oven-roasted pumpkin, seasoned with the sweetness of roasted garlic and enriched with creamy ricotta, gets tossed with hot pasta. Finish the dish off with nutty brown butter, fried sage, and a generous scattering of Parmesan cheese on top. Every bite of this pasta has delicious fall flavors that the whole family will love.
Start by roasting the pumpkin, garlic, and sage leaves with olive oil, plus salt and black pepper. While the pumpkin and garlic are roasting away in the oven, make the brown butter. Melt together the butter and sage leaves. Cook until the butter starts to foam and caramelize and the sage is crisp. Now, cook the pasta. Once the pumpkin is tender, mash the roasted garlic and stir through the pumpkin. Add the spoonfuls of ricotta over the top and bake for another 5–10 minutes. Mix the cooked pasta with the pumpkin and ricotta mixture. Serve immediately topped with the sage butter and grated Parmesan. Enjoy!
To make the Pumpkin Pasta with Ricotta, you will need the following ingredients: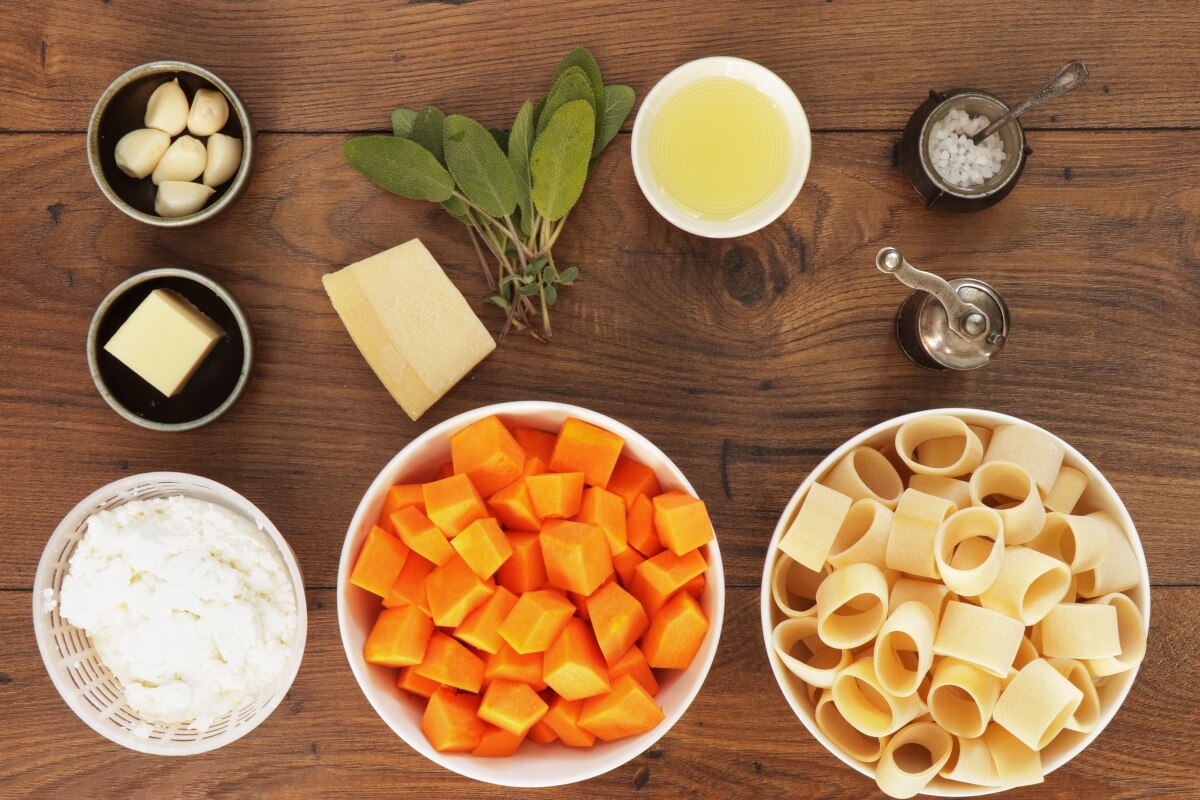 Steps to make Pumpkin Pasta with Ricotta
Heat oven

Preheat the oven to 375 °F.

Bake pumpkin and garlic

20

Make brown butter

5

Meanwhile, melt 3 ½ tablespoons butter and the remaining sage leaves in a small pan over moderate heat. Cook gently for about 5 minutes, until the butter starts to foam and caramelize. The milk solids will fall away to the bottom of the pan, and the sage leaves should be crisp yet not brown. Remove the pan from the heat.

Cook pasta

15

Add ricotta

10

Combine pasta with pumpkin and ricotta

1

Serve