Top 10 Easy Chicken Casserole Recipes
Hearty Chicken Dinner for the Family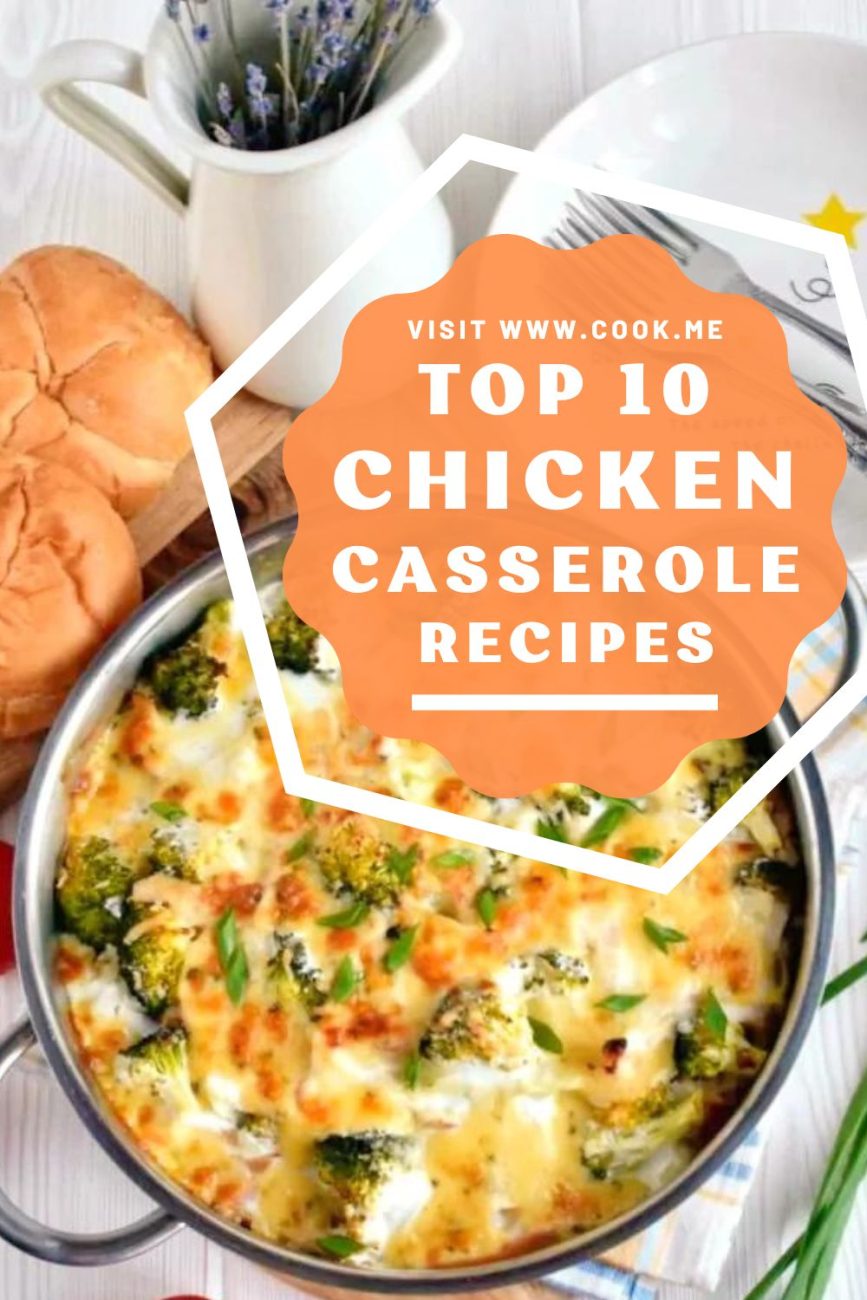 When it comes to quick, easy and delicious dinners, nothing comes close to my Chicken and Rice Casserole! This is a family favorite in our house because it tastes absolutely amazing. The kids simply love it and I love it too because it is so easy to prepare. I can…
Ingredients for Chicken and Rice Casserole:
2 tbsp Butter
2 cloves Garlic
4 Scallions
2 cups Fresh Broccoli
2 cups Rotisserie chicken
1 cup White rice
1 Plum tomato
Salt
Ground pepper
2 cups Chicken broth
¼ cup Sour cream
1 cup Dill havarti cheese
¼ cup Parmesan cheese
Ingredients for Harvest Chicken Casserole:
2 tbsp Olive oil
2 lb Chicken Breast
Kosher Salt
Black pepper
½ Onion
2 Sweet potatoes
1 lb Brussels sprouts
2 cloves Garlic
2 tsp Fresh thyme
1 tsp Smoked Paprika
½ tsp Cumin
½ cup Chicken broth
4 cups Wild Rice
½ cup Cranberries
½ cup Almonds
Ingredients for Ultimate Chicken Spaghetti:
2 pounds Chicken Breast
1 (16-ounce) package Spaghetti
1 (10-ounce) can Tomatoes
2 (10.5-ounce) cans Cream of mushroom soup
1 (16-ounce) package Velveeta Сheese
4 ounces Cream Cheese
1 tsp Garlic powder
1 tsp Onion powder
1 cup Cheddar cheese
Cooking spray
This Broccoli Cauliflower Rice Chicken Casserole is a delicious healthy midweek dinner. This recipe ticks a lot of boxes for me – it is low in carb yet absolutely delicious and very filling. You'll love it!  To make this delicious casserole, start by baking chicken in the oven. Meanwhile, heat…
Ingredients for Broccoli Cauliflower Rice Chicken Casserole:
2 lb Chicken Breast
1 tbsp Olive oil
2 (10-oz) bags Cauliflower rice
1 (16-oz) bag Broccoli
2 Large eggs
3 cups Mozzarella
1 tsp Sea salt
2 tsp Garlic powder
2 tsp Onion powder
2 tbsp Butter
1 cup Cheese
I love this Easy Chicken Casserole, and it is made with my favorite type of chicken meat – thighs. Bone-in, skin-on chicken thighs are the most delicious things. Especially when the skin is crispy, and they are cooked until tender and falling off the bone.  To make this delicious casserole,…
Ingredients for Easy Chicken Casserole:
8 Chicken thighs
1 tbsp Olive oil
1 Onion
4 slices Smoked Bacon
5½ oz Mushrooms
3 Carrots
¾ oz Plain flour
1 tbsp Fresh thyme
18 fl oz Chicken stock
1 Leek
Salt
Black pepper
This Chicken & Veggie Casserole is a perfect dish to make when you fancy some comfort food. A rich creamy recipe that is jam-packed with vegetables and chicken topped with delicious cheesy potatoes. To make this delicious casserole, start by cooking chicken in a pan. Boil potato slices until tender….
Ingredients for Chicken & Veggie Casserole:
2 Chicken Breast
½ cup Corn kernels
½ cup Green peas
½ cup Carrots
½ cup Bell pepper
1½ cup Heavy cream
2 Potatoes
1½ cups Cheese
Salt
Black pepper
2 tbsp Olive oil
1 tbsp Seven spice
½ tbsp Garlic powder
½ tbsp Onion powder
This Chicken, Leek and Dijon Casserole is a super easy midweek meal which will tickle your tastebuds! I love the combination of soft leeks, creamy butter beans and sharp mustard with the crisp saltiness of fried chicken thighs. What's not to love?! Start by frying the chicken in a frying…
Ingredients for Chicken, Leek and Dijon Casserole:
Olive oil
4 Chicken thighs
1 Leek
2 tsp Dijon mustard
250 ml Chicken stock
210 g can Butter beans
Parsley
I love to make Easy Leftover Chicken and Potato Casserole the day after I make a roast chicken dinner. This dish is delicious topped with a cup of shredded Cheddar cheese, crunchy buttered bread crumbs, or crumbled fried onions. To make this delicious meal, start by cooking mushrooms and onions…
Ingredients for Easy Leftover Chicken and Potato Casserole:
3 tbsp Butter
8 oz Mushrooms
1 cup Onion
2 tbsp All-purpose flour
1 cup Milk
Black pepper
Kosher Salt
2 cups Potatoes
2 cups Chicken

FOR CHEESE TOPPING:
1 cup Cheddar cheese

FOR BREAD CRUMB TOPPING (OPTIONAL):
1 cup Bread crumbs
2 tbsp Butter
This Broccoli Chicken Divan is a delicious chicken casserole with broccoli and a creamy sauce. I love the buttery bread crumb topping. There are never any leftovers when I make this, but if you don't get through the whole casserole, it tastes delicious the next day when reheated. Simply place…
Ingredients for Broccoli Chicken Divan:
FOR CASSEROLE:
1 ½ lbs Fresh Broccoli
3 cups Chicken
1 ½ cups Cheddar cheese
½ cup Milk
⅔ cup Sour cream
10 ½-oz can Cream of mushroom soup
½ tsp Garlic powder
½ tsp Onion powder
½ tsp Mustard powder
½ tsp Black pepper
¼ tsp Salt

FOR TOPPING:
3 tbsp Panko bread crumbs
1 tbsp Butter
Keto and casserole can go hand in hand, and this Chicken Bacon Caesar Casserole is a perfect example. The homemade sauce base for this casserole is hearty, cheesy, and loaded with yummy bacon. Add chicken and spinach, and you will have a warm and delicious weeknight dinner. Your family will…
Ingredients for Chicken Bacon Caesar Casserole:
Cooking spray
4 oz Cream Cheese
2 oz Sour cream
2 oz Mayonaise
1 tsp Garlic powder
1 tsp Onion
1 lb Chicken
1 (6-oz) bag Spinach
½ cup Parmesan cheese
2 slices Bacon
1 oz Mozzarella