2 cloves

Garlic

finely chopped

4

Scallions

finely chopped

2 cups

Fresh Broccoli

florets

2 cups

Rotisserie chicken

skin removed, shredded

1 cup

White rice

medium-grain

Ground pepper

freshly, to taste

2 cups

Chicken broth

low-sodium

1 cup

Dill havarti cheese

diced

¼ cup

Parmesan cheese

grated
Chicken and Rice Casserole
When it comes to quick, easy and delicious dinners, nothing comes close to my Chicken and Rice Casserole! This is a family favorite in our house because it tastes absolutely amazing. The kids simply love it and I love it too because it is so easy to prepare.
I can make it in the morning and it will be ready to bake in the oven when I get home. Once cooked, the chicken is unbelievably juicy and tender, the rice is cooked perfectly and there is a creamy rich flavorful sauce. What's not to love about this casserole?
I use scallions, broccoli, and tomato in my chicken and rice casserole, but you could add bell peppers, mushrooms or any other vegetables you like to change it up.
To make my Chicken and Rice Casserole, you will need the following ingredients: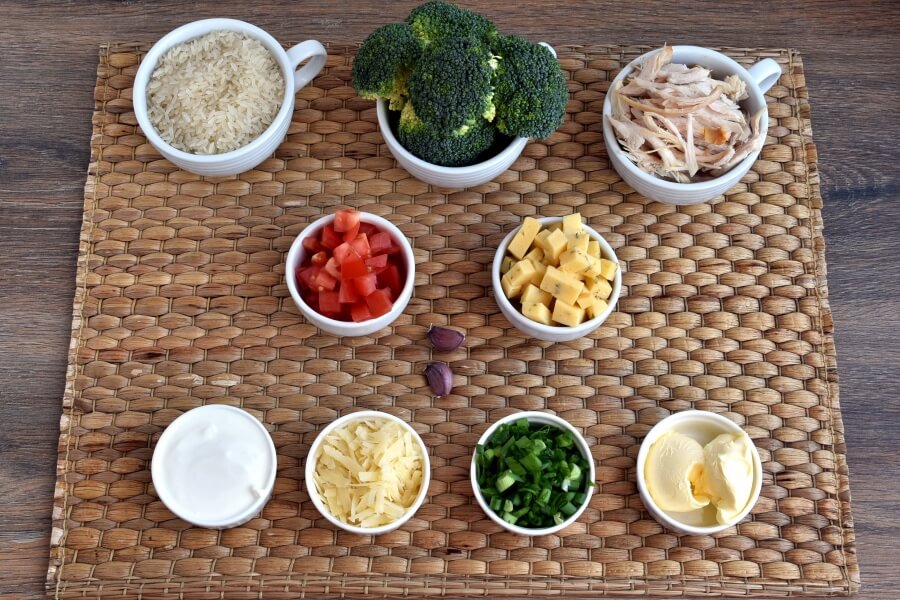 So, how do you make Chicken and Rice Casserole?
Steps to make Chicken and Rice Casserole
Heat the oven

5

Preheat the oven to 425°F.

Sauté the garlic and scallions

2

Combine ingredients

3

Add the broth and sour cream

2

Add half the cheeses

1

Bake

20

Broil

2

Serve