Top 10 Puff Pastry Recipes
No Fuss, Easy to Make, and So Delicious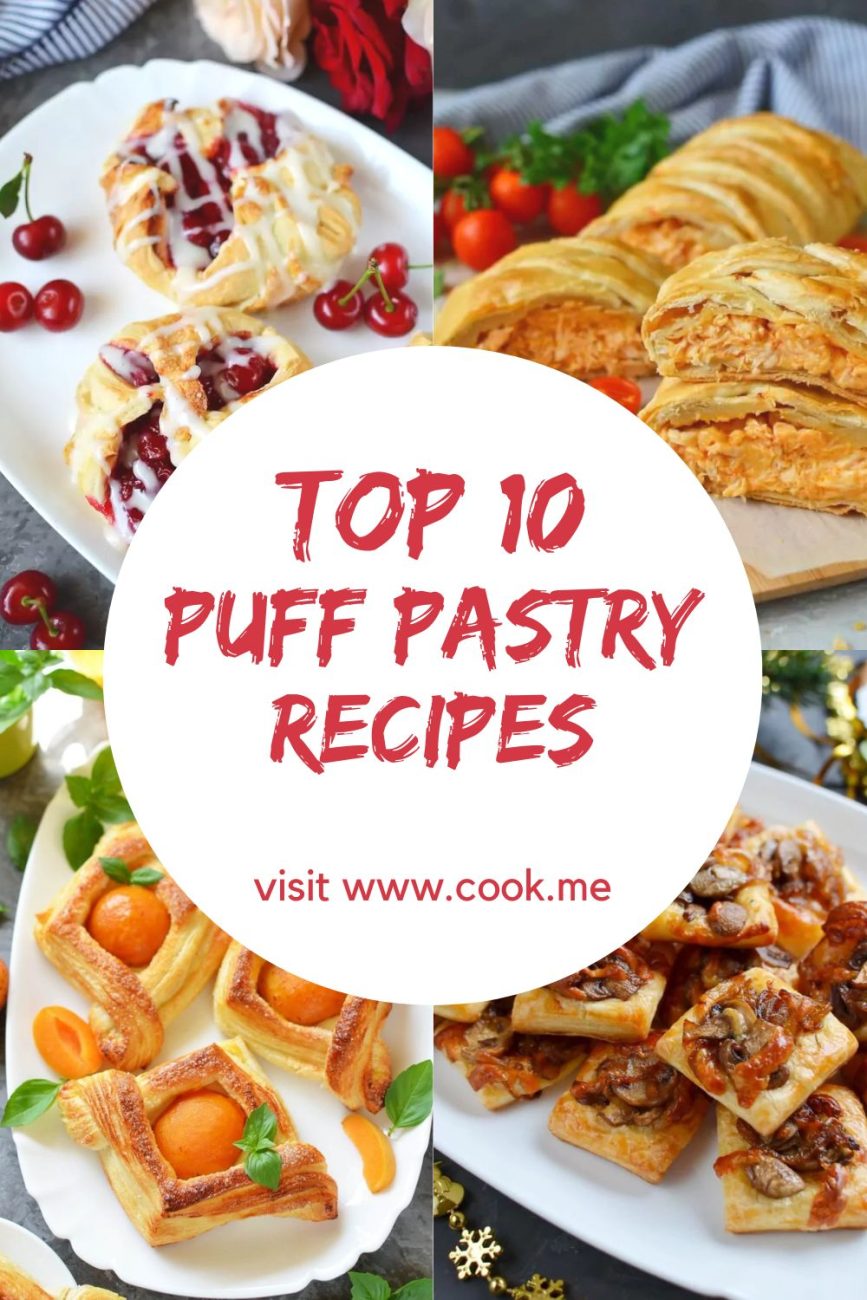 As the name suggests, you will only need five ingredients to make this 5-Ingredient Peach Tart! It is a great way to use up peaches in the summer. It tastes delicious served with vanilla ice cream and it takes under 30 minutes from start to finish. To make this recipe,…
Ingredients for 5-Ingredient Peach Tart:
1 sheet Frozen puff pastry
3 Peaches
1 tbsp Lemon juice
1 Eggs
Confectioners' sugar
These Ham & Cheese Savory Palmiers are really easy to make and so handy because once you have frozen puff pastry, all you really need is ham, cheese, mustard, and an egg. Your family will love these savory snacks.  Start by defrosting puff pastry sheets until the pastry is workable,…
Ingredients for Ham & Cheese Savory Palmiers:
8 slices Ham
2 sheets Frozen puff pastry
3 tbsp Dijon mustard
1 ½ cups Cheddar cheese
1 Eggs
I can't think of a more decadent combination than cherries and chocolate, can you? If you love this flavor combination as much as I do, then Braided Cherry & Chocolate Pastry is the recipe for you. To make these, start by making the cherry filling. Roll out some puff pastry…
Ingredients for Braided Cherry & Chocolate Pastry:
FOR THE CHERRY FILLING:
2 cups Cherries
⅓ cup Granulated sugar
2 tbsp Cornstarch
1 tbsp fresh Lemon juice
¼ cup Water
¼ tsp Almond extract

FOR THE PASTRY:
1 sheet Frozen puff pastry
¼ cup Chocolate
1 Eggs
1 tbsp Turbinado sugar
I adore these little Mini Plum Tartlets. They are so delicious and so quick and easy to make. I always use ready-rolled puff pastry which means I can have these tartlets in the oven in only 15 minutes. Perfect when someone gives you very little notice that they're coming around….
Ingredients for Mini Plum Tartlets:
2 sheets Frozen puff pastry
170 g Cream Cheese
3 tbsp Confectioners' sugar
½ tsp Lemon zest
1 tsp Vanilla extract
5 Plums
1 Eggs
4 tbsp Demerara sugar
As you know, I love hosting friends and easy recipes are my best friend. These Mini-Cheeseburger Pastry Bundles suit all my party needs. Perfect, finger foods that take just 20 minutes to prepare. We all love mini pastries and we all love cheeseburgers, so why not put them together. Puff…
Ingredients for Mini-Cheeseburger Pastry Bundles:
1¼ lbs Lean ground beef
1 tbsp Steak sauce
1 tsp Salt
¼ tsp Black pepper
4 Green onion
1 package (17.3 ounces) Frozen puff pastry
12 slices Cheddar cheese
This Apricot and Cream Cheese Pastry may sound unusual but I really love the combination. Along with the smooth cream cheese, I use vanilla extract and confectioners' sugar to soften the flavor and spread it on top of individually cut squares of butter puff pastry and finally I add apricot…
Ingredients for Apricot and Cream Cheese Pastry:
2 sheets butter Frozen puff pastry
6 tbsp Cream Cheese
1 tsp Vanilla extract
4 tbsp Confectioners' sugar
8 canned Apricot halves
1 Eggs
2 tbsp Sugar
2 tbsp Apricot jam
These Gruyere, Mushroom & Caramelized Onion Bites make a delicious Christmas side dish or they are perfect to serve as a canapé at any party you might be hosting this year. This is right at the top of my list of favorite Christmas side dish recipes. Everyone in my family…
Ingredients for Gruyere, Mushroom & Caramelized Onion Bites:
4 tbsp Salted butter
2 tbsp Vegetable oil
5-6 oz Button mushrooms
2 Yellow onions
¼ tsp Dried thyme
1 tbsp Sugar
1½ tbsp Balsamic vinegar
¼ tsp Garlic powder
Salt
Black pepper
4 oz Gruyère cheese
1 package (1 lb) Frozen puff pastry
1 Eggs
Don't stress if you don't have a real oven, this Toaster Oven Breakfast Tart is just the recipe for you! I'm all about simple ingredients, simple directions and impressive turn outs. Use a premade puff pastry is best and top with tons of grated Cheddar cheese that melts and drips…
Ingredients for Toaster Oven Breakfast Tart:
1 sheet Puff Pastry Dough
4 Eggs
½ cup Cheddar cheese
6 strips Bacon
½ cup Spinach
These Easy Cherry Turnovers are a regular feature in my kitchen. They are so easy to make thanks to using canned cherries and pre-made puff pastry. A cream cheese glaze drizzled over the turnovers sets them off and makes them the perfect accompaniment for morning coffee or afternoon tea. I…
Ingredients for Easy Cherry Turnovers:
1 (17 oz) package Puff Pastry Dough
1 (21 oz) can Cherry pie filling

FOR TOPS OF TURNOVERS:
2 tbsp Milk
2 tbsp Sugar

FOR THE CREAM CHEESE GLAZE:
2 oz Cream Cheese
1 tbsp Butter
⅔ cup Powdered sugar
¼ tsp Vanilla extract
Milk
This Buffalo Chicken Braid is a quick and easy meal to prepare and cook. I use a crescent sheet for this recipe and if sheets are unavailable, you can roll together 1 can of crescent roll dough. Make sure you use buffalo wing sauce, not regular hot sauce for the…
Ingredients for Buffalo Chicken Braid:
2 cups Chicken Breast
1 tbsp Ranch seasoning mix
½ – 1 cup Buffalo wing sauce
1 ½ cups Mozzarella
1 sheet Puff Pastry Dough