TOP 10 Summer Appetizer Recipes
Perfect for Summer Parties!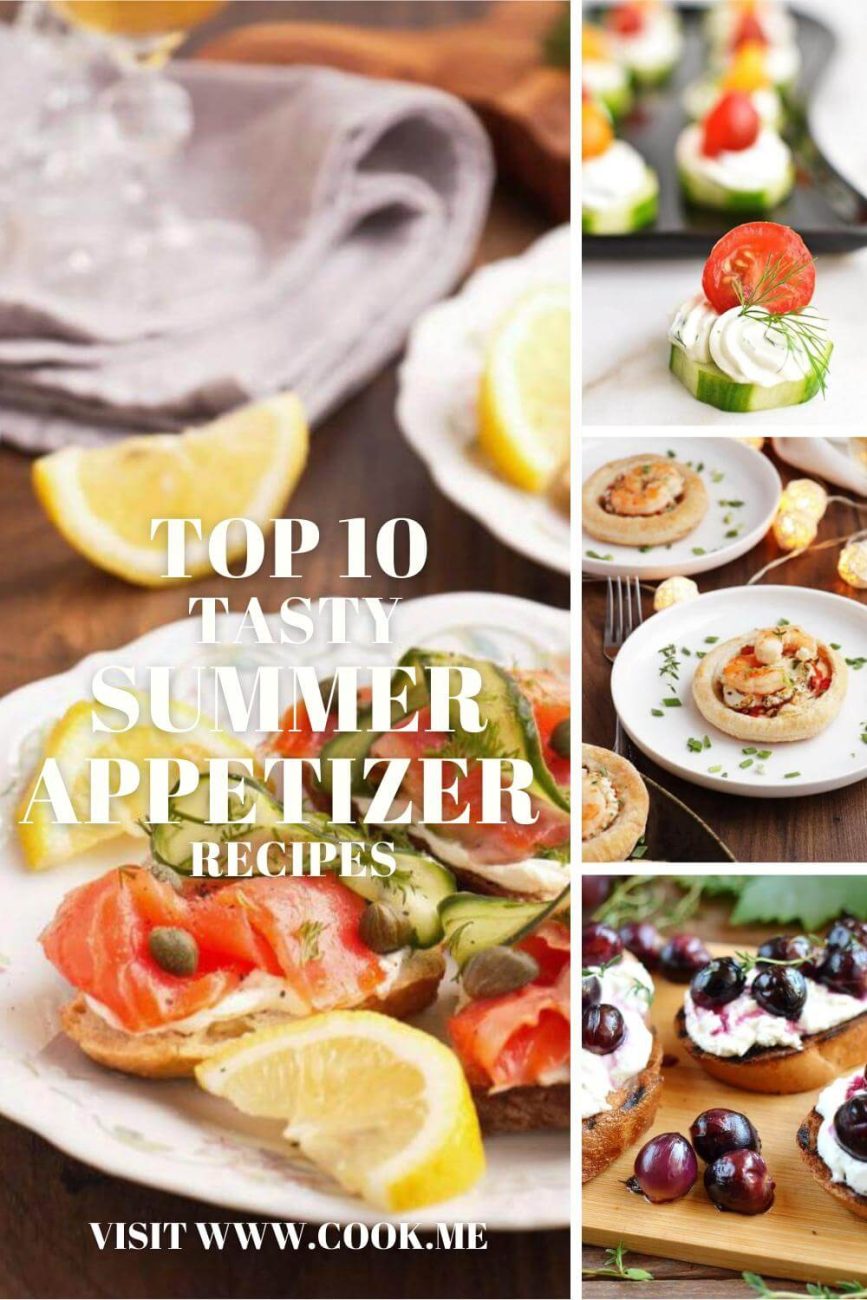 If you haven't picked up yet, I love hosting parties and these Smoked Salmon, Cucumber, Capers and Soda Bread appetizers are one of my favorite canapés to serve. Elevated, finger food to circulate the room. Cut, small soda bread slices and top with cucumber ribbons, smoked salmon, a few capers…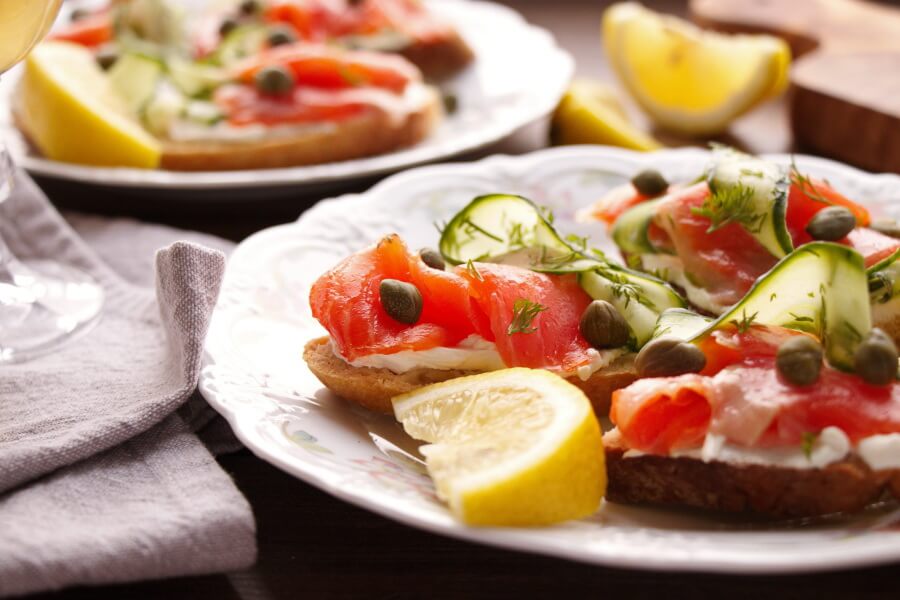 Ingredients for Smoked Salmon, Cucumber, Capers and Soda Bread:
1 Cucumber
1 pack Fresh dill
200 g pack Smoked salmon
1 jar Capers
1 Lemon
6 slices Soda bread
Cream Cheese, for serving
Whoever said salads are boring obviously never tried these Chicken Caesar Crouton Cups. I use white sandwich bread baked inside muffin trays and flavored with garlic butter and Italian seasoning. Once cooled and crispy, I fill each cup with some Caesar salad mix made from a toss up of cooked…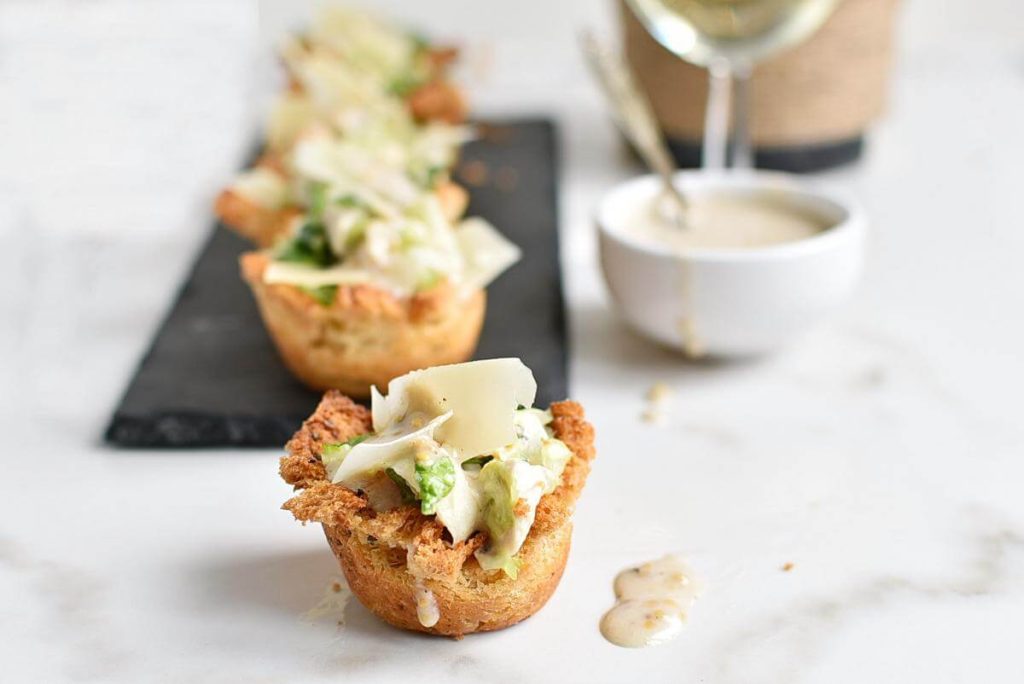 Ingredients for Chicken Caesar Crouton Cups:
1 stick Unsalted butter
2 Garlic clove
1 large Garlic clove
2 tsp Dried Italian seasoning
12 slices White sandwich bread
One 1-ounce piece Parmesan cheese
3 fillets Anchovy
Kosher Salt
1 large Egg yolks
2 tbsp Lemon juice
1 tsp Dijon mustard
⅓ cup Vegetable oil
4 cups Romaine lettuce
1 cup white meat Chicken
You bet I make these Strawberry Balsamic Bruschetta for all my dinner parties. The colors are so vibrant and eye-catching that they make for a perfect party-starter! Bruschetta are really simple to make so you can spend more time on other party necessities. Paired with a glass of Merlot, red…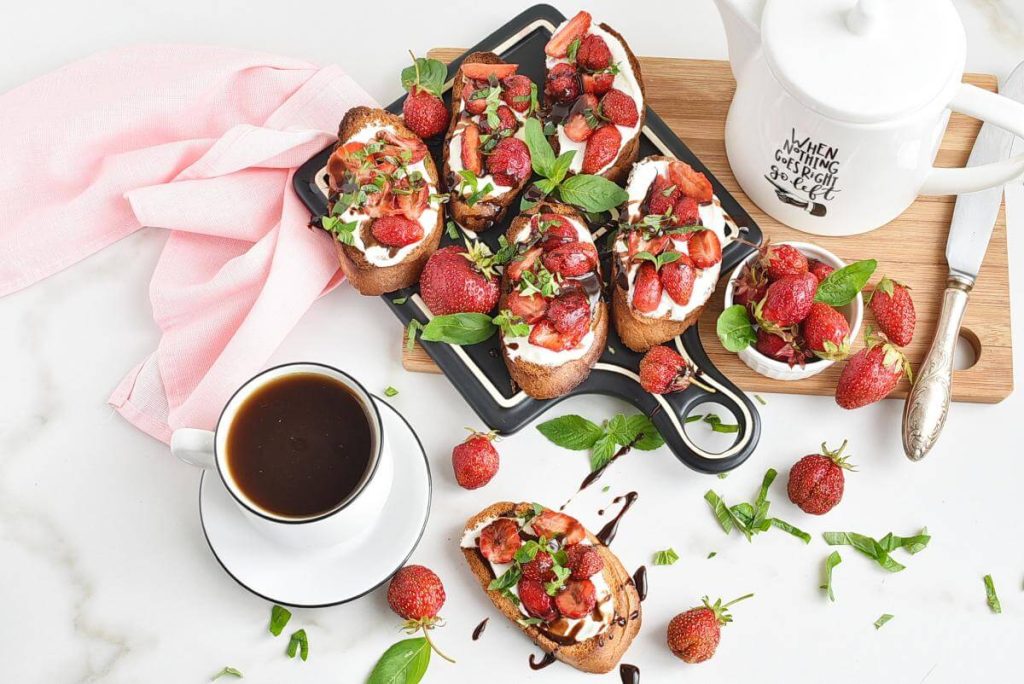 Ingredients for Strawberry Balsamic Bruschetta:
1 Baguette
¼ cup plus 2 tsp Olive oil
2 cups Ricotta cheese
1 tsp Kosher Salt
1 tsp Black pepper
2 cups Strawberries
2 tbsp Basil
These Thyme-Roasted Grapes with Ricotta and Grilled Bread sandwiches are a delightful, gourmet sweet and salty sophisticated sandwiches. This is the type of sandwich you can find served in the lobbies of 5-star hotels and tea rooms. With grapes, gently roasted with olive oil, kosher salt, and fresh thyme sprigs…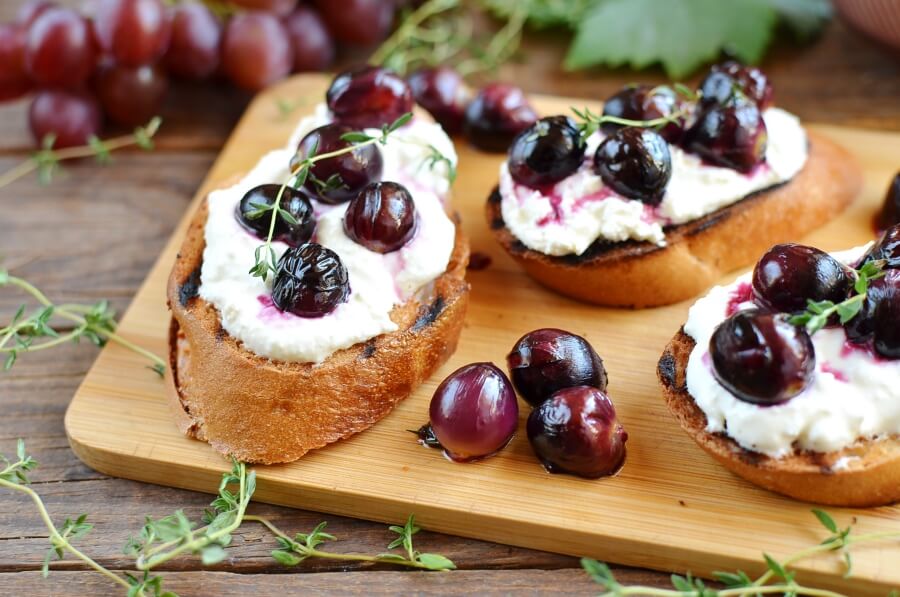 Ingredients for Thyme-Roasted Grapes with Ricotta and Grilled Bread:
1 Baguette
1 ½ cups Grapes
2 tbsp Olive oil
Kosher Salt
Fresh thyme
1 ½ cups Ricotta cheese
These Italian inspired Tomato and Mozzarella Puffs are so simple to make and the ingredient combination is delicious too. Juicy sweet cherry tomatoes combined with creamy, salty mozzarella cheese, topped with the punchy flavor of torn basil leaves. What's not to love? They couldn't be easier to make either. Start…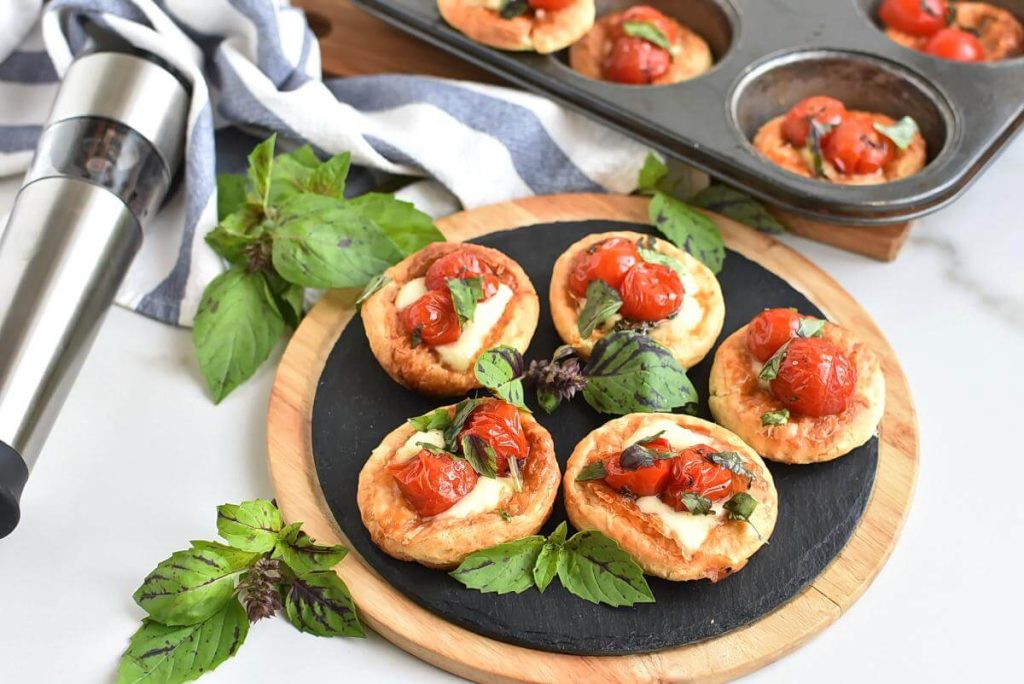 Ingredients for Tomato and Mozzarella Puffs:
375 g Puff Pastry Dough
1 Eggs
270 g Cherry tomatoes
Olive oil
handful of Fresh thyme
125 g Mozzarella
bunch of Basil
I always make a few batches of these Dilly Cucumber Bites as appetizers when I have a cocktail party. They are fresh and suitable for your vegetarian guests. Meat eaters will love them too so it's a win win!  To make these, start by slicing cucumbers into ½-inch thick rounds….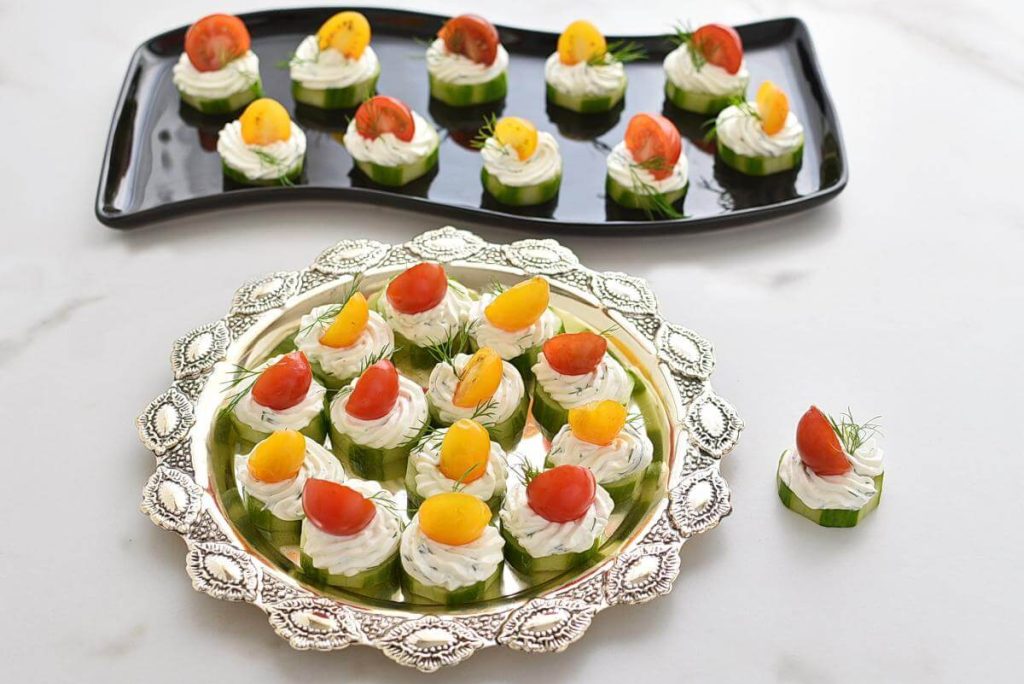 Ingredients for Dilly Cucumber Bites:
4 large English cucumber
1 pint Grape tomatoes
1 (8 oz) block Cream Cheese
1 (5.3 oz) container Greek yogurt
3 tbsp Fresh dill
1 tbsp Powdered ranch dressing mix
This Wild Mushroom & Parmesan Vol-au-Vent Filling is my numéro un filling for vol-au-vents. One of my favorite pastry dishes is vol-au-vents. Did you know that vol-au-vent is the French term for "windblown" (wind = vent) and it is used to describe the lightness of the pastry shell. It is…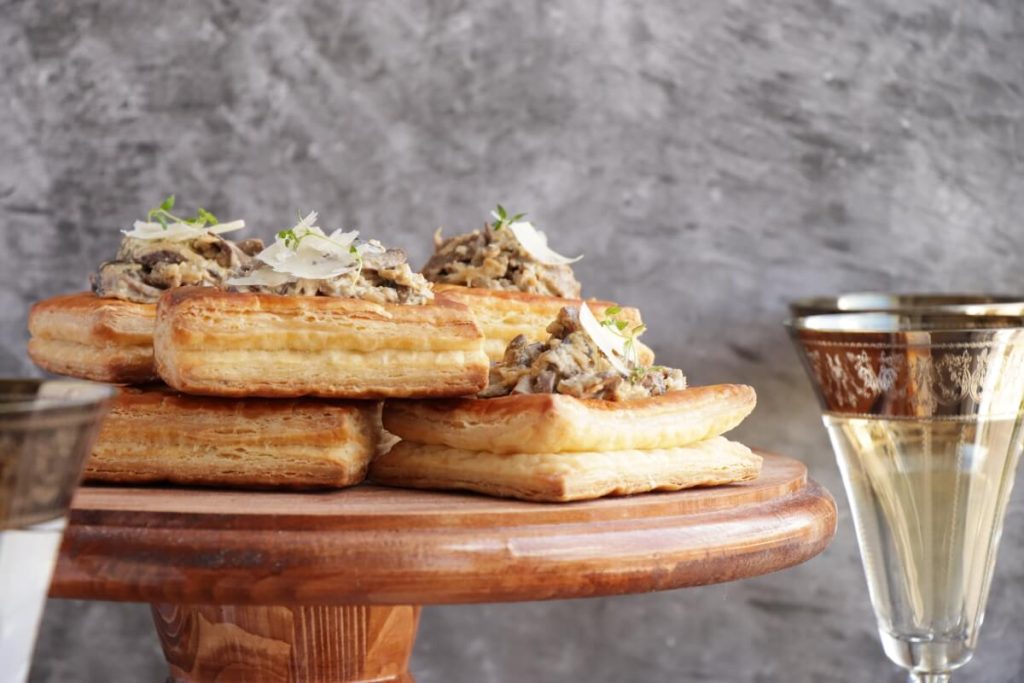 Ingredients for Wild Mushroom & Parmesan Vol-au-Vent Filling:
10 Vol-au-vent cases
2 tbsp Olive oil
2 Shallots
2 cloves Garlic
25 g Porcini mushrooms
100 g Chestnut mushrooms
1 tsp Fresh thyme
4 tbsp Mascarpone
85 g Parmesan cheese
Salt
Black pepper
This Falafel Waffle recipe is like my healthy fast food! I love falafel, but I always mess it up when I make traditional falafel at home. Not this falafel waffle recipe though – it is quick, easy and foolproof. You don't need any hot oil too which means less mess…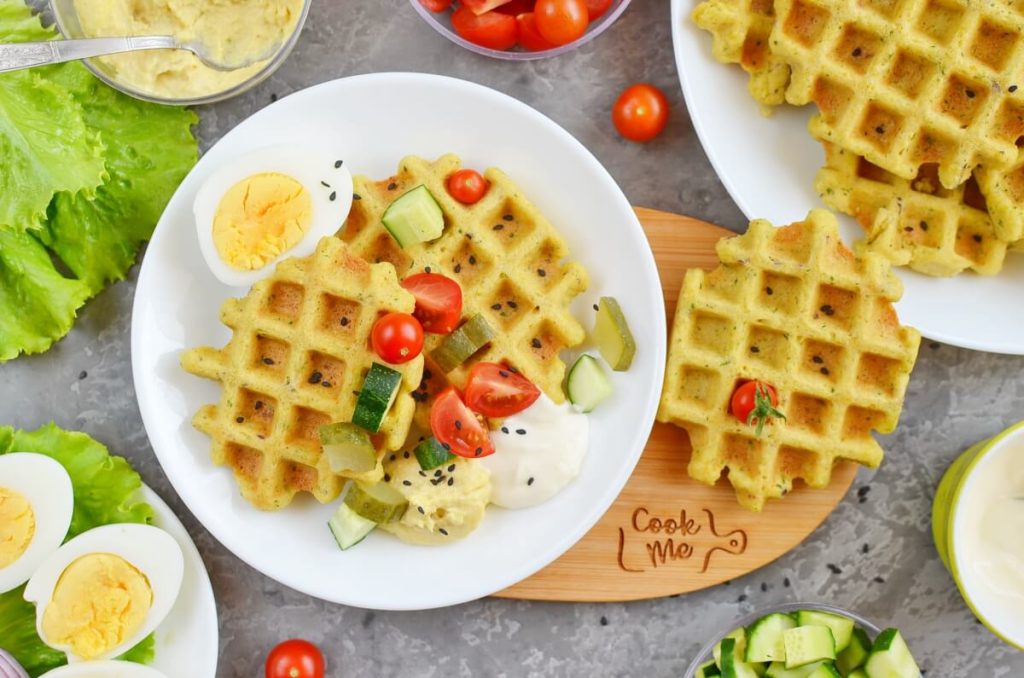 Ingredients for Falafel Waffle:
one 15-oz can Chickpeas
⅓ cup Vegetable oil
½ bunch Cilantro
½ Red onion
2 tbsp All-purpose flour
1 tsp Baking powder
1 tsp Onion powder
1 tsp Garlic powder
½ tsp Za'atar
2 Egg whites
1 large Garlic clove
Juice of ½ a Lemon
I think the thing I love most about these scrumptious Shrimp and Goat Cheese Tarts are not just their 'out of this world' flavor but the fact that in just 25 minutes I can feed 10 people, if not more! That is why this recipe is a great choice for…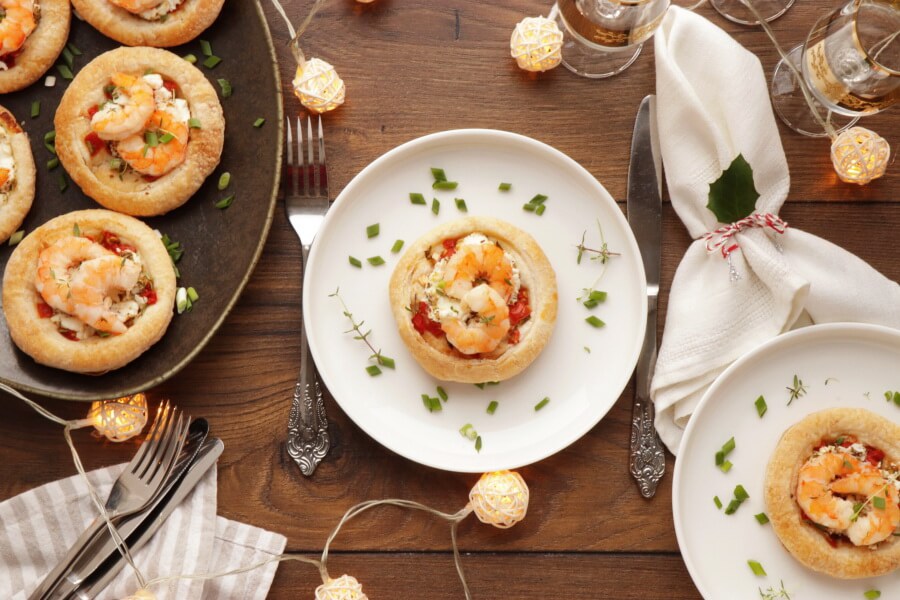 Ingredients for Shrimp and Goat Cheese Tarts:
2 sheets (1 package) Frozen puff pastry
4 ounces Goat Cheese
1 cup Cherry tomatoes
½ tbsp Fresh thyme
20 Shrimp
½ cup Green onion
Perfectly seasoned Easy Homemade Sundried Tomatoes. I much prefer to have homemade condiments in my pantry than the store bought options which can be that much more unhealthy to what I want to provide for my family. This recipe gives options to make them, either in a dehydrator or oven….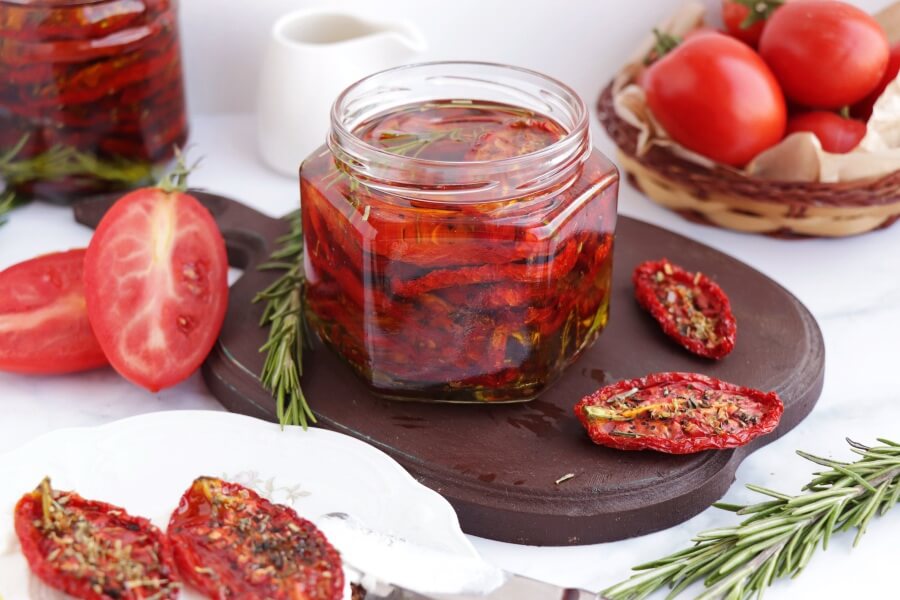 Ingredients for Easy Homemade Sundried Tomatoes:
16 Plum tomato
1 tbsp Olive oil
1 tbsp Sugar
1 tsp Salt
1 tsp Dried basil
1 tsp Dried oregano
1 tsp Dried rosemary

FOR STORING:
Wide Mouth Canning Jars
Olive oil
Fresh herbs