10 Easy Chicken Recipes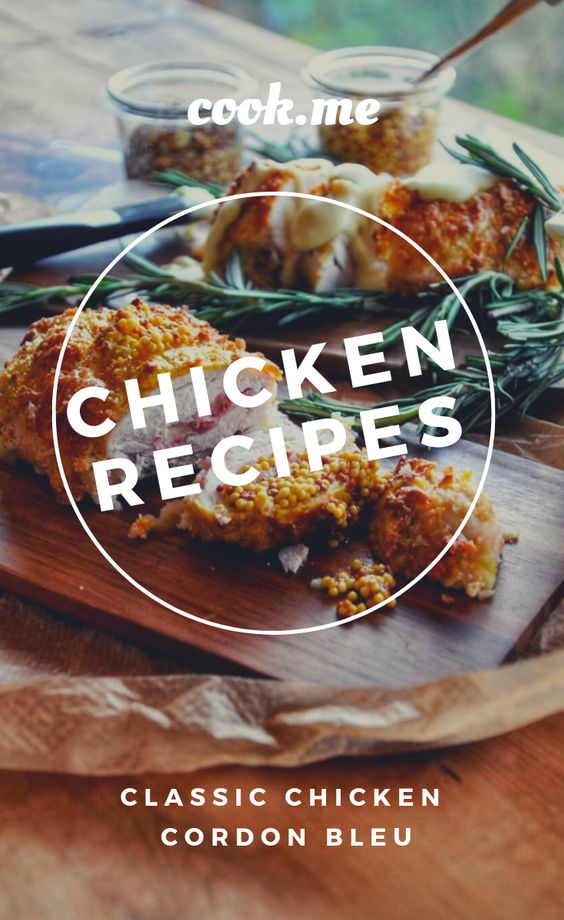 These 10 Quick and Easy Chicken Dinners Recipes are perfect for any ocasion. You don't need to be a pro in the kitchen to whip up these delicious chicken dinners.
These Grilled Chicken and Tomato Kebabs are not only healthy, they are really delicious and simple to make too! I love the basil pesto marinade which accompanies this kebab recipe. It packs a real flavor punch from the basil and garlic and it has a certain richness from the addition of grated Parmesan cheese.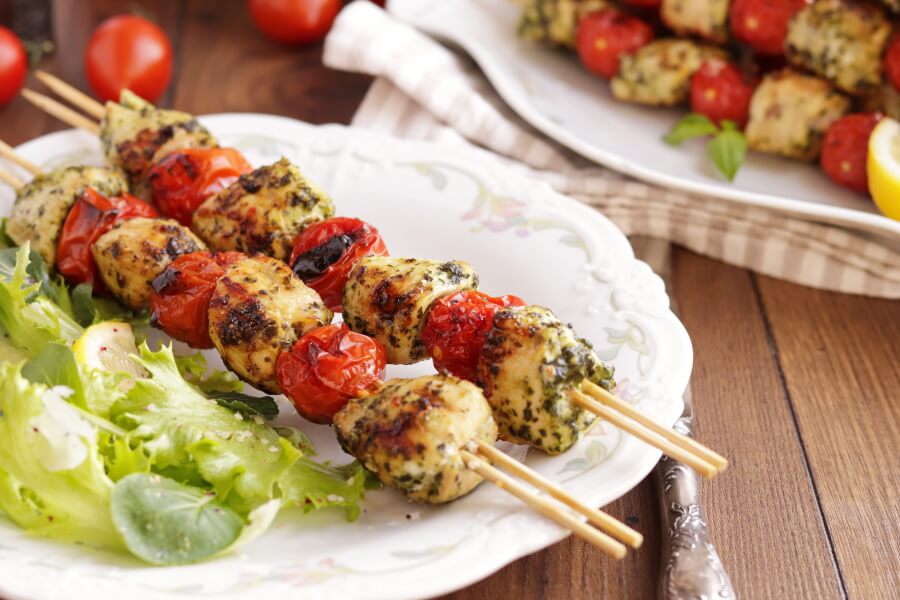 Ingredients for Grilled Chicken and Tomato Kebab:
1 cup Basil
1 clove Garlic
¼ cup Parmesan cheese
Kosher Salt
Black pepper
Olive oil
1¼ lbs Chicken Breast
24 Cherry tomatoes
16 Wooden skewers
In this Sheet Pan Hoisin Chicken recipe, you can learn to make homemade authentic Chinese chicken in 1 pan and in less than 40 minutes.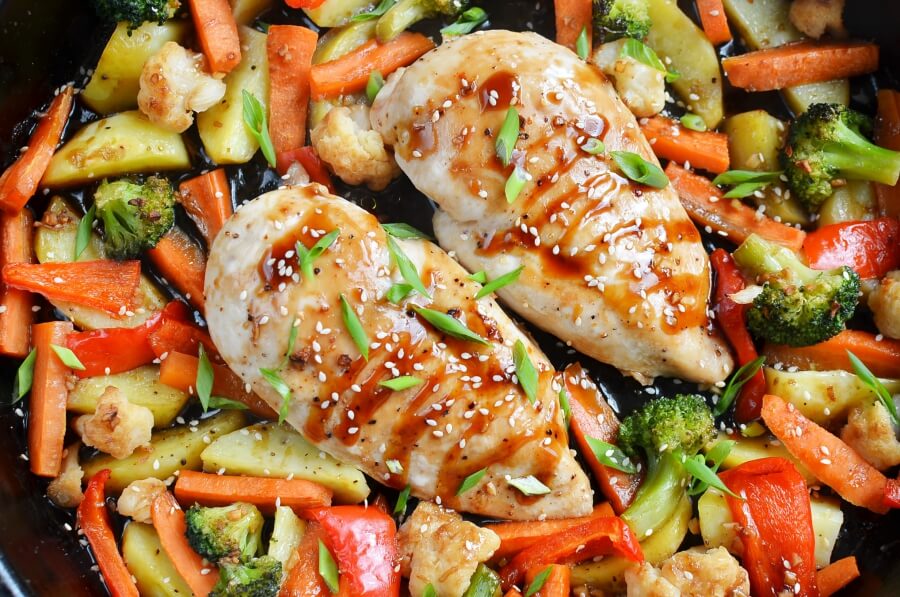 Ingredients for Sheet Pan Hoisin Chicken:
2 (6-ounce) Chicken Breast
1 cup (8 ounces) Potatoes
2 Carrots
2 cups Broccoli
1 Red bell pepper
1 cup Cauliflower florets
2 tbsp Olive oil
Salt
Black pepper
FOR THE SAUCE:
¼ cup Hoisin sauce
⅓ cup Soy sauce
1 tbsp Honey
1 tbsp Rice wine vinegar
2 tsp Sesame oil
2 cloves Garlic
½ tsp Ginger
½ tbsp Cornstarch
Serve these Cornish Game Hens with Garlic and Rosemary to your guests at your next dinner party and watch them lick their fingers clean! You might be asking yourself what a Cornish hen is? Well wonder no more, a Cornish hen is a small version of the most common breed of chicken.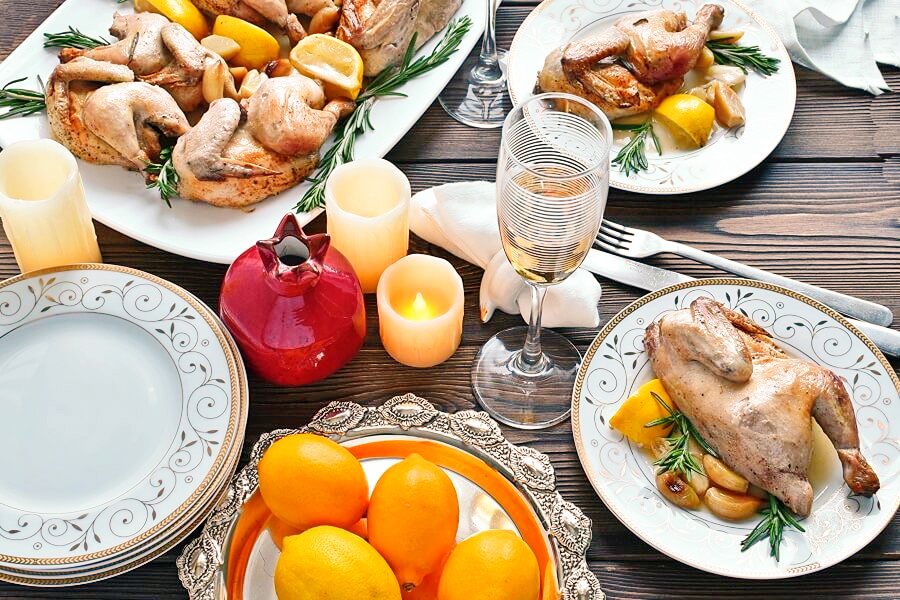 Ingredients for Cornish Game Hens with Garlic and Rosemary:
4 Cornish game hens
Salt
Bell pepper
1 Lemon
4 sprigs Rosemary
3 tbsp Olive oil
24 cloves Garlic
⅓ cup White wine
⅓ cup Chicken broth
FOR GARNISH:
Garlic Chicken and Shrimp shouldn't work as a flavor combination, but I am here to tell you that it does! In fact, it's amazing – juicy shrimp, tender chicken and pungent garlic combine to make a quick and delicious midweek meal.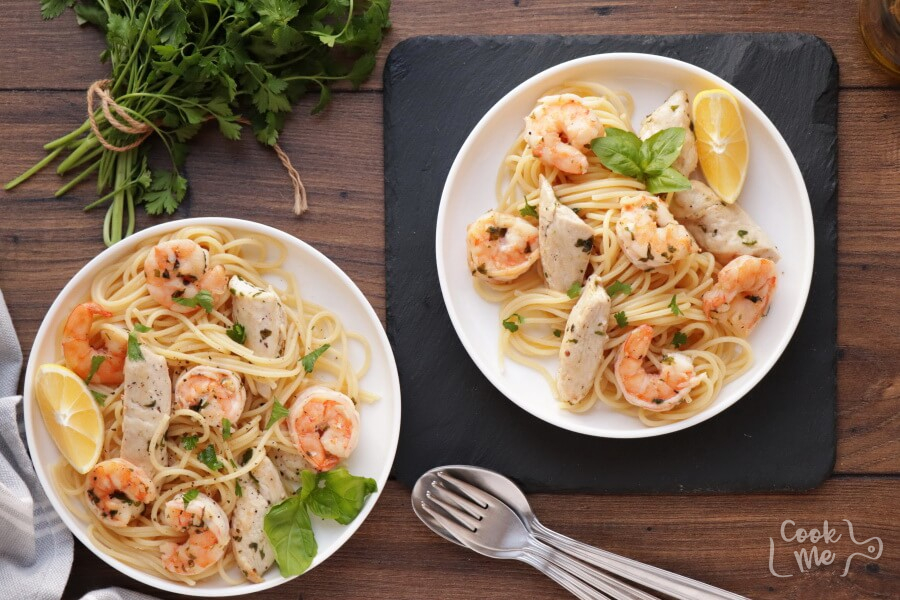 Ingredients for Garlic Chicken and Shrimp Recipe:
2 Chicken Breast
1 lb Large Shrimp
6 tbsp Butter
¼ cup Olive oil
4 cloves Garlic
1 tbsp Basil
1 tbsp Parsley
½ tsp Kosher Salt
½ tsp Creole seasoning
OPTIONAL GARNISH
Why Drunken Chicken Recipe? Well, why not have chicken cooked and infused over beer to make it all that much more juicy, tasty, scrumptious and delicious. A very popular cooking style where meat is most favored and the beer is always flowing!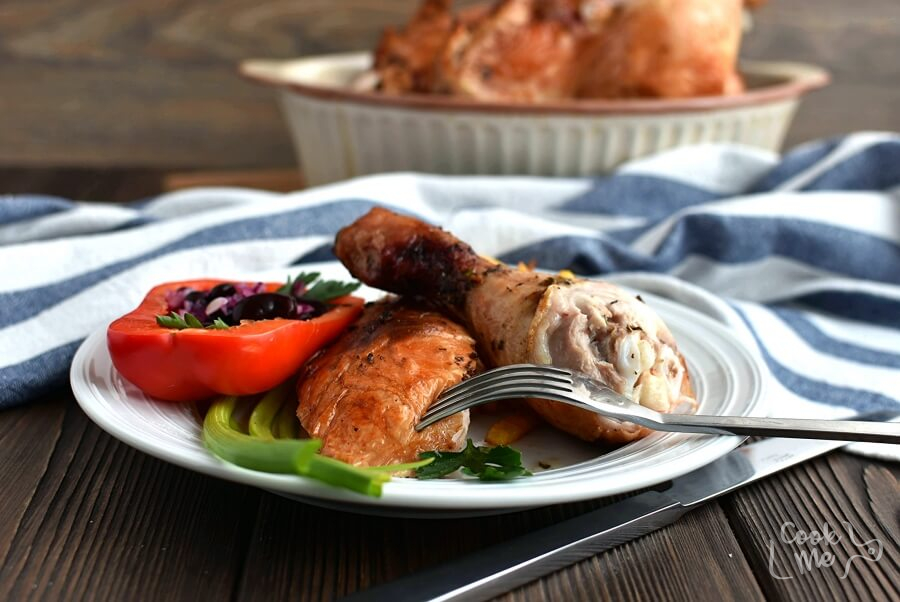 Ingredients for Drunken Chicken Recipe:
3½ – 4½ pounds Chicken
Salt
1 tsp Chicken bouillon granules
2 tsp Garlic
2 tbsp Onion powder
2 tbsp Dried herbs
1 tbsp Ground paprika
1 tsp White pepper
1 can Beer
This Roast Chicken and Vegetables recipe is undeniably everyone's favorite and a staple serving whenever I visit family or we have a Sunday gathering.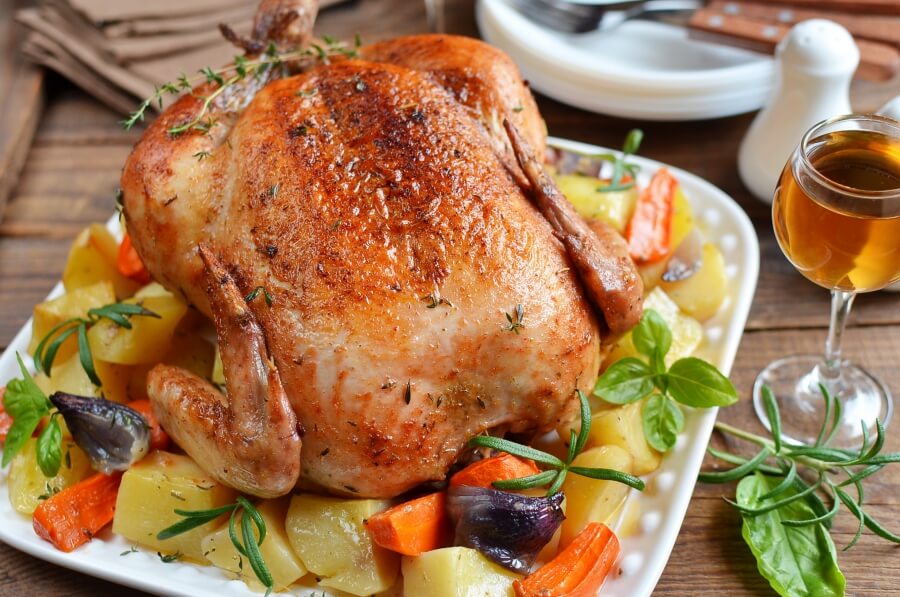 Ingredients for Roast Chicken and Vegetables:
FOR THE CHICKEN:
1 Chicken
3-4 cups Mixed vegetables
4 tbsp Olive oil
½ tsp Italian herb seasoning
Chicken rub
OPTIONAL CHICKEN RUB MIX:
1 tsp Ground paprika
1 tsp Salt
1 tsp Garlic powder
½ tsp Black pepper
1 tsp Parsley
½ tsp Thyme
½ tsp Rosemary
Is there anything really more hearty and wholesome meal than scrumptious Rosemary Roast Chicken? With the introduction of rosemary, that unctuous herb with an incredible smell and flavor, that compliment chicken so well and invites an unbelievable aroma into your home.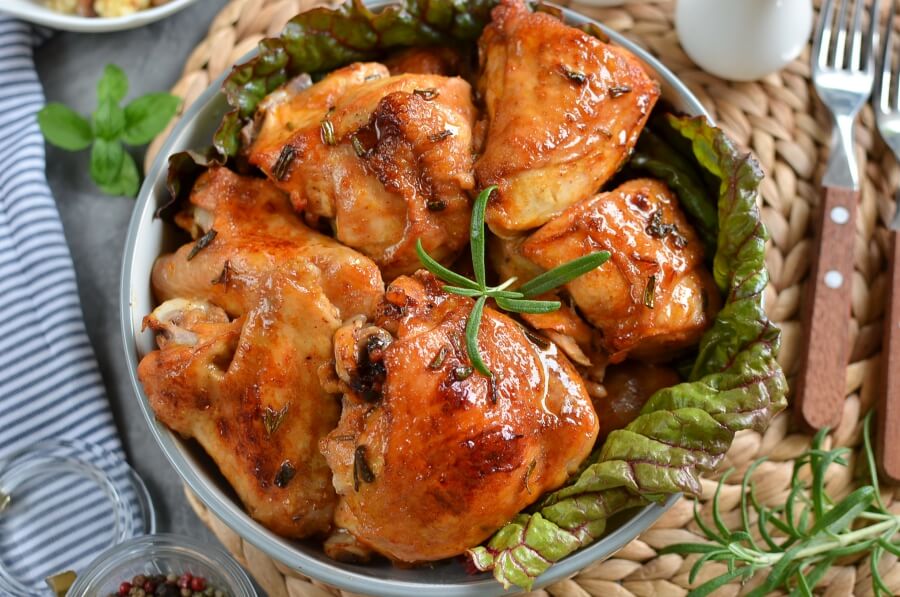 Ingredients for Rosemary Roast Chicken:
2 Chicken
¼ cup Olive oil
2 tbsp Smoked Paprika
1 lemon Lemon juice
¼ cup Rosemary
½ tbsp Lemon pepper
2 tbsp Date syrup
This Chicken Waldorf Salad is my take on the classic Waldorf salad which was first made in the Waldorf-Astoria Hotel in New York City in 1896! A Waldorf salad is a fruit and nut salad which is usually made from celery, apples, walnuts and grapes with a mayo dressing. My version adds chicken for that little something extra.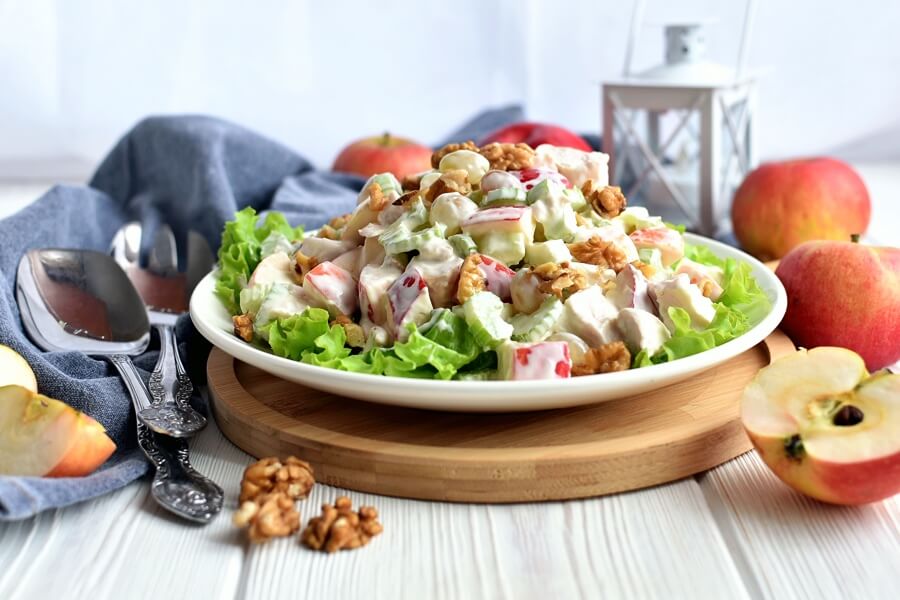 Ingredients for Chicken Waldorf Salad:
⅓ cup Low-fat mayo
⅓ cup Yogurt
2 tsp Lemon juice
¼ tsp Salt
3 cups Chicken Breast
1 Apples
1 cup Grapes
1 cup Celery
½ cup Walnuts
This Grilled Spiced Chicken with Crunchy Apple Salad reminds me of a celery and apple salad that my aunt used to make for lunch when I'd visit her. It is full of texture and flavor from the crisp celery and the crunchy apples – make sure you choose fresh crunchy apples like Braeburn or Fuji.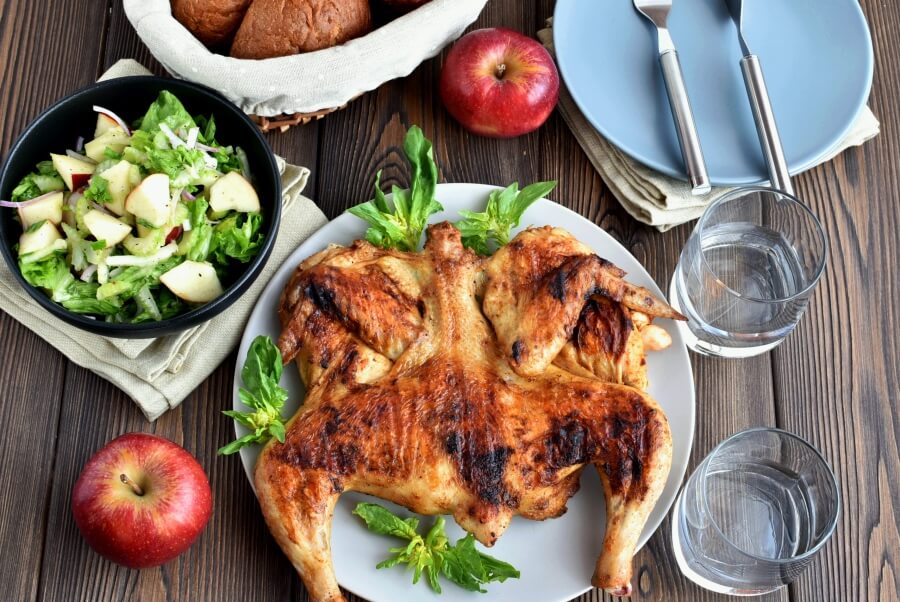 Ingredients for Grilled Spiced Chicken with Crunchy Apple Salad:
2 tbsp Ground paprika
2 tsp Ground coriander
1 tsp Ground ginger
¼ tsp Cayenne pepper
1 tsp Cumin
½ tsp Salt
2 tbsp Lemon juice
1 tbsp Olive oil
1 Chicken
2 Apples
2 stalks Celery
3 Scallions
6 cups Lettuce
FOR THE DRESSING
1 tsp Honey
2 tbsp Lemon juice
1 tbsp Olive oil
½ tsp Cumin
¼ tsp Salt
¼ tsp Black pepper
This Healthy Strawberry Chicken Salad with Pecans is the wow dish to serve in strawberry season. This recipe promises to suit the taste buds of all your guests. With a base of spinach and strawberry salad, topped with a perfectly tender, sliced chicken breast, dressed in vinaigrette marinated strawberries and …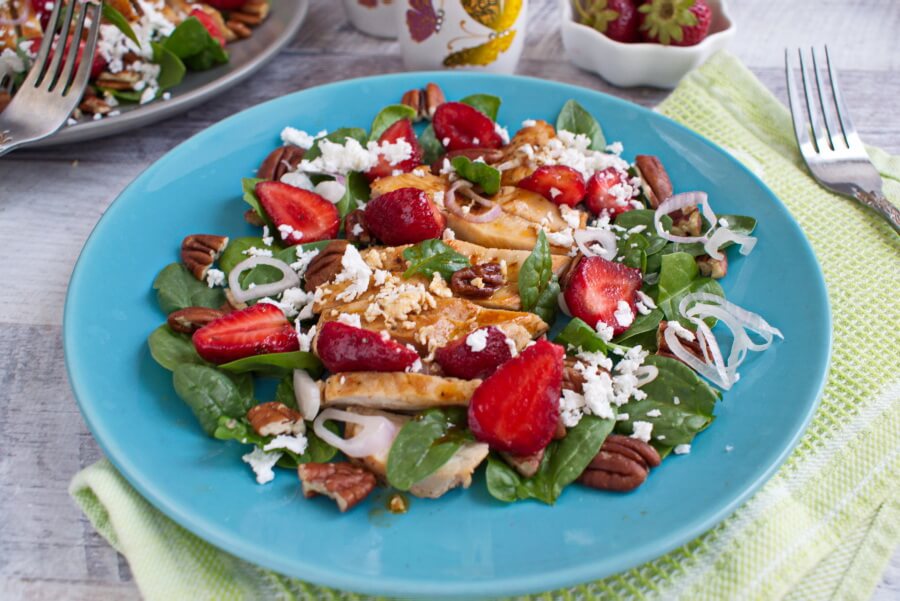 Ingredients for Healthy Strawberry Chicken Salad with Pecans:
2 cups Strawberries
2 (4-ounce) Chicken breast cutlets
3 tbsp Pecans
4 tsp Olive oil
1 tbsp Balsamic vinegar
1 tsp Honey
½ tsp Thyme
⅜ tsp Black pepper
¼ tsp Kosher Salt
¼ tsp Smoked Paprika
4 cups fresh baby Spinach
¼ cup Onion
1 ounce Feta cheese
<<<100+ Easy Chicken Dinner Recipes>>>