3 ¼ cups (about 430 g)

Bread flour

spooned & leveled, plus more for dusting

1 ½ cups (360 ml)

Water

close to room temperature at about 70 °F

For dusting:
4-ingredient Artisan Bread
This homemade 4-ingredient Artisan Bread is truly a wonderful thing. Crusty, chewy, and with fluffy holes inside, this bread is perfect for sandwiches, dipping in soups or just olive oil. In addition, the dough can be kept in the fridge for up to three days, so you can make it in advance and bake the bread just before serving. 
The recipe is easy to make, but here are a few helpful tips to keep in mind. Flour: For best results, use bread flour. Bread flour creates the best flavor and chewy texture you'll find in French baguettes and Italian ciabattas. Salt: I find coarse salt yields more flavorful results than table fine salt. Use 1 ½ teaspoons of fine salt, if that's what's available. Water: Use cool tap water at about 70 °F. A tip for a slightly crispier crust: Once the oven is hot, place a shallow metal baking pan on the bottom oven rack. Carefully pour in 3 to 4 cups of boiling water. Place the baking sheet pan with the shaped loaves on the center rack and immediately shut the oven. The steam created will result in a crispier crust.  
To make the 4-ingredient Artisan Bread you will need the following ingredients: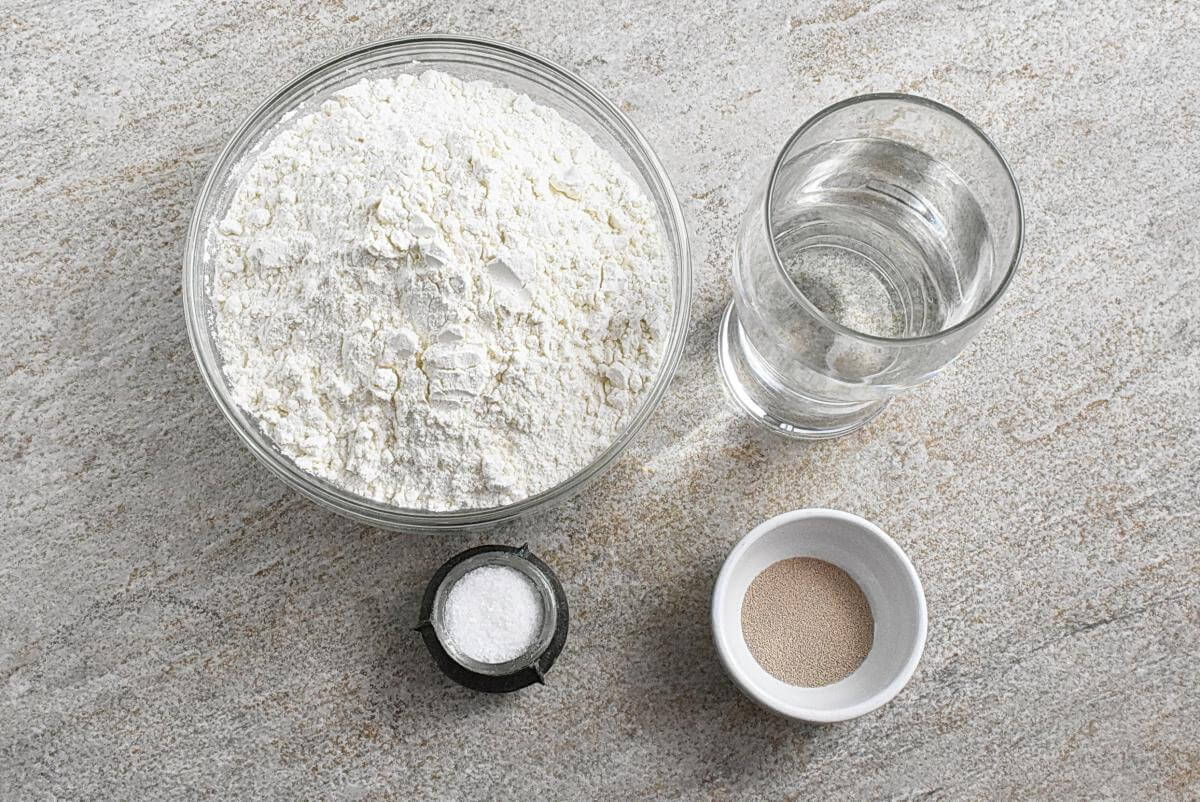 Steps to make 4-ingredient Artisan Bread
Combine dry ingredients

2

Add water

2

Leave to rise

3h

Cover the bowl tightly with plastic wrap and set on the counter at room temperature. Let the dough rise for 2-3 hours until the dough is just about doubled in size, sticks to the sides of the bowl, and has a lot of air bubbles. Now, you can proceed with the recipe immediately, but for the best flavor and texture, let the dough rest in the refrigerator, covered, for at least 12 hours and up to 3 days.

Prepare baking sheet

1

Shape loaves

3

Leave to rise

45

Preheat oven

5

Preheat the oven to 475 °F.

Score

2

Bake

25

A tip for a slightly crispier crust (optional): After the oven is preheated, place a shallow metal or cast iron baking pan on the bottom oven rack. Carefully and quickly pour in 3-4 cups of boiling water. Place the baking pan with the loaves on the center rack and immediately shut the oven. The steam will help to create a crispier crust. Bake for 20-25 minutes or until golden brown. You can check if the loaf is cooked by tapping the bottom of the loaf – it should sound hollow.

Cool

Serve