1 cup (227 g)

Water

boiling

1 ½ tsp (5 g)

Kosher Salt

¾ cup (170 g)

Water

at room temperature

1 ½ tsp (5 g)

Instant yeast

2 ¼ cups (288 g)

Bread flour

unbleached or all-purpose flour

1 cup (128 g)

White whole-wheat flour

or stone-milled flour

Unsalted butter

softened, for greasing

For coating the pan:
No-Knead Maple Oat Bread
If you are a lover of homemade bread, this No-Knead Maple Oat Bread recipe is a must-try. The oats give this bread a chewy texture, and the maple syrup adds moisture and beautiful color. This recipe also calls for a mix of unbleached bread flour and stone-milled whole-grain flour. Whole-grain flour lends baked goods robust flavor and texture while retaining nutrients, fiber, and vitamins. Feel free to use all-purpose flour and whole-wheat if you prefer. Chewy and coarse-textured, this bread makes the best toast ever. And it's easy to make.  
The list of ingredients for this oat bread is short, and you may already have all of them on hand. Note that you need water twice in this recipe. First, to soak the oats. Then, more water gets added along with yeast and flour. When you soak the oats, the water should be boiling. Once the oats have absorbed some of the water and become soft, pour in the room-temperature water and proceed with the recipe. Bake the oat bread in the preheated oven until the top is evenly browned. Cool on a wire cooling rack for about 30 minutes, then slice and enjoy.    
To make the No-Knead Maple Oat Bread, you will need the following ingredients: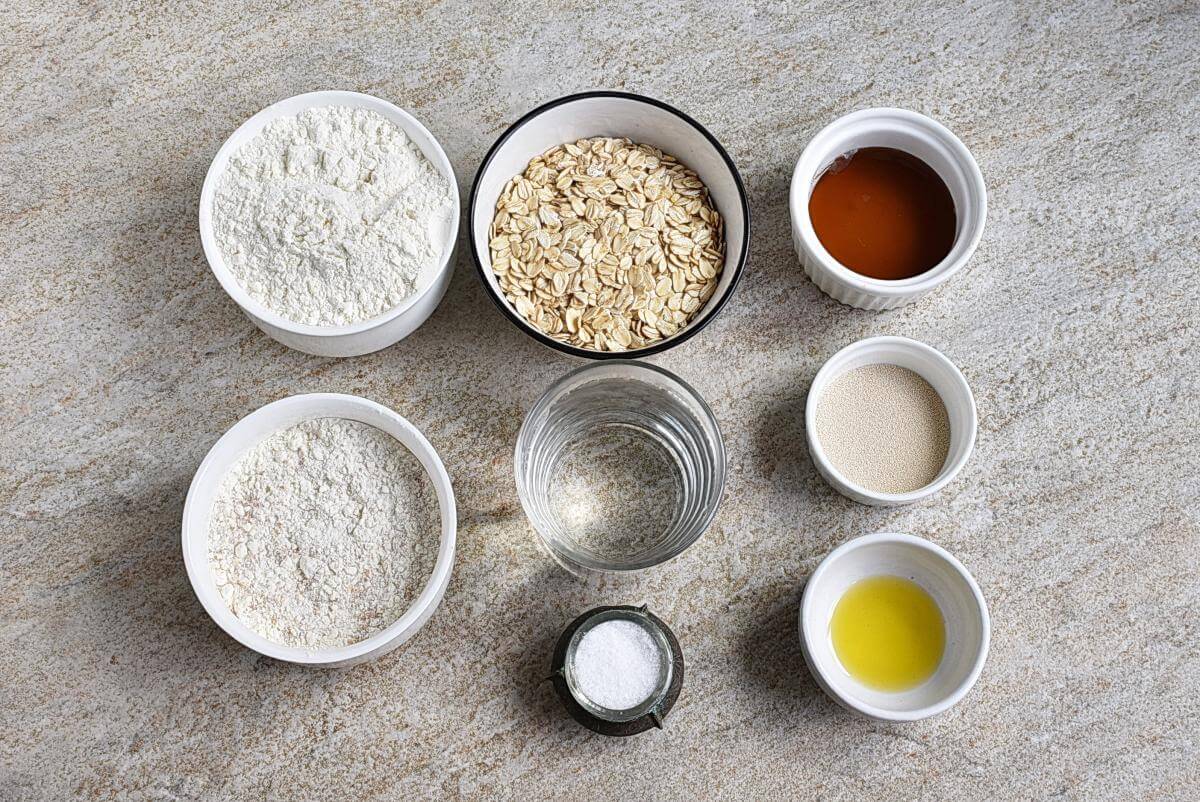 Steps to make No-Knead Maple Oat Bread
Combine oats, water, maple syrup and salt

10

Add more water

Add yeast

1

Add flour

3

Add 2 ¼ cups unbleached bread flour ( or all-purpose flour) and 1 cup stone-milled flour (or whole-wheat flour) and stir with a spatula until the liquid is absorbed and a sticky dough ball forms. Knead the dough briefly with your hands, if needed, to help the dough come together, no more than 15-30 seconds.

1st rise

3h

Prepare loaf pan

2

Cover dough with oil

2

Shape dough

2

2nd rise

45

Preheat oven

5

Preheat the oven to 375 ºF.

Bake

45

Cool

Serve