1 ⅓ cups

Potatoes

refrigerated diced

6

Bacon

center-cut slices, chopped

2 tsp

Hot chili sauce

Sriracha

4 (8-inch)

Whole-wheat tortillas
Bacon Arugula and Egg Wraps
These Bacon, Arugula and Egg Wraps will make a great addition to your weekend kitchen! Talk about the right way to kick off a busy Saturday or a lazy Sunday! These wraps are healthy, filling and they taste really great too!
To make the wraps, first cook some diced potatoes in a microwave. When the bacon is half-cooked, add shallots and potato. Scramble some eggs, make some Sriracha-mayo which will give the wraps a little kick and then assemble the wraps burrito style! You're gonna love them!  
To make Bacon, Arugula, and Egg Wraps, you will need the following ingredients: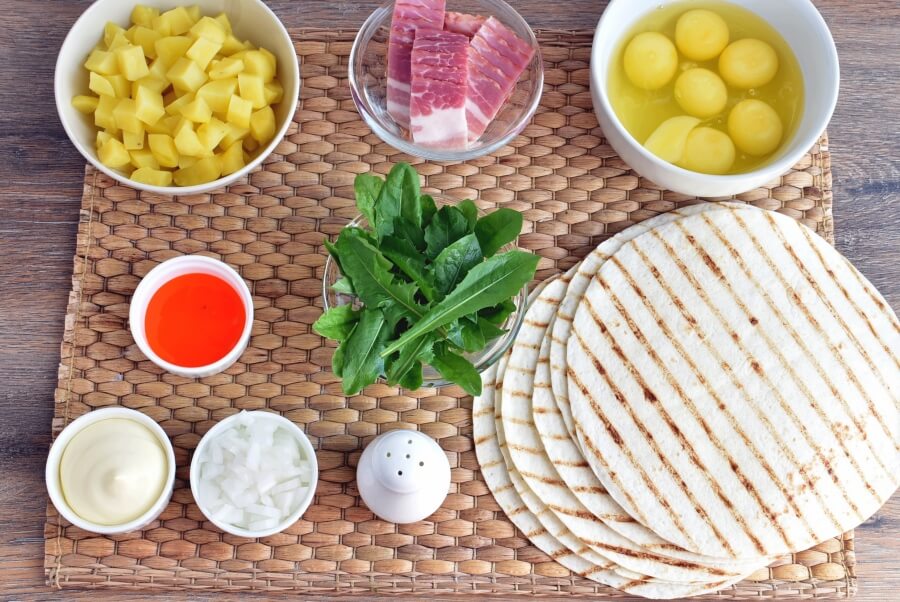 So, how to make Bacon, Arugula, and Egg Wraps?
Steps to make Bacon Arugula and Egg Wraps
Cook potatoes in microwave

2

Cook the bacon

2

Add shallot and potatoes

3

Place the bacon and potato mix in a bowl

1

Combine the eggs, water and salt

1

Scramble the eggs

3

Make Sriracha-mayo

1

Assemble the wraps

2

Serve