2 cups

Beef broth

low sodium
Classic Beef Stroganoff
Try this quick and easy Classic Beef Stroganoff recipe as a tasty alternative to your favorite beef and pasta dish! You don't see beef stroganoff on menus very often these days and I have no idea why. Juicy beef strips and golden buttery mushrooms swimming in a creamy sauce – there's nothing about that sentence not to love!
But no matter if you can't find it in your local restaurant – it's super easy to make at home and I'm happy to share this delicious recipe with you. Try to get hold of one of the more tender beef steaks, like fillet, rump, sirloin or round. If you've got a tougher steak, like chuck or stewing, you'll just need to cook it for longer. I like stroganoff over a bed of egg noodles but you can use pasta or rice too.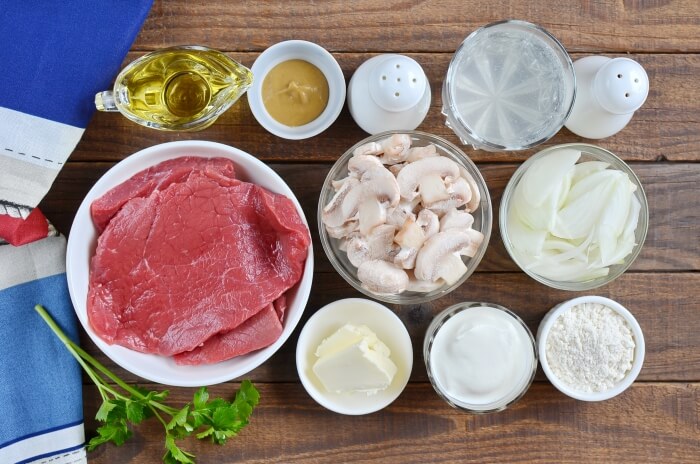 So how to cook Classic Beef Stroganoff Recipe?
Steps to make Classic Beef Stroganoff
Prepare the beef

3

Use a mallet or rolling pin to flatten the steaks, pressing them down until they are about a third of an inch thick. Remove any threads of fat. Cut the steaks into strips, about 1/5" thick, and if you have any particularly long strips, cut those in half. Season the strips with salt and pepper and toss to coat.

Brown the beef

5

Place a skillet over a high heat and add half the oil. When the oil is sizzling, add half the beef strips to the skillet, spreading them out so they are all touching the surface of the pan. Leave for just half a minute, then flip them over and leave for another 30 seconds. This is just to brown them. Remove to a plate. Heat the remaining oil and repeat the process again, until all the beef is browned.

Cook the onions

1

Add the mushrooms

5

Add the flour and broth

2

Combine the sour cream

1

Cook the sauce

5

Return the beef to the pan

1

Serving Creamy Beef Stroganoff

1