2 tbsp

Olive oil

extra virgin

200 g

Button mushrooms

sliced

2 tbsp

All-purpose flour

or 1 tbsp cornstarch

3 tbsp

Tomato paste

optional

160 g / 2/3 cup

Greek yogurt

or natural yogurt

1 head

Broccoli

cut into bite-sized pieces

200 g

Dried fettuccine pasta

For garnish:
Beef & Broccoli Stroganoff
This Beef & Broccoli Stroganoff is a delicious pasta dish featuring tender beef in a creamy mushroom sauce. This version is lightened up with Greek yogurt and beef broth for extra sauce. Packed with flavor from paprika, mushrooms, and Dijon mustard, your family won't believe this scrumptious dinner took less than 30 minutes to make. Besides, this recipe offers another easy and delicious way to cook broccoli, and the kids another opportunity to try broccoli. 
First, brown the beef in batches. Then start working on the mushrooms and sauce. It's easy too. Once the mushrooms are caramelized, add the flour and cook for 1 minute before stirring in the broth and tomato paste if using. Next, add the mustard and yogurt. Now you have two options – either add in the broccoli or cook it in the water with fettuccine pasta. The sauce will thicken as it cooks, then season with salt and black pepper and add the beef back in to simmer for another minute. Serve over pasta and enjoy!
To make the Beef & Broccoli Stroganoff, you will need the following ingredients: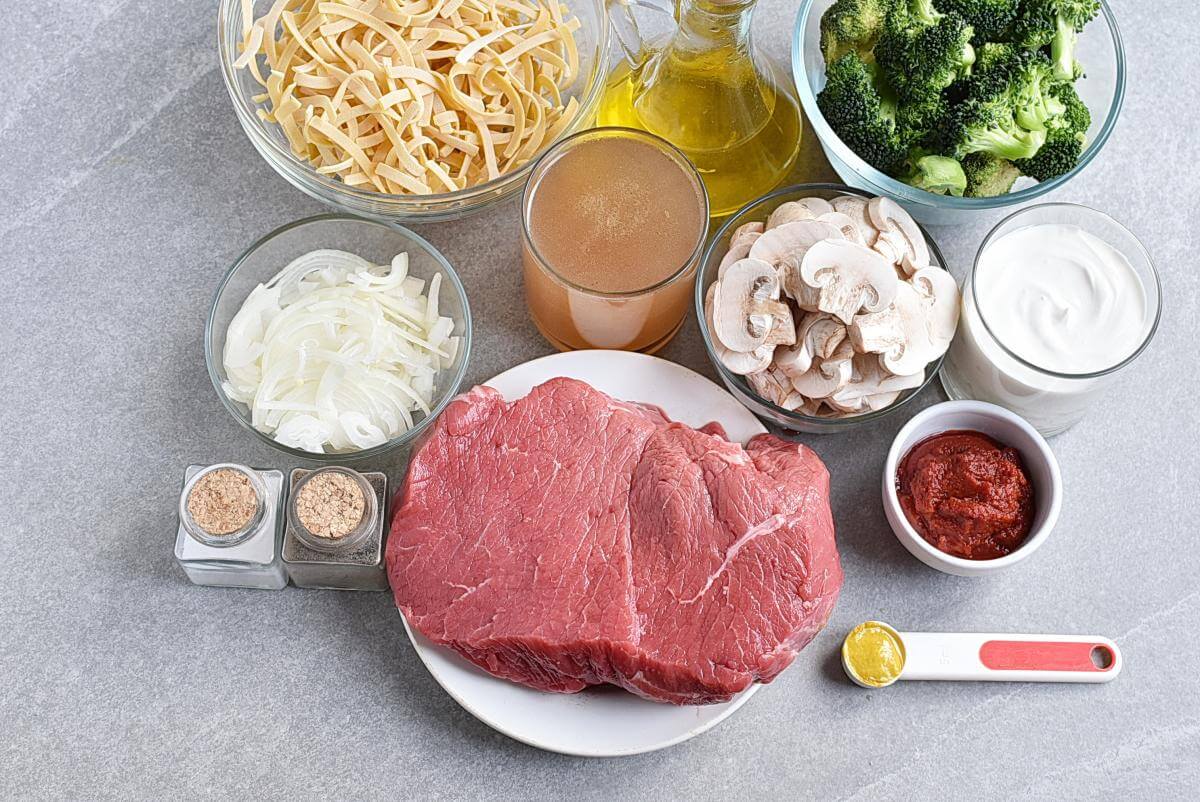 Steps to make Beef & Broccoli Stroganoff
5

5

Cook the beef

5

Cook the onions

1

Add mushrooms

3

Stir in flour

1

Add broth

3

Add mustard and yogurt

3

Mix in 1 teaspoon mustard and ⅔ cup yogurt. It will look like it has separated, but that's OK - it will combine as it heats up. Bring to a gentle simmer, then reduce the heat to low and simmer until the sauce thickens. Now you can either add in the broccoli to the sauce as it thickens or cook the broccoli in the water with pasta. Add the broccoli 3 minutes before the end of pasta cooking time.

Cook pasta

10

Add beef back

1

Serve