Crispy Potato Pancakes
These Crispy Potato Pancakes, also known as latkes, are delicious served with a big dollop of creme fraiche or sour cream and a spoonful of apple sauce. You can eat them as a sweet or savory dish and experiment with different toppings – sugar and cinnamon is also a favorite of mine!
They originate in Central and Eastern Europe and are now super popular all over the States. And why wouldn't they be? Soft potato centers with crisp, golden brown edges, they are delicious and very more-ish!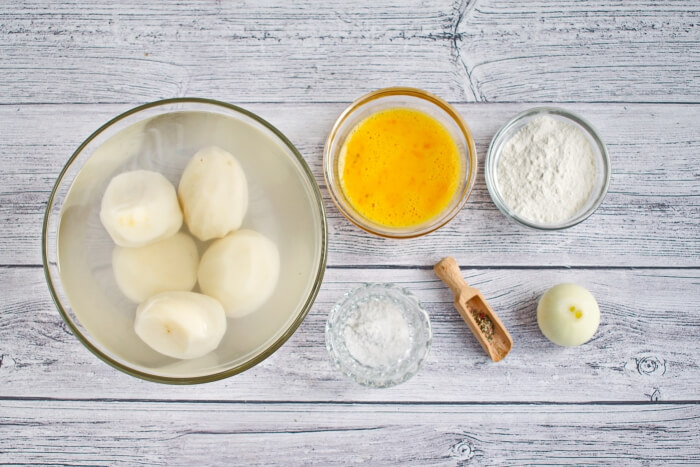 Steps to make Crispy Potato Pancakes
Preheat the oven

5

Preheat the oven to 200°F. Lay paper towels on an oven tray.

Prepare the potatoes

5

Combine the other ingredients

2

Fry the pancakes

10

Put a heavy-based pan over a medium-high heat and cover the bottom of the pan with around a quarter of an inch of oil. Take a spoonful of the potato mixture and add to the pan, flattening it to a pancake shape. Add 2-3 more, depending on how many your pan can comfortably hold. Fry for a couple of minutes on each side, until golden brown all over.

Keep the pancakes warm

1

Remove each pancake with a slotted spoon, place on the paper-lined tray and pop in the oven to keep warm. In the meantime, repeat the frying process until you have used all the potato mixture.

Serving Crispy Potato Pancakes

1