1 lb Italian

Tomato sauce

1/4 cup

Hot chilli pepper

minced

2 cups

Hot dogs

diced or thinly sliced

For topping:
Filipino Spaghetti
Filipino Spaghetti is a filipino take on the Italian classic spaghetti bolognese dish. This version has a sweet tomato sauce with ground pork and sliced hotdogs. I use evaporated milk to sweeten the sauce, but you can also use brown sugar or banana ketchup.
It's so simple to make too. Simply cook up a large pot of spaghetti. Make a sauce by sautéing onion and garlic and ground pork. Mix in hotdog pieces and some minced veggies and simmer with water before adding more tomatoes and simmering again. Mix the sauce with the spaghetti and serve topped with grated cheese. Yum!
To make Filipino Spaghetti, you will need the following ingredients: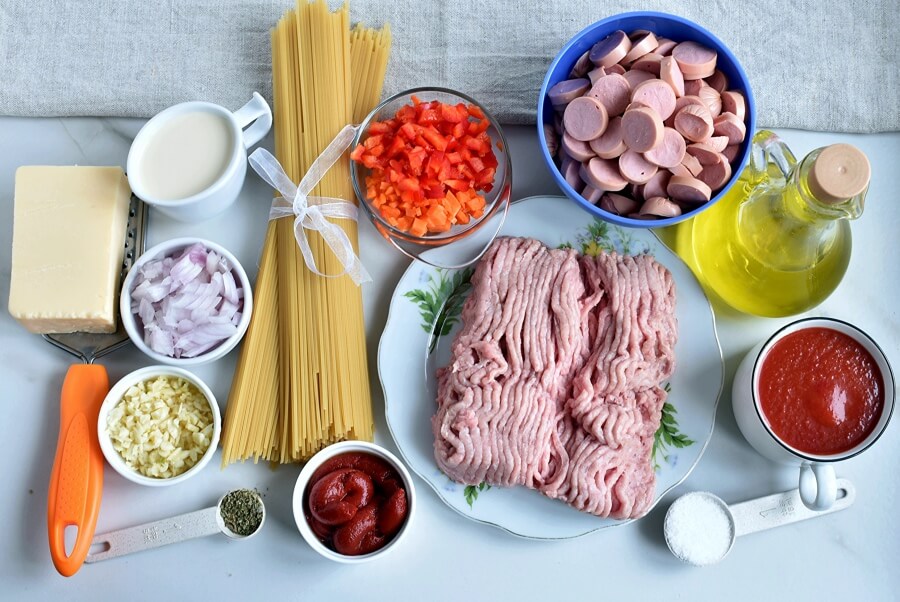 So, how to make Filipino Spaghetti?
Steps to make Filipino Spaghetti
Cook the spaghetti

10

Cook the pork

10

Mix in the veggies and hotdogs

2

Add water and simmer

10

Add the water to the pork mixture and simmer for 10-15 minutes.

Add tomatoes and continue to cook

10

Add evaporated milk

1

Combine the spaghetti and the sauce

2

Serve