Black pepper

freshly ground to taste

4 oz

Cream Cheese

softened

For garnish:
Engagement Chicken Pasta
I love this Engagement Chicken Pasta recipe. It is a perfect meal for two and tastes like you've been standing over the pot all day when in reality, you can have this on the table in under 45 minutes! My top tip when searing chicken, let it cook undisturbed so that a golden crust forms. If the chicken sticks to the pan, it's because the first side isn't done searing. It will release when it's golden brown.
To make this delicious pasta dish, start by cooking spaghetti in a saucepan. In a skillet, cook mushrooms in melted butter with thyme until golden brown. Remove the mushrooms from the pan, but leave the butter and thyme behind and add oil. Season the chicken breasts and sear over medium high heat in the same pan that the mushrooms were in. Remove the chicken and make the sauce using white wine and cream cheese. Once the pasta is cooked, drain it and add it to the sauce immediately. Toss well until evenly coated and stir the mushrooms into the pasta bowl. Slice the chicken and serve on top garnished with microgreens.
To make Chicken Pasta Bake, you will need the following ingredients: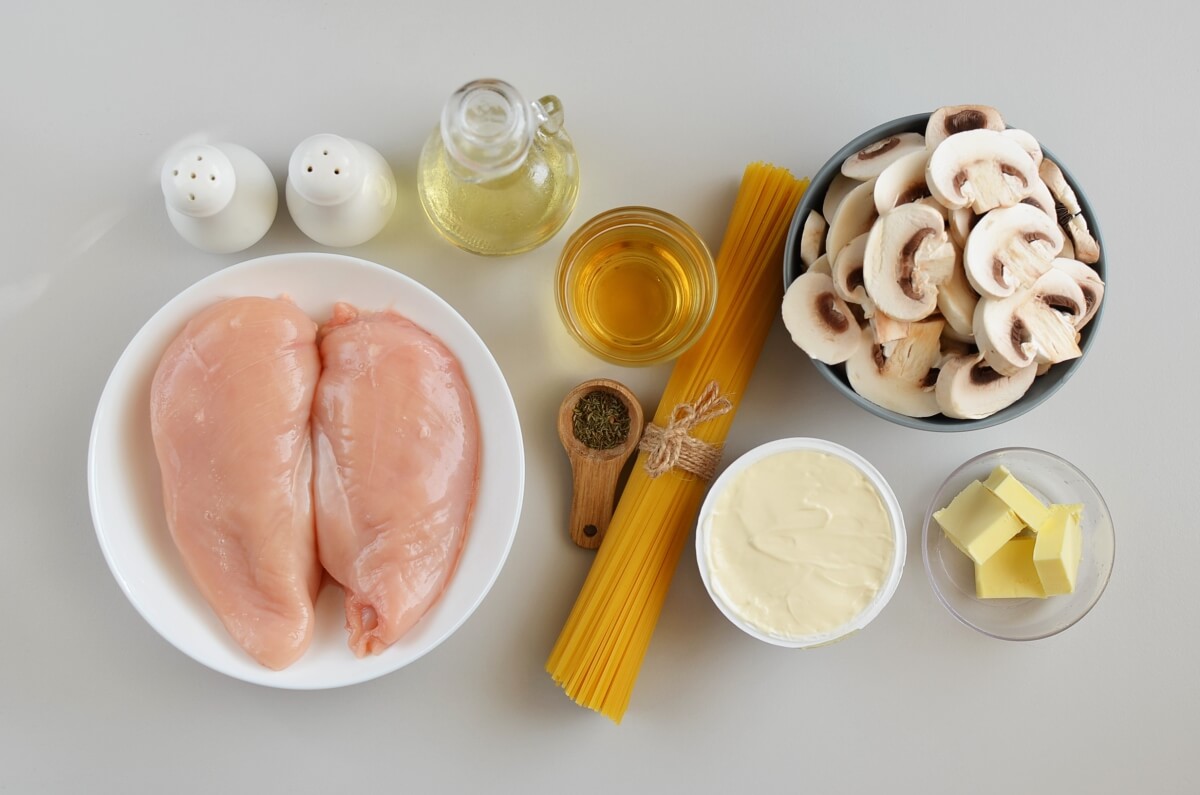 Steps to make Engagement Chicken Pasta
Cook spaghetti

10

Sauté mushrooms

15

Melt 4 tablespoons of butter in a non-stick skillet with 1 teaspoon of dried thyme over medium heat. Add 10 ounces of sliced mushrooms to the melted butter and stir to coat. Leave the mushrooms undisturbed for a few minutes to form a crust. Stir, and repeat for about 15 minutes until the mushrooms are golden brown.

Set mushrooms aside

1

Sear chicken

15

Deglaze pan

1

Make sauce

2

Drain pasta and add to sauce

2

Serve

1