For jalapeño slaw:

2 ½ cups

Coleslaw mix

packaged shredded cabbage with carrot

¼ cup

Red onion

thinly sliced, halved

1

Jalapeño pepper

small, seeded and finely chopped

For fish tacos:

1 lb

White fish fillets

fresh or frozen skinless cod, tilapia or other , about 1/2-inch thick, thawed and patted dry

¼ tsp

Cayenne pepper

ground, or ancho chile pepper

4 (8-inch)

Whole-wheat tortillas

1 (8-ounce) jar

Salsa

peach or mango

For serving:
Fish Tacos with Jalapeño Slaw
These Fish Tacos with Jalapeño Slaw are my new go-to weeknight dish. Spicy cumin-chile roasted fish fillets stuffed into warmed whole-grain tortillas. Serve each taco with citrus-jalapeño slaw and peach or mango salsa. These come together in just 15 minutes and make for a perfect weeknight dinner.  
Since the fish cooks quickly, you should prepare the jalapeño slaw first. Combine the coleslaw mix with thinly sliced red onions and finely chopped jalapeño. Then make a citrusy dressing by mixing together the lime juice, orange juice, olive oil, and a healthy dash of cumin and salt. Dress the jalapeño slaw and chill for up to 6 hours. Pat dry the fish fillets and season one side with the seasoning mixture. Grill the fish until charred and flaky. To serve, stuff the slaw into the warmed tortillas and top with grilled fish, peach or mango salsa, and a good squeeze of lime. Enjoy!
To make the Fish Tacos with Jalapeño Slaw, you will need the following ingredients: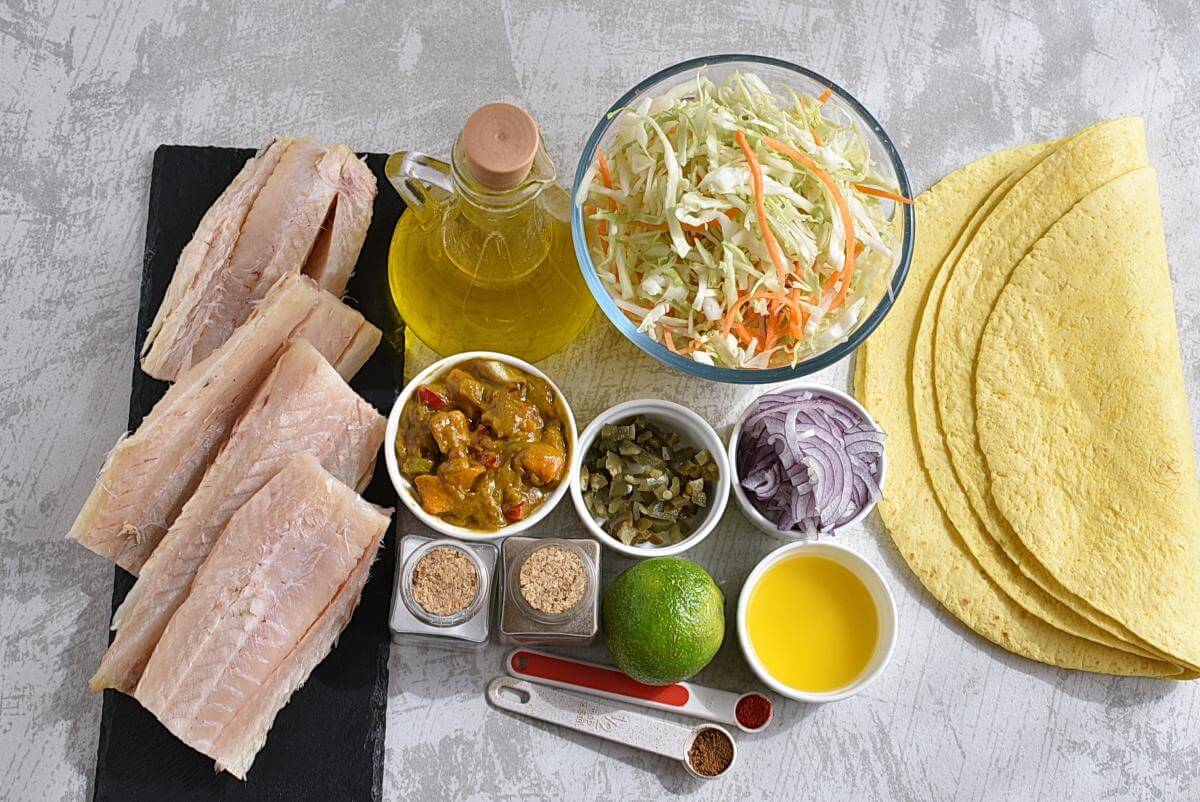 Steps to make Fish Tacos with Jalapeño Slaw
Prepare jalapeño slaw

1

Make dressing

2

Dress jalapeño slaw

1

Prepare seasoning mix for fish

1

Season fish fillets

1

Wrap tortillas in foil

1

Grill fish and heat tortillas

5

For a charcoal grill, grease the grill rack. Place the fish and tortillas on the rack and grill over medium coals, uncovered, for 4-6 minutes, turning once. For a gas grill, preheat the grill. Reduce the heat to medium. Place the fish fillets and tortilla stack on the greased grill rack. Cover and grill for 4-6 minutes, turning once, until the fish easily flakes and the tortillas are warm.

Serve

5