4

Tomatoes

large, cut in wedges

1

Cucumber

halved lengthwise and sliced

1/4 tsp

Basil

chopped fresh

1/4 tsp

Oregano

chopped fresh

1 bottle

Greek salad dressing

16 fl oz

1/8 tsp

Black pepper

freshly ground
Greek Tomato Salad
This Greek Tomato Salad is a true classic. One of my favorite things about travelling in Greece was the food. Fresh, colorful salads landed on every table. The smell of fresh oregano is carried by the light sea breeze.
Meals in Greece usually feature the most famous Greek ingredient in some form: feta cheese. Feta is a rich, creamy, salty cheese made from sheep or goats milk. It is perfect for salads because it's easy to crumble and adds flavor.
In summer this recipe becomes my go-to. I use tomato, cucumber, red onion, olives, fresh herbs, Greek salad dressing and feta cheese to make this fresh and colourful salad that's great with grilled meat, or on its own as a main course. It's quick and easy and it tastes super delicious!
To make my version of Greek Tomato Salad, you will need the following ingredients: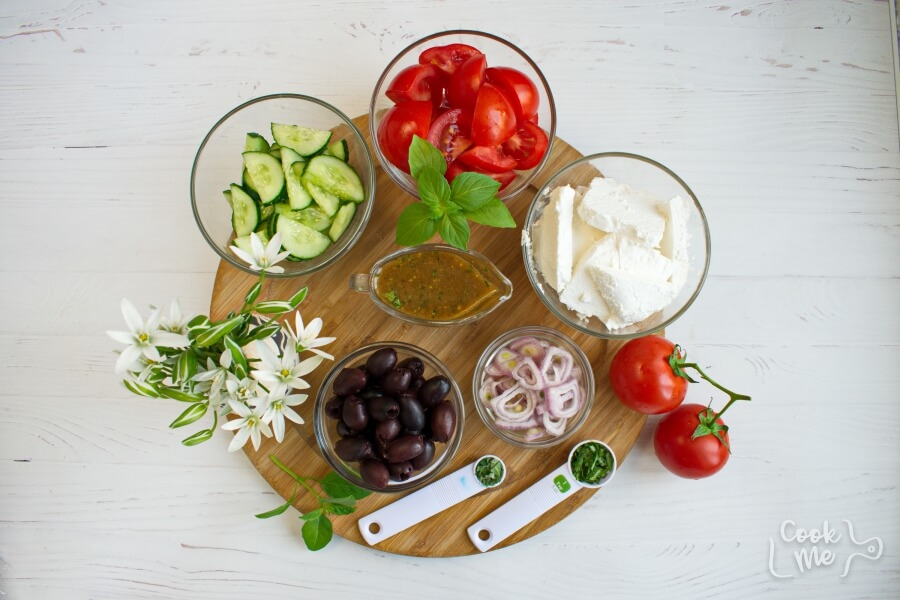 So, how do you make Greek Tomato Salad?
Steps to make Greek Tomato Salad
Combine main ingredients

2

Add dressing

1

Add feta

1

Serve

1