½ cup

Sweet corn

fresh (you can also use canned sweet corn)

a handful

Basil

fresh leaves, chopped
Roasted Corn and Basil Stuffed Tomatoes
These Roasted Corn and Basil Stuffed Tomatoes are a terrific vegetarian summer recipe that I often make when I feel like a tasty, filling and healthy dinner. To make this recipe vegan, simply omit the grated cheese. I love the crunch of the corn and the sweet flavor of basil in this stuffing mixture and I think you will too!
To make these stuffed tomatoes, I start by cooking the corn. Then I scrape the flesh out of the tomatoes and crush it. To make the stuffing, I mix the tomato flesh with the cooked rice, basil, corn and garlic. I season this with salt and pepper and add some of the shredded cheese. I stuff the tomato shells with this mixture and then sprinkle the remaining cheese on top. Finally, I broil the tomatoes for a few minutes until cheese has melted and the tomatoes are warmed through.
To make this version of Roasted Corn and Basil Stuffed Tomatoes, you will need the following ingredients: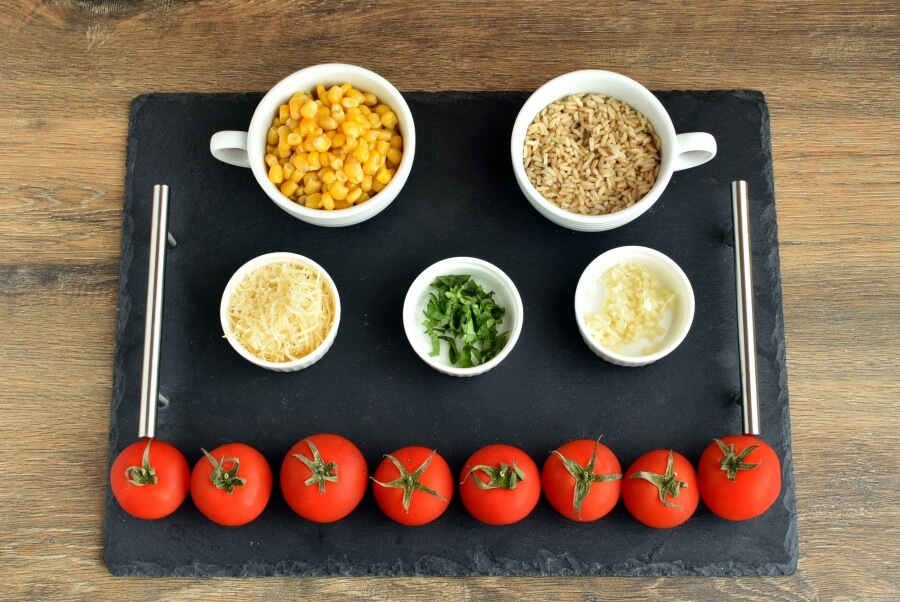 So, how do you make Roasted Corn and Basil Stuffed Tomatoes?
Steps to make Roasted Corn and Basil Stuffed Tomatoes
Cook corn

2

Prepare the tomatoes

3

Make the stuffing mix

2

Stuff the tomatoes

3

Broil

5

Serve